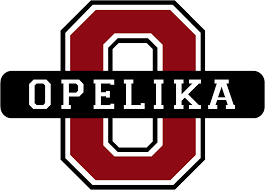 By D. Mark Mitchell
The OHS "Mainstreet Gymnasium" is currently undergoing a facelift. Several years ago, Mayor Gary Fuller made commented on the "uncomfortable" seats in the Sports Arena while appearing on my radio show (On the Mark).
Fuller and his wife Laura enjoy basketball and can be seen at many games, supporting both basketball teams. The city of Opelika allocated money to help renovate the old gym which was "home" of Opelika basketball when the building opened in 1972.
Thinking of the Mainstreet gym brings back memories of games inside the gym. Some of the Opelika coaches (I am going to miss some) during the era, including Houston Kennedy, Chuck Barber, Tony Hoyett, Lewis Washington, Joe Wilson, Gina Gregory and Thad Burgess. There were so many players during this time, I will not list any out of respect to all.
I reached out to Opelika City Schools Assistant Superintendent Kenneth Burton for an update, and he said renovations are in progress.
Currently, the new hardwood floor is being installed, and other upgrades include new sideline chairs, scorer's table, one scoreboard, four practice backboards and rims, two game backboards and rims and a new sound system with four speakers. Burton added that he was waiting on quotes for new paint and he was hoped the completion date would be the last week in July.
Original drawings of the Sports Arena showed a two "level" of seating. Plans changed and the arena was built with the lower level only. The arena became the home for boys and girls basketball teams and wrestling. Volleyball played their matches in the Main Street gym which serves as a practice basketball gym and house physical education classes during the school year.
I am very happy to see Mainstreet gym renovated and return as the home of the Opelika Bulldog basketball teams. The advantages of moving will pay dividends for many years. Fans can park in the front lot at OHS and enter through the front doors. This area has plenty of light at night, room for people
to move and easily accessible for the handicapped. The first home game has not been released.
DIXIE
BASEBALL
Dixie Youth baseball tournaments are in progress. Opelika's 7-8, 9-10 and 11-12 year old teams participated in tournaments.
ON THE MARK/ FOX RADIO
Beginning July 1, my morning sports radio show, "On the Mark", will air on WZMG 910/1310 AM 6 to 9 a.m. Monday through Friday. The format will change to FOX Sports and will be call "FOX Sports 910-1310 the Game." Jeff Sasser will continue to co-host, along with our guest host Coach Dan Washburn, Coach Larry Gore, Coach Joe Wilson, Coach Doug Barfield, Derek Lee, James Cooper and Dr. Jeff Meyers, among others. Opelika Mayor Gary Fuller and Auburn Mayor Ron Anders will call on Wednesday following city council meetings to recap the meeting.
Coach Pat Dye (Mondays at 7:10 a.m.) and Coach Gene Stallings (Thursdays at 7:05 a.m.) call the show along with local coaches.
TINA DEESE TO LSA
Congratulations coach Tina Deese!
Deese was hired by Lee-Scott Academy as their new head softball coach. The veteran coach retired from OHS in May after 25 years with RSA. The hiring was confirmed by Lee-Scott Academy Headmaster Dr .Stan Cox.
D. Mark Mitchell is sports director for iHeart Media, Alabama Dixie Boys State Director and vice president of the A-O Sports Council.