By Stacey
Patton Wallace
Sometimes, I want to experience fine dining and go to a unique place to eat new, unexplored dishes. The Waverly Local is that place, and it's only 11 miles from my house. The restaurant is located at 1465 Patrick St. in Waverly.
The Local touches the edges of Lee, Tallapoosa and Chambers Counties; therefore, it is called, "a Tri-County Kitchen." My sweet friend Lynda, who plays piano beautifully at our church, Central Baptist of Opelika, recommended the Waverly Local to me. Sidenote: Lynda is teaching me to play the piano, so please pray for her.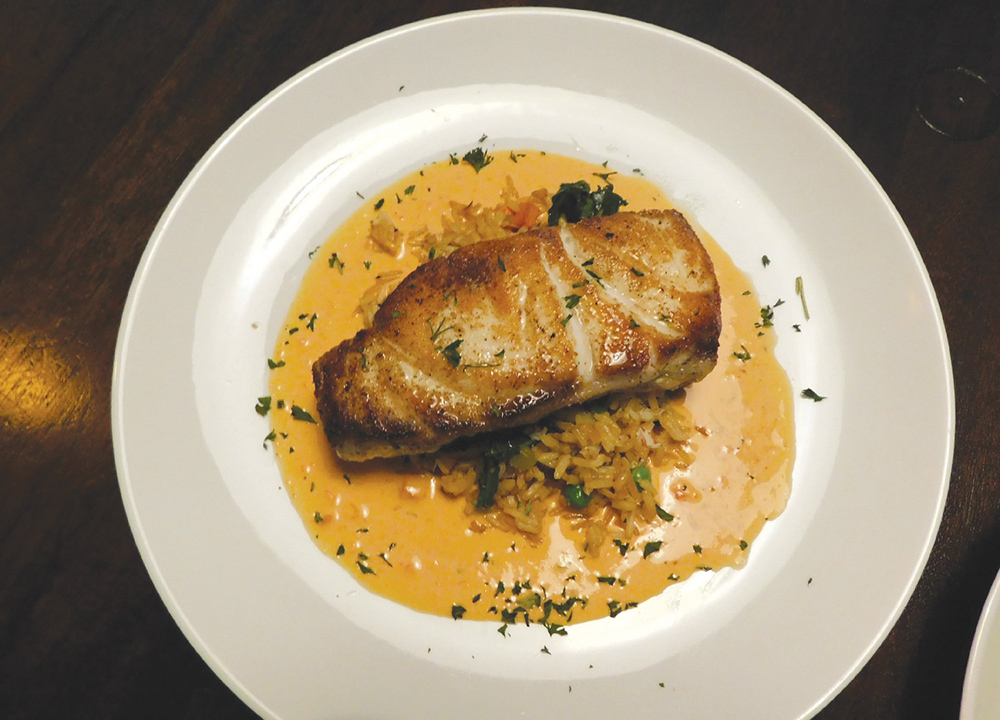 Mike and I ate at the Waverly Local on a recent Friday night. We were led to a very spacious booth. "Pooh-sized" people such as Mike and I appreciate roomy booths. It's embarrassing to squeeze into a tight one and not be able to breathe. In some restaurants, we've been one cheeseburger away from asphyxiation.
Mary Beth, our waitress, was wonderful. She was sweet, funny and helpful. When she brought us paper menus, I was delighted. As I've said before, I'm a 20th century woman trapped in the 21st century. I. Don't. Do. Apps.
For an appetizer, or "snack" as the menu called it, Mike and I chose pimento cheese on sourdough frybread. I'm not a fan of store-bought pimento cheese; to me, it's lumpy and looks unappetizing. However, I have a delicious pimento cheese recipe from Bobby Dean, Paula Dean's son, so I wanted to give it a try. Oh, my. The Waverly Local's pimento cheese is incredible. Mike and I were tempted to lick the bowl, but our parents taught us better. Also, the crunchy, tasty sourdough frybread complements it perfectly. After all, this is Alabama; everything tastes better fried.
Mike chose crab cakes with vegetable & herb fried rice with green goddess dressing for his entrée. I, on the other hand, picked the daily Gulf offering, which was grouper with blue crab fried rice and lobster cream. Both dishes were delicious and were beautifully presented. Other entrees included: roasted ranch pork, grilled prime ribeye, half smoked chicken and burger and fries.
For dessert, Mike and I shared a luscious piece of key lime cheesecake with strawberry champagne jam. Oh, my two times. Run, do not walk, to get a piece of this dessert.
We plan to visit the Waverly Local very soon for its Sunday brunch. Since our worship service at Central Baptist is at 10 a.m., Mike and I can be at the Waverly Local by 11:30 a.m. and beat the Methodists, Presbyterians, etc. to brunch.
Our waitress Mary Beth was kind yet again and let me take home a paper copy of the brunch menu. Mike plans to tackle the Wilbur omelette, which has smoked bacon, Capps sausage, country ham, pepper jack and grits or potato casserole. I'm torn between that delicious-sounding dish or the French toast bites, which have apple butter, vanilla bean cream and caramel. There are also other tempting choices. As you can tell, this will be a tough decision.
  Besides their delicious food and great service, I really love that the Waverly Local buys their produce from the Tri-counties they serve. For example, the strawberry champagne jam on our cheesecake came from Hornsby Farms, which is a small family farm in Auburn.
I love supporting small businesses, especially in Lee County, my home and favorite county in the great state of Alabama. I'm also glad that the Waverly Local buys produce from Tallapoosa County, where I was born.
The Waverly Local is open Wednesday-Saturday from 4 p.m. until 10 p.m. and Sunday from 10 a.m. until 2 p.m. I would recommend calling for reservations at 334-539-6077.
The Waverly Local makes the grade with an A+ from this retired English teacher. Remember, "Pooh-sized" people NEVER lie about food. Enjoy!
Stacey Patton Wallace, who retired from teaching language arts for 30 years, is a professional diner. Her column, "Making the Grade," will appear each week in the Observer. Stacey may be reached at retiredlangartsteacher2020@gmail.com.