By Stacey Patton Wallace
Last month, Mike and I finally managed to go to Christmas in a Railroad Town in Opelika. I've mentioned many times how much I love downtown Opelika, and the city's Christmas decorations were really beautiful. Mike and I enjoyed the sights, got our picture made with Santa Claus (because we'll always be kids at heart) and chatted with other citizens.
Also, we also loved munching on a delicious, huge sugar cookie on a stick. Ms. Judy Eldred's Culinary Arts class at Opelika High School baked this wonderful treat, and students and teacher DEFINITELY get an A+ for their efforts. In fact, in just a flash, we scarfed down the cookie, leaving only the stick and a few lonely crumbs. Hats off to the city of Opelika for hosting such a fun event for the community.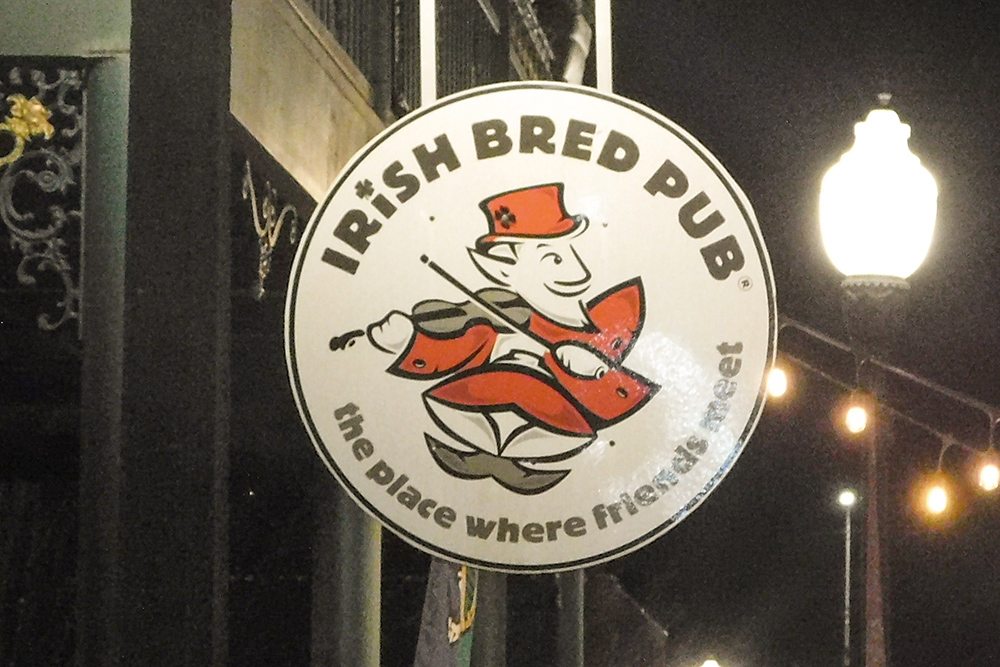 Besides enjoying local events in Lee County, my husband Mike and I love to travel. Our dream trip is to one day go to Scotland, the land of our ancestors, as well as Ireland and England. My Mama's maiden name is McEachern, and we're Wallaces. You can't get any more Scot than that. Also, we've seen beautiful pictures of the lush, green countryside in that part of the world. In addition, when we watched the movie, "Braveheart," about Scotland's hero, William Wallace, we decided that we should have our picture taken in front of his statute.
However, since we're very hesitant to travel out of the country because of COVID-19, we will have to experience Scotland, Ireland and England indirectly wherever we can. Therefore, Mike and I met our friends Jack and William for supper at the Irish Bred Pub at 833 S. Railroad Avenue in Opelika.
Felicia, our waitress, was so sweet, helpful and patient. Mike ordered a large bowl of gumbo with fries, while I chose a small cup of gumbo and a "build your own pub burger" with fries. All right, those aren't Irish dishes, but everything was really delicious.
William selected shepherd's pie, an authentic Irish dish made of seasoned ground beef, peas and carrots, simmered in rich gravy and topped with mashed potatoes and a sprinkling of mozzarella cheese. Last, Jack ordered salmon, carrots and green beans. Both William and Jack said that their food was great. For dessert, Jack chose the bread pudding, which was, he said, "Too good to be described.".
The Irish Bred Pub offers diners a large variety of appetizers, some of which include: crab boxty, a traditional Irish dish, which consists of three pan sautéed potato-encrusted lump crab cakes, served on creamy tartar sauce; reuben egg rolls, which are three hand-rolled corned beef and cabbage rolls with Swiss cheese and onion; public house fries, which are an Irish style poutine with beer battered fries, Guinness gravy and melted mozzarella cheese; wings; pub tots.
The restaurant also serves a great selection of salads and soups. Besides my terrific burger, the Irish Bred Pub offers a large selection of sandwiches, some of which include: the Shannon chicken sandwich, the chicken lassie, reuben, grilled Atlantic salmon and the Guinness BBQ burger.
Public House choices offer a unique variety of dishes from several countries, such as: bangers & mash, Guinness stew corned beef hash (Irish); speckled hen mac & cheese, fish & chips (English); pork schnitzel (German); chicken & chips, shrimp & grits (American). Other supper choices include: Gaelic sirloin, Irish surf-n-turf and vodka chicken, among others.
Besides Jack's amazing bread pudding, the restaurant also offers lemon berry mascarpone, Godiva chocolate cheesecake and seasonal dessert. When my A1C drops a good bit more, I'd love to try one of them.
The Irish Bred Pub, which is locally owned and operated by Chris McBride, is open on Sunday from 12 p.m. to 4 p.m.; on Monday through Thursday from 11 a.m. to 10 p.m.; on Friday and Saturday from 11 a.m. to 11 p.m.
The Irish Bred Pub makes the grade with an A+ from this retired English teacher. Remember, "Pooh-sized" people NEVER lie about food. Enjoy!
Stacey Patton Wallace, who retired from teaching language arts, is a professional diner. Her column, "Making the Grade," will appear each week in the Observer. Stacey may be reached at retiredlangartsteacher2020@gmail.com