By STACEY
PATTON WALLACE
Back when I was a young girl growing up in Alexander City ("Eleck" City to the locals), Barbara Patton, my Mama, was an extremely busy woman. She, like my Daddy, worked for Russell Mills, Inc., and was responsible for feeding Daddy, Jim and Mike, my two much older brothers, and me.
Mama was a great cook, and she prepared supper every night except on Sunday, when we had leftovers from dinner and on Wednesday night, when she had her hair done — a wash, roll, set and dry. On Wednesday nights, Daddy cooked what he called "Patton's Especial," or hot dogs.
With three children to feed, eating out was quite expensive, so we rarely went out, but we ate very well. On Friday nights in the fall, we'd get Hardee's hamburgers to go because we were going to watch my brothers play football for Benjamin Russell High School.
Also, we always ate together at our kitchen table. I once read that one common factor shared by National Merit Scholarship recipients, no matter their socioeconomic background, was that they shared a meal together as a family. Parents and children actually talked to each other. What a great idea.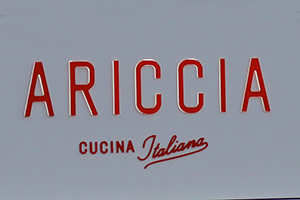 Since we've retired, Mike and I cook a lot more than we did as full time teachers because we have less money and more free time. However, I must confess that we don't eat at the table. Instead, we eat together while watching "Leave It to Beaver," "The Mary Tyler Moore Show," and other TV classics. However, we talk to each other all day, so it works for us.
Sometimes, though, I don't want to eat at home. Instead, I feel like going somewhere special and elegant, so recently, I met my friend Leigh Ann for brunch at Ariccia Cucina Italiana. Ariccia is located in the Hotel at Auburn University & Dixon Conference Center at 241 S. College St. in Auburn.
Much to my delight, when I arrived at Arricia, I learned that free valet parking was available to people who were dining at the restaurant but not staying at the hotel. Also, Ariccia has a lovely interior. In addition, the ladies' room had white, soft towels with which to dry your hands. Again, sometimes, you deserve to be pampered.
Kaitlin, our server, was so sweet, patient and helpful. I ordered the breakfast bowl, which consisted of two eggs, Conecuh sausage, cheddar grits and micro basil. Leigh Ann chose the special, Brussel sprouts and crispy pork belly salad. Both choices were REALLY delicious.
We agreed that Ariccia's brunch is a DEFINITE do over. Also, our meals were very reasonably priced, another plus.
The brunch menu had the phrase "Buon giorno," which is Italian for "Good morning." Besides my wonderful breakfast bowl, the restaurant offers other delicious choices for breakfast or brunch, some of which include: the hashbrown bowl, which has two eggs, hashbrown casserole, porchetta, crispy shallots and micro basil; the Americano, which includes bacon or Conecuh sausage, two eggs and hashbrown casserole; the berry waffle, which has mixed berries, powdered sugar and bacon.
Ariccia also has a variety of salads, pizzas and paninos, which are served with fries or your choice of Ariccia or Caesar salad.
For dinner, Ariccia offers diners a large selection of entrees as well. Some of them include: rigatoni carbonara, bucatini Bolognese, a pan roasted 8-ounce chicken breast, pesce (grilled fish filet) and an 8-ounce filet. Corri, non camminare, which is Italian for, run, do not walk, to Ariccia.
Ariccia Cucina Italiana is open on Sunday through Friday from 6:30 a.m. to 2 p.m. and 5:30 to 10 p.m.; on Saturday from 5 to 10 p.m.
Ariccia Cucina Italiana makes the grade with an A+ from this retired English teacher. Remember, "Pooh-sized" people NEVER lie about food. Enjoy!
Stacey Patton Wallace, who retired from teaching language arts for 30 years, is a professional diner. Her column, "Making the Grade," will appear each week in The Observer. Stacey may be reached at retiredlangartsteacher2020@gmail.com