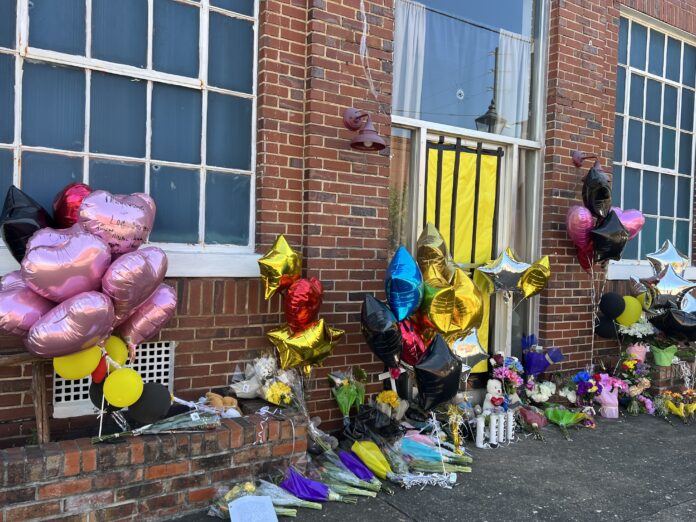 BY HANNAH LESTER
DADEVILLE —
Tuesday morning, five of six defendants in the Dadeville shooting which occurred on April 15 had their bail hearings.
Three of them are being tried as adults, the other two as juveniles. 
The hearing began at the Dadeville courthouse and three of the defendants were seated: Willie George Brown Jr., 19, of Auburn; Johnny Letron Brown, age 20, of Tuskegee; and Wilson LaMar Hill Jr., age 20, of Auburn.
The other two defendants, Tyreese "Ty Reik" McCullough, age 17, and Travis McCullough, age 16, both of Tuskegee, participated in their hearing following the first three. Since they are being tried as juveniles, an audience was not allowed to be present.
The sixth, a 15-year-old from Macon County, was not present.
Jesse Thornton, State Bureau of Investigation special agent for the Alabama Law Enforcement Agency and case lead for the investigation, was the first to take the stand.
According to his account, on the night of April 15, a 16th birthday party was held at Mahogany Dance Studio in the 200 block of Broadnax Street.
The room where the party was held was not very big, only 38 by 26 feet — one room with a bathroom and another small room to the side, Thornton said. There was only one entrance and exit, the two main doors, which swing inward rather than outward.
There were 50 to 60 people at the party and the lights were dim, Thornton said witnesses reported.
He said he received a call around midnight from Lt. Steve Arrington that shots had been fired at the party, and when he arrived around 2 a.m. there was assistance from many local law enforcement agencies, including ALEA, the Opelika Police Department, the Auburn Police Division, police from Chambers County, Dadeville and the Tallapoosa Sheriff's Department.
It was a "busy crime scene," he said.
There were four deceased victims present: Marsiah Collins, 19, of Opelika; Corbin Dahmontrey Holston, 23, of Dadeville; Philstavious Dowdell, 18, of Camp Hill; and Shaunkivia Nicole Smith, 17, of Dadeville.
There was "blood everywhere," Thornton said. Found at the scene were 89 shell casings of four types: 9 mm, .22-caliber, .45-caliber and .40-caliber.
All were handguns, Thornton said, and there is no evidence of semi-automatic rifles commonly referred to as assault rifles.
One to two of the guns had been altered, however, Thornton said, to include a switch, which is illegal.
According to witnesses, "it sounded like a machine gun."
The majority of shell casings, more than 60, were found in the back right corner of the room. Two firearms were recovered on the scene, Thornton said.
One was found on Holston, sitting on his chest, "almost like it was placed there." This was a 9 mm gun.
The second was found on Collins' body, inside his clothes, and it was later confirmed that this gun had not been fired.
The four deceased were lying side by side near the front of the room, Thornton said.
When questioned, Thornton said that he had not, in his career, witnessed a scene like this — "not of this magnitude" — nor so many local law enforcement agencies involved in one case.
The defendants were at the party, according to witness and defendant statements.
According to their accounts, the party was on social media and they saw information about it there.
During the party, an adult made an announcement that anyone over 18 or possessing a gun needed to leave. A stand fell during the party, causing a loud bang, and at this time, several in the party showed that they were carrying firearms, according to Thornton's testimony.
According to witness statements, it appears Holston may have shot first and was wearing a mask, Thornton said. Many of the witnesses said that they didn't see the shooting but could hear it and from where in the room it may have come.
Five of the six defendants have admitted to being at the party and to shooting, Thornton said. However, Willie has not admitted to shooting.
Despite this, there was a shooting in Auburn where shell casings were discovered. These shells match shells found on the scene that are linked to Willie and a .40-caliber gun, Thornton said.
During questioning, Thornton confirmed that the attendants had been at the party for at least an hour and would have heard the adult's announcement about firearms.
From statements, Thornton said they have determined that all the defendants know each other or are related. Following the shooting, five if not all six of the defendants met together in Tallassee, Thornton said, according to statements from defendants.
Thornton said that he believes the three defendants pose a threat to the community and a flight risk if released on bail.
Anna Parker, defense attorney for Hill, asked Thornton questions about the defendants sticking around after the shooting, which he confirmed.
Thornton said there was an individual who had been shot that they all knew that they were helping.
Hill was picked up at his house and didn't resist arrest. A search warrant of his father's home, where Hill lived, revealed a firearm that belonged to his father. The Bureau of Alcohol, Tobacco, Firearms and Explosives has not revealed whether this gun was involved or any connection to Hill.
Parker confirmed that the room was not well-lit and that there were 50 to 60 people in attendance at the party.
"Is it possible that potential witnesses may not have accurately seen things?" she asked. Thornton confirmed it was possible.
George Bulls, defense attorney for Willie, asked Thornton to confirm that there are not any current witness statements that say Willie shot a gun at the party, which he did confirm. Any statements made about Willie were made by those charged.
While there are statements from witnesses of people flashing guns, Willie was not one of them.
Willie approached police willingly, though Thornton said that while he did give a statement, he wasn't forthcoming with information.
The defense attorney for Johnny asked if Holston had been tested for gun residue, and Thornton said he didn't believe so.
The attorney also asked if there was any indication of the six meeting before the party; Thornton said there was not.
The second witness to take the stand was Lakeitha Macon, Hill's mother.
She testified that the charges brought against Hill are out of character and that he was "absolutely not" a flight risk. She also said he had never been in trouble with the law and that he could reside with her, or live with her under house arrest.
The third and final witness of the public portion of the hearing was Michael McCullough, of Auburn. He was called to the stand by Bulls.
Michael, 17, testified that he is a stepbrother to Willie and that they left from Willie's house on April 15 for the party. He said that on the way they picked up Travis.
At this time, Bulls said they would resume his testimony at a later time and the court was recessed for 30 minutes.
Following the recess, the hearing was held for Travis and Tyreese.
The judge has 42 hours to release a decision, so at the time of publication, information was not available on final decisions.