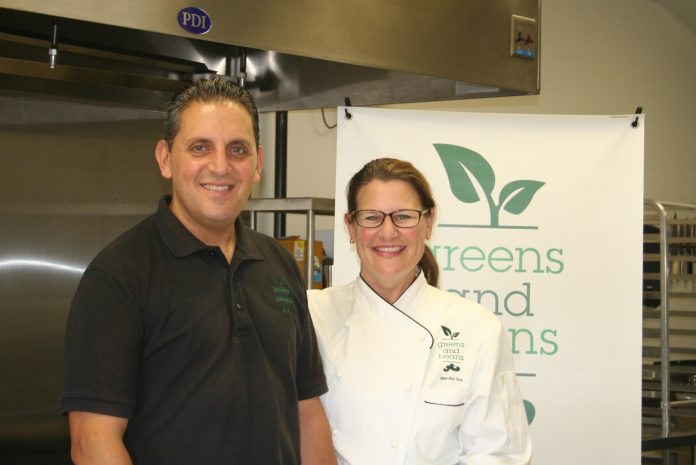 By Morgan Bryce
Editor
Providing children with healthy, handmade meals for better cognitive function and overall physical health is the goal of Greens and Beans, an Auburn-based based business first opened in 2015.
Owned and operated by the husband-and-wife duo of Arif and Jennifer Kor, the business's target demographic is children ages 1 to 5, years where diets play a critical role in a child's development.
"Food has such an impact on children early, and that exposure to the food pyramid and overall nutrition is just as important as teaching them how to be kind and how to be social. If they don't receive proper nutrients during those (four) years, it can make for difficulties as they get older," Jennifer said.
Both Arif and Jennifer are well-versed in cooking and nutrition through their combined wealth of experience in the hospitality management industry.
Jennifer, a native of Boiling Springs, Pennsylvania, grew up in her family's resort, which served as preparation for her future career. Arif hails from Istanbul, Turkey but became a well-seasoned traveler and spent several summers in his childhood and teenage years in Switzerland, where both he and Jennifer's careers in hospitality management would begin.
The couple met while attending Cesar Ritz College's Montreux, Switzerland campus and struck up a friendship. Jennifer, a year older than Arif, finished her two-year certification and returned back to the United States to finish her education. He would follow her overseas the following year.
Both completed their bachelor's degrees of science in hotel, restaurant and institutional management from Virginia Tech, with Jennifer finishing in 1993 and Arif in 1994.
During the following year, the two's friendship blossomed into romance, dating for six years before marrying in 2001.
Similar to active-duty military families, the career path of workers within the hospitality management industry usually involves promotion and constant relocation, which was the case for the Kors. After having their first child in 2003, Jennifer stepped back to take care of their budding family while Arif advanced in his career.
Following stints in other parts of the U.S., Europe and Asia, the family first came to the Auburn-Opelika area in 2009 for Arif's job as an executive assistant manager of food and beverage at The Hotel at Auburn University and co-educator of food and beverage-related courses through the school's hotel and restaurant management program.
After two years at Auburn, the Kors relocated to Boston where Arif held multiple senior leadership roles in luxury hotels and resorts before his last career stop on Hayman Island, located near the Great Barrier Reef and Sydney, Australia.
With more than two decades of traveling the world under their belts, the Kors said they decided to come back to the area to give their children a more stable environment and enjoy a laid-back life "in a small, Southern (city)" like Auburn.
Jennifer's inspiration for starting Greens and Beans came through an experience working with Charlene Kam at the Auburn Montessori School.
With support from Arif, the two opened the business together in 2015.
Greens and Beans offers schools, daycares and learning centers a chance to outsource their food production and cut costs, all the while providing their students with well-balanced and nutritious options for breakfast, lunch and afternoon snacks.
According to Jennifer, only "fresh, quality" ingredients and foods are used in the meals they produce from their full- production kitchen within the Moore's Place Shopping Plaza, which they acquired in December 2017. Local produce is sourced in their cooking when available.
Each day at 6 a.m., the Kors and their three employees arrive and begin preparing food for that day. A driver delivers meals at staggered times throughout the day, starting with breakfast at 7:20 a.m.
Menus are meticulously created and tested for children's approval, rotating on a monthly and seasonal basis. The Kors said they can accommodate the dietary needs of children with allergies, mental health disorders or religious preferences.
Included in contracts with their clients is the installation of a garden to help children understand the process of raising the food they eat. In a small, raised bed adorned with the Greens and Beans logo, the Kors plant various fruits, herbs and vegetables that are used in the meals they make.
"We love what we do. We really have a lot of fun doing it," Arif said. "We try to treat it like we are serving presidents or dignitaries – children are so important because they represent our future."
Future plans for Greens and Beans include the possibility of extending their age range to children older than 5 and expanding beyond the Auburn-Opelika area, according to Arif.
The business is open year-round and also caters summer camps or events for children.
For more information, call 334-329-4922 or visit www.greensandbeans.net. Their hours of operation to the public are 7 a.m. to 2 p.m. The business is located at 2140 E. University Drive, Suite D in Auburn.