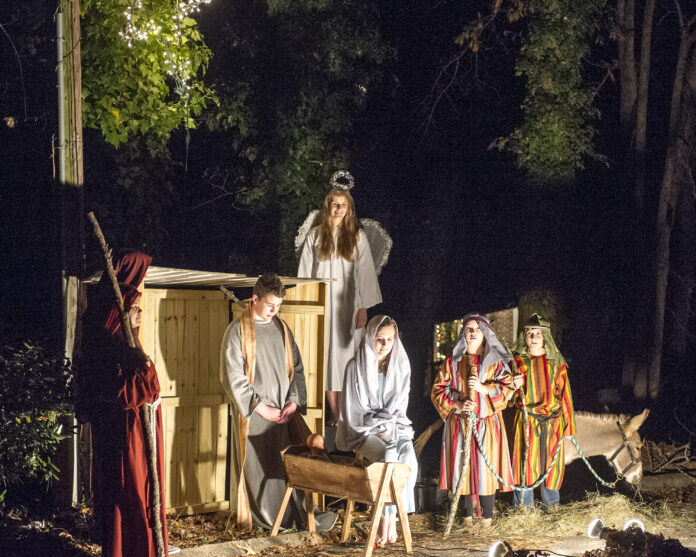 Contributed by Abby Driggers
Glowing candles will soon line the streets of Collinwood once again as a part of the annual Collinwood Luminaries event on Friday, Dec. 18.
Collinwood neighborhood residents will transform their roadways into a Christmas journey commemorating the path of Christ's birth. The luminary lighting ushers in the holiday season and illuminates the neighborhood with the glow of over 1,500 candle-filled bags.
"The neighborhood has always seen the luminaries as its gift to the community," Ruth Tolbert, the 2020 Collinwood luminary coordinator, said.
Entering from Collinwood Street at the corner of Tenth Street and Oak Bowery Road, motorists are guided down a one-way lit road to a live nativity scene on Mclure Avenue featuring volunteer shepherds, angels, wise men and live animals – an annual gift from the First United Methodist Church of Opelika.
From the safety of their vehicles, organizers said participants can enjoy the scenes and drive through as many times as they wish. The event is free to the public and will be held from 5 to 9 p.m.
Visitors are asked to turn off their vehicles' headlights as they slowly progress through the Collinwood subdivisions.
Tolbert said she hopes this year's event will be as special as possible.
"In our 53rd year of the Christmas tradition, we continue to invite the community to come and enjoy the Luminaries," Tolbert said.
The first Collinwood luminary was conducted in 1967 when local garden club members asked residents Aileen Samford and Lucy Salter to start a luminary procession, according to Auburn Opelika Tourism's website.
The Collinwood tour is supported by the Opelika Mayor and City Council, Public Works Department of Opelika, Opelika Power Service, Opelika Police Department and Boy Scout Troop 858.
To learn more about the Collinwood Luminaries, please visit the Collinwood Luminaries Facebook page for more information.