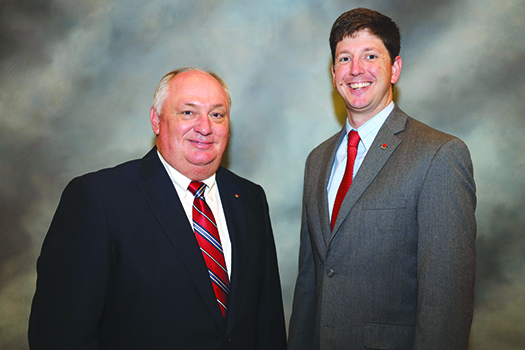 CONTRIBUTED BY ALFA
MAGGIE EDWARDS
LEE COUNTY —
From visiting decision-makers in Washington, D.C., to deep-diving into Alabama Farmers Federation dynamics, Agricultural Leaders For Alabama (A.L.F.A. Leaders) has transformed the lives of 16 program participants.
A.L.F.A. Leaders Class V culminated its journey during the federation's 101st annual meeting in Montgomery on Dec. 5. The class was announced in December 2019.
"Besides networking with my fellow classmates and federation staff, one of the most important parts was the seminars," said graduate Dillon Turk, who manages his family's Martin's Nursery in Mobile County. "Each of our six seminars focused on a different aspect — from politics to personal development. We came out of each seminar having learned something about ourselves or ways to identify and solve problems."
Turk's fellow classmates included farmers, extension agents, agriscience educators, business owners and more — each bringing unique qualities and backgrounds to the table.
Participants, who are 25 to 45, were trained in agricultural policy, industry leadership and communications. Class V benefited from six intensive, multi-day seminars revolving around federation operations, state and national government, Alabama agriculture and successful leadership.
Federation President Jimmy Parnell hailed the program, which has cultivated local, state and national farm and government leaders.
"We are proud to invest in these young leaders," Parnell said. "We see the impact A.L.F.A. Leaders and similar programs have had on our organization. This time and financial investment will pay dividends for decades to come."
Interacting with policymakers and American Farm Bureau Federation staff in the nation's capital opened class graduate Lucy Edwards' eyes to the federation's influence nationwide.
"There is a powerful relationship between the federation and elected officials in D.C.," said Edwards, an extension coordinator sponsored by Houston County Farmers Federation. "These leaders really took time to engage with us and learn more about issues Alabama farmers are facing."
A.L.F.A. Leaders Class V also participated in a capstone project centered around FarmPAC, the federation's political action committee focused on state endorsements. They presented a proposal to federation leaders during the organization's annual meeting.
Rachel Chastain, an agriscience educator at Helen Keller School in Talladega County, said the capstone project fine-tuned her public speaking skills. It also improved her teaching skills and the way she speaks to audiences as an Alabama Ag, as the Classroom Summer Institute presenter.
"When we have elected officials come through my school, I have a platform that allows me to be an education advocate and an agricultural advocate," Chastain said. "This class helped give me the confidence and skills to better my ability to educate others."
Turk, Edwards and Chastain agreed that A.L.F.A Leaders changed their lives.
"This program helped open my eyes to the bigger picture of agriculture and advocating for the industry," Chastain said. "I also learned how inclusive the federation is. Whether you are an agriscience teacher or a row cropper, there is a place for you."
Turk said the time commitment — six weeklong sessions — was well worth the sacrifice.
"It is time away from work and family, but it is beneficial to you, whether you're an agribusinessman or farmer," Turk said. "Most importantly, I'll work with, for and around these 15 folks throughout the rest of my life."
The class will experience one last learning opportunity together in January, as they travel to the United Kingdom for an agricultural leadership experience.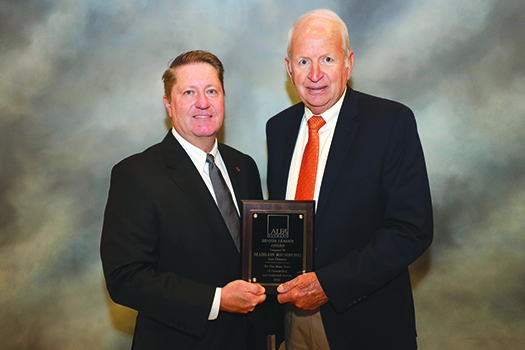 RICHBURG RECEIVES ALABAMA FARMERS FEDERATION SENIOR LEADER AWARD
Lee County Farmers Federation (LCFF) member Mahlon Richburg was honored with the Senior Leader Award from the Alabama Farmers Federation during an awards ceremony Dec. 5.
An LCFF member for more than 45 years, Richburg previously has served as county president. At the state level, he is a former member of the Alabama Farmers Federation Beef and Hay & Forage committees. He taught agriscience in the Auburn City school system for 40 years. Together with his wife Mary, he raises high-quality hay.
The ceremony was part of the second general session of the Alabama Farmers Federation's 101st annual meeting in Montgomery, which drew over 1,200 attendees.
The Senior Leader Award is reserved for individuals who are over 70 years old and have served as a county Farmers Federation president, State Women's Leadership Committee chair or Federation State Board member.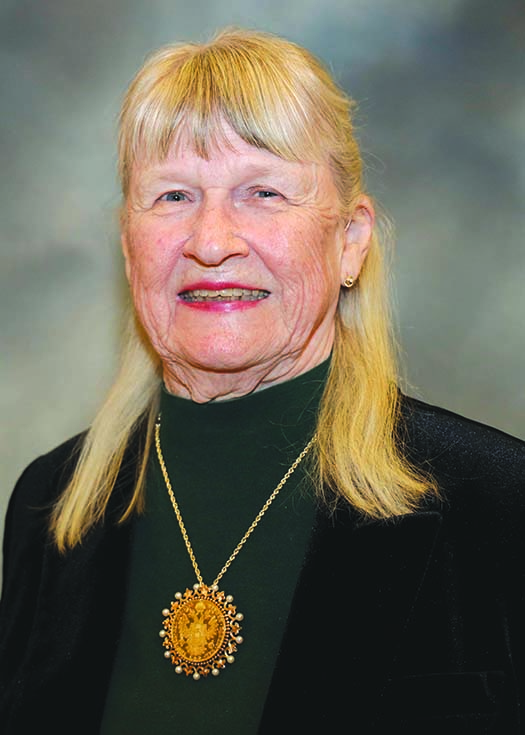 IN OTHER NEWS
Rex Vaughn of Madison County and George Jeffcoat of Houston County were reelected to their sixth two-year terms as North Area and Southeast Area vice presidents, respectively. Both raise row crops and cattle.
As Southeast Area vice president, Jeffcoat serves farmers in Barbour, Bullock, Chambers, Coffee, Coosa, Covington, Crenshaw, Dale, Elmore, Geneva, Henry, Houston, Lee, Macon, Pike, Russell and Tallapoosa counties.
Ann Whatley will serve one-year, ex-officio terms on the state board. She was elected chair of the State Women's Leadership Committee.