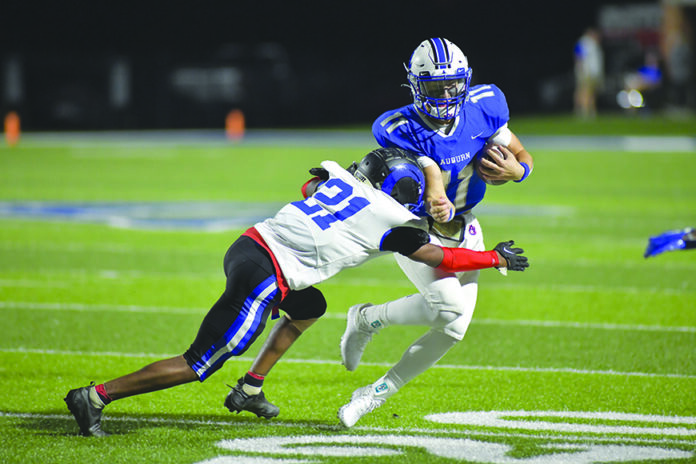 BY WIL CREWS
SPORTSCREWS@OPELIKAOBSERVER.COM
LEE COUNTY —
Another week of high school football has passed as teams continue their quest for end-of-season glory. Can the season be halfway over already? Area teams Beauregard, Loachapoka and Glenwood were all on bye; Auburn and Lee-Scott remained undefeated; and Beulah, Smiths Station and Opelika all lost to non-region opponents.
The following is a breakdown of how area teams fared in week six of the 2022 high school football season. All stats were compiled firsthand, by school sources or by Maxpreps.com.
AHSAA
AUBURN 42 | RAMSAY 21
Auburn High (6-0, R4-0) quarterback Clyde Pittman became the program's all-time leader in passing touchdowns Friday as the Tigers defeated 5A Ramsay (4-2, R3-0) at home, 42-21. It was homecoming night for Auburn and Pittman looked comfortable all game, tossing two passing touchdowns — raising his total to 39 for his career — against the Rams. Pittman, while splitting time with backup quarterback Davis Harsin, finished his night 9-of-11 passing for 111 yards and two TD's. The Tigers as a whole racked up 310 yards (158 passing, 152 rushing) and three turnovers (one fumble and two interceptions). Auburn, the No. 1 team in 7A, plays host rival Opelika (4-2, R3-1) in a regional contest on Friday, Sept. 30, at 7 p.m. at Duck-Samford Stadium.
SMITHS STATION 28 | BENJAMIN RUSSELL 46
The varsity Smiths Station Panthers fell to 1-5 (R1-3) on the season Friday night, losing to non-region 6A Benjamin Russell (4-1, R1-1), by a score of 46-28. The top performers for the Panthers were senior quarterback Jackson Greer, senior wide receiver Devyn Pearman and junior wide receiver Jaylen Bibbs. Greer completed 52.2% of his passes for 76 yards, two touchdowns and two interceptions. Pearman was the leading target-getter for Smiths Station, hauling in three passes for 60 yards and one TD. Bibbs caught four passes and one TD. The Panthers return to the field Friday, Oct. 7 for a regional matchup against Opelika High School (4-2, R3-1).
BEULAH 21 | PRATTVILLE CHRISTIAN 35
The winless Beulah Bobcats (0-5, R0-2) came as close to a win as they have all season Friday night, ultimately falling to the Prattville Christian Academy Panthers (3-2, R1-1) on the road, 35-21. The Bobcats posted a season-high in points behind a prolific rushing attack from sophomore running back Demarion Foreman, who totaled 135 yards and two touchdowns on the ground through 18 carries. Foreman also caught three of his four targets for 32 yards. Beulah scored a touchdown in each of the final three quarters of last Friday's contest, but failed to overcome a 13-0 first quarter deficit largely due to turnovers. The Bobcats fumbled the ball over to the opponent four times during the contest — and quarterback Noah Higdon threw one interception. Higdon had a solid game otherwise, throwing for 75 yards on 7-of-13 passes, rushing for 38 yards on 13 carries and seven tackles on defense. Beulah totaled 263 total yards and committed nine penalties for 77 yards. The Bobcats are on the road again Friday, Sept. 30, searching for their first win against undefeated region foe Dadeville (5-0, R3-0).
AISA
LEE-SCOTT 42 | MACON EAST 7
The Lee-Scott varsity Warriors remained perfect Friday night, defeating Macon East (4-1, R1-0) 42-7 to move to 5-0 (R3-0) on the 2022 season. Lee-Scott totaled 340 yards of offense in the home, non-region matchup. The Warriors' defense continued their trend of dominance over the course of this season, holding the Knights to just 167 total yards and one score in the fourth quarter. On offense, senior running back George Meyers led the way once again, tallying 131 yards and three touchdowns on 13 carries. Junior backup running back Jonathan Meyers (of no relation to George) carried the ball five times for 63 yards and one touchdown; junior running back Andrew Hahn converted his 10 carries into 67 yards and two touchdowns. Missing starting quarterback Ryan Dearing, sophomore Pelzer Reaves took the majority of the snaps behind center, completing 5-of-9 passes for 50 yards. Junior Jake White led the Warriors receiving, hauling in four of his five targets from Reaves for a total of 48 yards. Lee-Scott returns home Friday, Sept. 30 for a home conference game against Autauga Academy (3-1, 2-1).