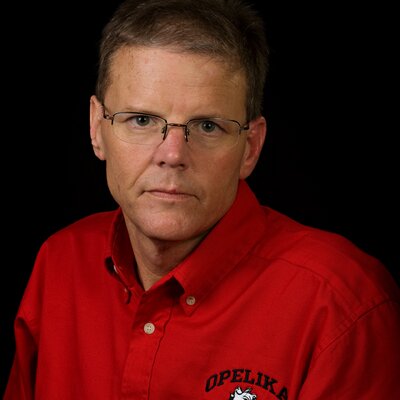 Special to the
Opelika Observer
Seven individuals who have made an impact as exemplary role models have been selected as the 2019 Making a Difference Award recipients by the Alabama High School Athletic Association (AHSAA) and the Alabama High School Athletic Directors & Coaches Association (AHSADCA).
One recipient from each of the AHSAA's seven classifications was chosen from nominations submitted by AHSAA member schools and other support organizations. This year's recipients are John Hardin, Hackleburg High School (1A) principal; Lisa Bates, Sand Rock High School (2A) girls' basketball and volleyball coach; Willie Wright, Pike County (3A) principal; Chris Goodman, Alabama Christian Academy (4A) softball coach; Russ Holcomb, Hamilton High School (5A) football coach; D. Mark Mitchell, WKKR Radio (iHeart) sports announcer, Opelika (6A) and Ken Storie, Jefferson County Schools Athletic Director (7A).
The honorees will be recognized at the Championship Coaches Banquet at the Renaissance Montgomery Convention Center on July 19. The event will close out the 2019 AHSAA Summer Conference and All-Star Sports Week for member schools. The Officials' Awards luncheon will officially close out the week on July 20 at the Renaissance at 11:30 a.m.
The Making a Difference Award was established in 2011 by the AHSAA and AHSADCA to recognize individuals who go beyond their normal duties as a coach, teacher or administrator to make a positive impact in their schools and communities. This year's recipients include two principals, three athletic directors, one basketball and one track coach. One of the athletic directors also serves as head football coach, one is a head volleyball coach and the other is a head basketball coach.
"The recipients in this 2019 Making a Difference class are excellent examples of men and women who take their positions as role models for their students, faculty and community very seriously. Each have had a major positive impact in their communities and schools and across the state and are excellent choices for what this award stands for," said AHSAA Executive Director Steve Savarese. "This award is the most important honor a professional educator in our state can receive. Characteristics considered for this prestigious award include the recipient's character, integrity and service, all of which have enabled these individuals to have a life-changing impact on the community or school where they serve."
Savarese said this special award exemplifies what makes education-based sports so important.
"This is one way we can honor them for the examples they set and the life lessons they teach on a daily basis," he said.
Following is a brief synopsis on Making a Difference recipient D. Mark Mitchell:
Class 6A
D. Mark Mitchell, Opelika Radio
Personality
Self-described as "Once a Dawg, always a Dawg," Mitchell's radio legacy as the sports authority on all things dealing with Opelika High School has spanned 37 years – starting in 1978 when he was still in high school. Mitchell, a 1982 OHS graduate, broadcast Opelika High School athletics, particularly football, for that entire span.
He has celebrated the wins and suffered the losses first-hand as he sat behind the microphone for OHS athletics. He made no excuses for his love of the "Dawgs." In fact, that is what has endeared him for so many years to the Opelika community. And despite dealing with health problems that led to 37 surgeries since the 1990s, he missed being in the booth on a Friday night only a handful of times during the last four decades.
In addition to his play-by-play duties, which finally came to an end after the 2017-18 school year, he has hosted "On the Mark," a local sports talk radio show concentrating on local sports for 13 years and counting. The iHeart radio affiliate (WKKR and WTLM) sports director also has hosted the "East Alabama High School Coaches Show" for 15 years and has hosted the high school wrap-up show for seven years.
A committed volunteer and president of the OHS Booster Club for many years, he currently serves as co-chair of the Auburn-Opelika Sports Council, co-chair of the Auburn-Opelika Super 7 Committee, is sports editor of the Opelika Observer and also serves as the Alabama Dixie Boys Baseball State Director.
His work behind the scenes helped bring the Super 7 football championships to Auburn and Alabama on a rotating basis in 2009 and he is still working full steam ahead each year to create opportunities for Opelika.