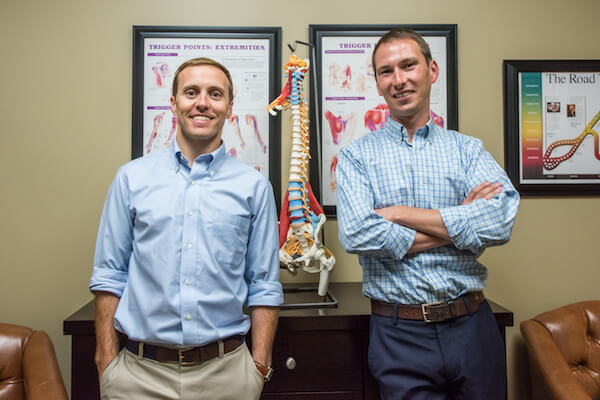 By Kelly Daniel
For the Opelika
Observer
On July 17, Advantage Chiropractic announced that both of their doctors had recently completed advanced certifications in chiropractic specialties. Dr. Brad Adams is now certified as an internist, while Dr. Tom Vrbka has earned a sports medicine certification. The practice's website explains that these certifications will better enable the practitioners at Advantage to pursue their mission of "offering comprehensive chiropractic care in an inviting and unintimidating community-centered environment."
Nationally Recognized Certifications
Chiropractors can earn the two certifications following the successful completion of coursework designed to provide additional expertise to address patients' needs. Adams's certification is as Diplomate of the American Board of Chiropractic Internists. This new distinction is the result of a three-year program focusing on diagnostic and holistic health services, as is explained in Advantage Chiropractic's announcement post on their website.
Dr. Vrbka earned the Diplomate of the American Chiropractic Board of Sports Physicians certification (DACBSP). This certification included advanced coursework in sports medicine, focusing on treating injuries and healthcare issues related to sports and physical exercise. The ACBSP website states that the organization has "led the development of sports medicine certification and has managed a world-class credentialing process that ensures certified sports chiropractors meet competency standards to effectively work with and treat athletes and those engaged in athletic activities."
Local Experts
Enhancing Their Ability to Serve Patients
Advantage Chiropractic has served patients in East Alabama for many years, and the clinic is committed to staying up-to-date with contemporary best practices through continuing education.
Both doctors expressed their enthusiasm for how the certificates will enable them to serve patients in the area.
The expertise provided by the program will enable Dr. Adams to achieve his objective of helping patients to become empowered to achieve their wellness goals.
In an online blog post Adams stated, "I enjoy the opportunity to help our patients regain and take control of their own health. Many times, they have given up hope after exhausting the limits of traditional medications and testing that provides them with few answers."
For those seeking sports medicine assistance, chiropractic medicine enables individuals to optimize their athletic performance and recover from sports-related injuries while proactively working to prevent future problems.
Dr. Vrbka said that he is happy about being able to serve athletes in the area in the area of sports medicine.
"I am able to focus on the athlete's biomechanics, exercise, and training regime to assist them in achieving their goals through directed rehabilitation," Vrbka said in a separate online blog post. "This helps athletes to compete and excel at the highest level of their sport."
Reasons for Seeking Out Chiropractic Care
While chiropractors are best known for treating problems with the spine, they can also address orthopedic issues in other areas of the body. Additionally, they can provide holistic health services such as nutrition and can recommend dietary supplements. Many people are interested in improving their health through holistic medicine, but many are unsure where to start.
Chiropractic care from an internist is one way to begin pursuing naturopathic treatment options.
The American Board of Chiropractic Internists explains on their website that chiropractic internists can guide individuals seeking to improve their health holistically. The site explains that their diagnostic expertise is particularly useful. Adams's certificate will enable him to help patients seeking integrative care. "When I explain to them the benefits of functional medicine and how we go about restoring health as opposed to treating the symptoms, it is rewarding to see lost hope restored," Adams said.
To learn more visit their website www.advantagechiropracticclinic.com or call 334-821-2552. The office is located at 2408 E University Dr. in Auburn.