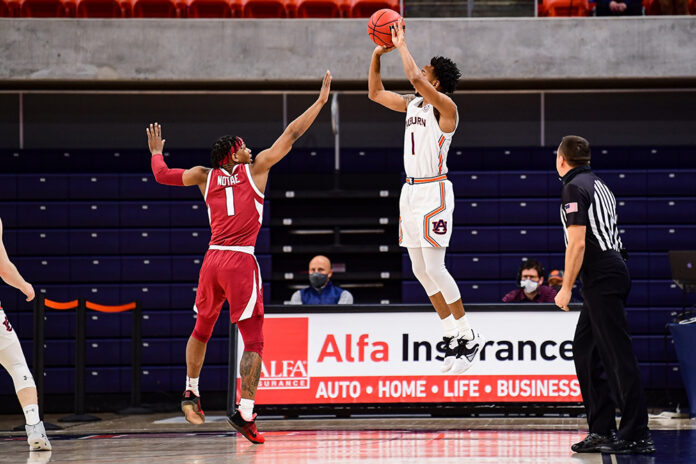 Auburn 1-1 to open conference play, fall to 6-4 overall
By Wil Crews
sportscrews@opelikaobserver.com
Auburn opened its SEC conference schedule with a 97-85 home loss to Arkansas and followed that up three days later with a 68-66 loss on the road against the Texas A&M Aggies.
It was the last day of 2020, and Jamal Johnson's career-high 21 points were not enough to overcome the undefeated Razorbacks.
Arkansas (9-0, 1-0) used a 10-0 run in the second half to take control after Allen Flanigan hit a pair of free throws to tie the game at 74-74 with 7:30 to play. Flanigan played well, contributing 19 points and a career-high 10 rebounds.
"Arkansas was fast and quick, and we just couldn't keep them in front," said Auburn Coach Bruce Pearl in his post-game press conference. "We did not do a very good job without individual defense and struggled to turn them over."
While Auburn struggled to turn the Razorbacks over, Arkansas had no problem stifling the Tigers' offense down the stretch. Turnovers were killer for the young Auburn team. The Tigers committed 19 turnovers while forcing only 10, leading to a 27-11 advantage for Arkansas in points off turnovers.
"They took better care of the basketball than we did and that's why they got out of here with a win," Pearl said. "It's great to have the size and the length that we have, but only if you can utilize that size and length by blocking shots or helping more defensively."
Arkansas led 32-22 with 9:30 left in the half before Auburn went on a 14-2 run — their best stretch of the game. Devan Cambridge, Justin Powell, Jaylin Williams and Johnson all contributed baskets to get the game to 34-34.
Led by Desi Sills, Arkansas ground out the final minutes of the first half to gain a five-point lead, 47-41, into halftime. Sills led all scorers with 23 points for the Razorbacks.
For the Tigers, Johnson's dead-eye shooting from behind the arc was practically matched by Cambridge. The sophomore made 5-of-6 three pointers for a season-high 15 points. Williams also reached double figures, scoring 13. Powell had half of Auburn's assists, nine, and added six rebounds.
The Tigers shot 15-of-29 from three (51.7%) and 28-of-54 overall (51.9%).
"Our main goal is to win the SEC regular season championship," Johnson said. "The career high was great, but I want to win. Our whole team and our coaching staff want to win."
Next up, the Tigers traveled to the longhorn state to face Texas A&M (6-2, 1-1) with the hopes of earning their first SEC win of the season on Saturday.
The end of the game saw both teams involved in a scintillating soiree of shot making. A pair of Flanigan three pointers and another from Williams brought Auburn – after being down as much 14 in the second half – within three with 6:30 remaining.
Texas A&M then drilled back-to-back three pointers to extend their lead back to nine. A&M held a 64-59 lead with 2:03 to go when Johnson hit his fifth three pointer of the night to cut Auburn's deficit to two. Next, after an A&M turnover, Cambridge finished a fast break layup to tie the game with 1:14 to go.
The Aggies then scored on a goaltending call with 45 seconds remaining and Johnson had a three-pointer go in-and-out on the next possession. Auburn fouled. Then, on the ensuing inbound, the Tigers forced an A&M turnover and JT Thor finished a dunk to deadlock the teams at 66 with 0:28 remaining. Holding for the last shot, A&M's Andre Gordon hit the dagger after he drove into the lane, pump faked two Auburn defenders and converted the layup with 0.9 remaining to seal the 68-66 win for Texas A&M.
Johnson was huge down the stretch and led all scorers with 20 points on 5-of-14 shooting from three.
"Jamal Johnson was incredible," Pearl said. "Jamal just did a nice job moving the ball. He's got really good length, he's got good size and he's got good range, so he can shoot over the top of a defender. He led us in shots, he led us in 3-point shots and did a nice job."
Flanigan was another catalyst in the near second-half comeback, adding 16 points on 54.5% shooting and 4-of-7 from three.
The Tigers struggled on offense early and 11 first-half turnovers, which turned into 12 Texas A&M points off turnovers, gave way to a 33-22 halftime lead for the Aggies.
"They put a lot of pressure on our point guards, and we were having to handle the ball really far away from our basket," Pearl said. "But even though we were terribly disrupted offensively in the first half, and give A&M credit for that, we continued to guard. We turned them over 13 times. It was an ugly first half, but at least we competed."
After a dreadful start, Auburn shot 9-of-15 from three in the second half and forced 19 total turnovers to claw back into the game. As a team, Auburn shot 42.1% from the field and 33.3% from three-point range.
"The second half, obviously, we started to be able to move the ball a little bit better, get the ball where we wanted to get it," Pearl said. "We shot it obviously, making 10 3s in the second half alone."
Thor scored 10 points and Cambridge led the team with six rebounds and contributed nine points himself. Williams and Powell — typical mainstays in the scoring column for Auburn — combined for just 5 points. Although Williams was active with a team-high seven assists. Powell did pick up what looks to be a minor head injury in the second half.
"He banged his head there late in the first half," Pearl said. "We didn't start him in the second half because we were kind of still evaluating him a little bit. He went in there and just didn't look good, didn't feel good. So he's got a head injury, and he will be evaluated when we get back to Auburn."
Auburn 6-4, 0-2 will stay on the road as they travel to Ole Miss on Wednesday. The game is scheduled to tip at 8 p.m. CT and will be televised on the SEC network.
"I'm proud of my kids and the way they battled," Pearl said. "Texas A&M is an outstanding defensive team. They rattled our cages and pressured us and turned us over and made it really difficult for us to run the offense that we wanted to run."
Auburn is scheduled to play at Ole Miss on Wednesday night at 8 p.m. but results were not available at the time of press.