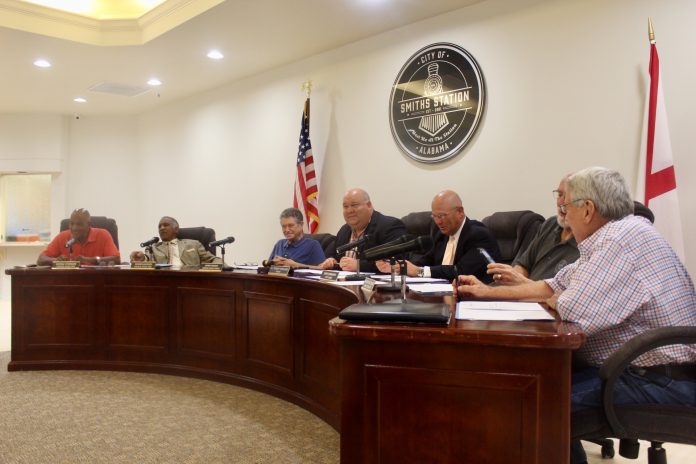 By Morgan Bryce
Editor
The Smiths Station City Council, along with Mayor F.L. "Bubba" Copeland, passed a resolution Tuesday night that would allow temporary changes in leadership for the city's planning commission.
Copeland disclosed that Chairman Darold Eiland is dealing with personal health issues, and said that passing this resolution would enable the commission to move Vice-Chairman Mike Kane to fill in as long as needed.
"I would like to say that Mr. Eiland has done a wonderful job. This resolution will allow us to move Kane to fill his position while he takes to heal and recover," Copeland said. "We will gladly welcome Mr. Eiland back once he is back to better health."
With increased demand to lease out city facilities, the council also passed another resolution enabling the city to request churches, nonprofits or community-oriented groups to have to request a single day business license permit for special events.
"This will hold us non-liable for whatever may happen during that day's events. It was something we hadn't had before and I'm glad that (City Clerk) Scott Johnston brought this to my attention," Copeland said.
Toward the end of their meeting, Copeland announced to the council that consistent temporary hours for the Historic Jones Store Museum are currently in effect. The museum will be open to the public to tour on Tuesdays, Thursdays and the second Saturday of each month from 10 a.m. to 4 p.m.
In other business, the council:
approved the general fund budget statement for the month of June
approved the environmental fund budget for the quarter (April, May, June).
The Smiths Station City Council meets on the second and fourth Tuesday of each month. Their work session begins at 5:30 p.m. E.S.T. and regular meeting at 6 p.m. Meetings are held within the council chambers of the Smiths Station Government Center, which is located at 2336 Lee Road 430.
For more information, call 334-297-8771 or visit www.smithsstational.gov.