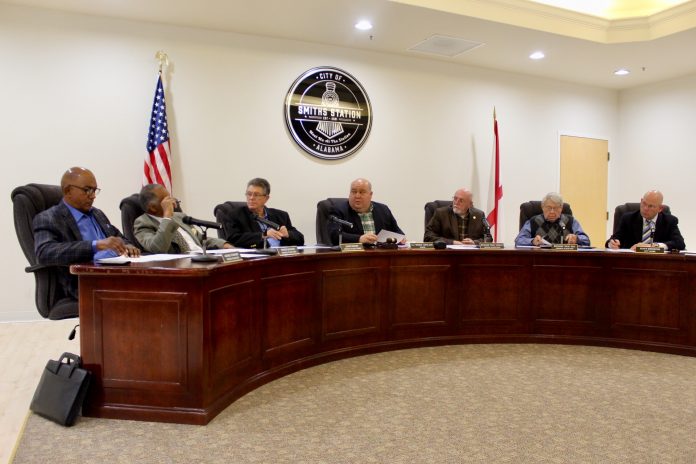 By Morgan Bryce
Editor
Mayor F.L. "Bubba" Copeland joined fellow mayors Ron Anders and Gary Fuller in opposing the proposed granite quarry that Creekwood Resources, LLC of Florence is looking to establish just north of the Opelika city limits off US Highway 431.
Copeland, along with fellow council members James Moody, Richard Cooley and Dick Key, unanimously approved a resolution during Monday's meeting that highlights the risk that the presence of this quarry would bring not only to Opelika citizens, but Lee County residents as a whole.
"By approving this resolution, we are locking arms with our fellow municipalities in the fight against this quarry," Copeland said after the vote was taken.
The council voted to update their lodging tax ordinance to mirror the present lanaguage found in Alabama state code.
In honor of the anniversary of the March 3 tornadoes, Copeland said all Smiths Station schools will observe a 60-second minute of silence at noon E.S.T. that day. At 3:03 p.m. E.S.T., he encourages citizens to come to the Smiths Station Government Center and participate in a planned moment of silence around the large US flag pole in the facility's front parking lot. Tornado sirens will blare for one minute across the city.
"This is designed to commemorate the events of that tragic day," Copeland added.
In other business, the council:
approved minutes from the Jan. 28 regular meeting
heard updates from Copeland on the soon-to-be-developed public works facility on Lee Road 430. An abandoned house on the property was cleared last week, the first major step in this development and
received an update from Copeland on a proposed tornado shelter that is expected to be built behind the Smiths Station Government Center.
The Smiths Station City Council regularly meets on the second and fourth Tuesdays of each month with a work session starting at 5:30 p.m. Eastern Standard Time followed by the regular meeting at 6 p.m. Their meetings are held within the Smiths Station Government Center, which is located at 2336 Lee Road 430.
For more information, call 334-297-8771 or visit www.smithsstational.gov. The council's next meeting will be held on Feb. 25.