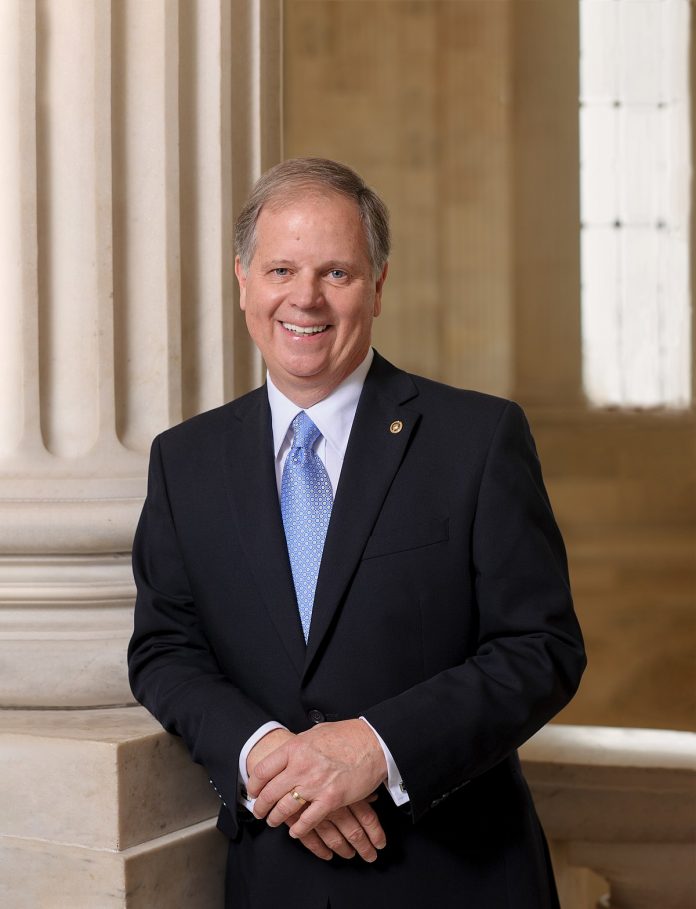 Special to the
Opelika Observer
Maternal Care Act:
U.S. Sen. Doug Jones (D-Ala.) cosponsored new legislation in Maternal Care Access and Reducing Emergencies (Maternal CARE) Act last week to improve health outcomes for all women during pregnancy and address the persistent biases in our nation's medical system that have contributed to the ongoing black maternal mortality crisis.
"The United States has one of the highest maternal mortality rates in the world – and the statistics are even worse for women of color and women in rural areas. It's appalling that black women in Alabama are five times more likely to die as a result of pregnancy than white women," Senator Jones said, who is a member of the Health, Education, Labor and Pensions Committee. "This bill is a step in the right direction towards addressing the racial disparities that exist in maternal care and towards expanding access to the health care women need during and after pregnancy."
The Maternal CARE Act would:
Allocate $125 million to identify high-risk pregnancies, and provide mothers with the culturally competent care and resources they need. The new grant program will help states develop and carry out pregnancy medical home programs. These programs improve care by incentivizing maternal health care providers to deliver integrated health care services to pregnant women and new mothers and reduce adverse maternal health outcomes, maternal deaths, and racial health disparities in maternal mortality and morbidity.
Create a new $25 million program to address racial bias in maternal health care. The new grant program will be directed to medical schools, nursing schools, and other health professional training programs to support evidence-based implicit training that will improve care for black women by reducing bias in judgment or behavior resulting from implicit attitudes or stereotypes.
Help medical schools incorporate bias recognition in clinical skills testing by directing the National Academy of Medicine to study and make recommendations.
This legislation is the latest in a series of legislation Senator Jones is introducing to strengthen families and improve health outcomes for women and children. He has also introduced the Foster Care Tax Credit Act recently to ensure that financial reasons don't prevent loving families from opening their homes to foster children, and the Healthy MOM Act last week to help women access affordable health care during and after pregnancy.
Healthy MOM Act
Jones has cosponsored legislation to ensure that pregnant women can access affordable health coverage during and after their pregnancies. This bill is the first in a series of legislation Senator Jones will be introducing in the coming months to strengthen families and improve health outcomes for women and children.
The Healthy Maternal and Obstetric Medicine (Healthy MOM) Act would establish a special enrollment period for expectant mothers to sign up for health insurance. Currently, marriage, divorce, having a baby, adoption and changing jobs are considered qualifying life events that trigger a special enrollment period – although becoming pregnant is not considered a qualifying event. The bill would also guarantee 12 months of continuous Medicaid eligibility for postpartum women, thus removing key barriers that often prevent mothers from getting the care they need after birth.
"As a society, we need to focus on policies that strengthen families and provide the best health care possible for women and children," Senator Jones said, who is a member of the Senate Health, Education, Labor and Pensions Committee. "This legislation would ensure women have the resources and the health care that they need during this important time."
According to the Centers for Disease Control and Prevention, approximately 700 women die each year in the United States from pregnancy-related complications. Black women are about three times more likely to die from a pregnancy-related cause than white women. The Healthy MOM Act will work to improve these outcomes by expanding quality access to care, which data demonstrates could help prevent 3-in-5 pregnancy related deaths.
Specifically, the Healthy MOM Act would:
Create a special enrollment period for pregnant individuals, so that they can enroll in or change their healthcare plan
Enable the director of the Office of Personnel Management to establish a special enrollment period for pregnancy, for those eligible to receive coverage through the Federal Employees Health Benefits Program and clarify that the enrollment shall be available for families even during a lapse in appropriation or government shutdown
Ensure comprehensive coverage of maternity care – including labor and delivery – for dependent children covered by group health plans and other forms of employer-sponsored coverage
Protect against threats to Medicaid income eligibility and maintain the highest standard of care for low-income pregnant individuals and infants, and
Guarantee 12 months of continuous Medicaid eligibility for postpartum women.
Gold Star Families Tax Relief Act
Senator Jones announced last week that the Gold Star Families Tax Relief Act has passed the Senate with unanimous bipartisan support. Senator Jones and Senator Bill Cassidy (R-La.), alongside a bipartisan group of senators, introduced the legislation earlier this month to provide tax relief for survivor benefits received by children who have lost a parent as a result of their service in the military. A provision in the 2017 Tax Cuts and Jobs Act significantly raised the taxes on these survivor benefits to rates as high as 37%.
"Gold Star families have sacrificed so much for our nation, and passing this legislation to remove the exorbitant tax on surviving children's benefits is the least we can do," Senator Jones said, who is a member of the Senate Armed Services Committee. "We can never truly thank these families enough for the sacrifices that they have made, but we can do everything in our power to honor and care for them. I am proud to have the bipartisan, unanimous support of the entire Senate in passing this bill."
Gold Star families who received a surprise tax hike on their children's benefits in their 2018 tax bills are facing this "Kiddie Tax" because they are also subject to what's called the "Widow's Tax." Senator Jones recently introduced a separate piece of legislation to repeal the "Widow's Tax," a law that prevents as many as 65,000 surviving military spouses nationwide from receiving their full survivor benefits from both the Department of Defense (DoD) and Veterans Affairs (VA). As a direct result of the Widow's Tax, Gold Star parents often put their DoD benefits in their children's names in order to collect the full survivor benefits they are due and have also paid for in the form of annuities for a voluntary DoD life insurance program. Senator Jones' Military Widow's Tax Elimination Act has earned an unprecedented 68 sponsors, which means it has veto-proof level of support in the Senate.
Senate Armed Services Committee approves FY20 National Defense Authorization Act
"In addition to a 3.1 % pay raise for our troops—the largest in a decade—this bill will benefit communities across the state, from Huntsville and Anniston to Montgomery and Mobile," said Alabama Sen. Doug Jones.
The Senate Armed Services Committee has approved the Fiscal Year 2020 National Defense Authorization Act (NDAA) with numerous provisions and Alabama priorities secured by Sen. Doug Jones (D-Ala.). The annual legislation authorizes national defense objectives for the next fiscal year. The bill will now go to the full Senate for consideration.
"The fact that this bill authorizes so many Alabama priorities is a testament to the importance of Alabama's role in our national security and the quality of our servicemen and women. I am proud that my requests for Alabama were included with bipartisan support, and I will continue to work with my colleagues on both sides of the aisle to see that Congress passes this bill as soon as possible."
Following are highlights or key provisions Senator Jones championed in the annual national defense bill:
Funding for Ship-building, Helicopter Construction, and Combat Vehicle Upgrades
$75 million in additional funding to accelerate the Army's Future Vertical Lift Helicopter Modernization Program to accelerate the Future Long Range Assault Aircraft program to align with its goal of having the First Unit Equipped (FUE) by 2028.
$1.281 billion for the award of one Guided Missile Frigate FFG(X) contract. Austal USA in Mobile is competing for this work, and keeping the program on schedule is very important to its local workforce and suppliers.
$49 million to convert the Austal EPF-14 into a medical transport ship
$249.2 million for Stryker Combat Vehicle Lethality Upgrades to increase standoff distance, improve survivability, and retain our Army's superiority, as directed by the National Defense Strategy. Stryker production begins and ends in Anniston, with more than 300 employees involved in production.
Ensuring Strong American Space Defense Programs
Authorizes a U.S. Space Force under the Department of the Air Force
Ensures access to space by reaffirming the 2022 Congressional deadline for ending U.S. reliance on Russian rocket engines for national security space launches by supporting the Air Force's National Security Space Launch Program and Rocket Systems Launch Program Acquisition Strategy.
Support for Military Families and Children –
$40 million for impact aid to schools serving military children to address challenges from frequent deployments, security requirements, higher accountability rules and concentrations of children with disabilities. The Daleville City Board of Education, Enterprise City Schools and Madison City Schools educate 1,481 children of active duty military personnel and depend upon these resources to help address the unique challenges faced by these children.
$4 million to facilitate interstate licensing compacts for military spouses to make it easier for spouses to transition their careers to new locations as they frequently move to new posts.
An assessment of the adequacy of child care facilities for military families
$2 million for a historic black college aerospace, education, research and innovation center
$15 million for the STARBASE K-12 STEM education program
$10 million for aid to children with disabilities in military families
Improving Military Housing and Facilities –
Reforms and increases oversight of military privatized housing
$38 million for aircraft & flight equipment building at Redstone Arsenal to consolidate towed artillery repair and overhaul from four separate buildings into one.
Support for Military Readiness and Training
$12 million for a National Guard Readiness Center in Foley to enhance training, administration, automation, communications and logistical readiness for the Alabama Army National Guard.
$34 million for the construction of an enlisted transient training barracks at Fort McClellan Army National Guard Training Center, additional primary facilities for the battalion headquarters building and transient training and company supply/administrative buildings.
Strengthening Research and Development
$2 million for cybersecurity threat simulation research to model emerging and proliferating threats to weapons systems and networks. These funds would be available to research universities to assist the U.S. Army's Threat Systems Management Office and will help produce the next generation cyber workforce.
$10 million for the Department of Defense experimental program to stimulate competitive research to provide defense-related science and engineering research funding to colleges and universities in historically underrepresented states, including Alabama.
More than $100 million in additional funding for hypersonics research and testing to advance technology so that it is competitive with Russian and Chinese advances in hypersonic technology have outstripped those of the United States. Redstone Arsenal and many businesses in the Huntsville area are engaged in this cutting-edge work, and the substantial funding in this bill will both enhance existing efforts and open the door for new programs.
Improving Diversity in Servicemember Recruitment and Retention
Support for expanding programs to recruit women and minority pilots to expand the Air Force's Junior Reserve Officer Training Corps Flight Academy and its use as a model by the other services. Senator Jones introduced a similar initiative with the bipartisan CAVU (Ceiling and Visibility Unlimited) Act earlier this year with Sen. Tom Cotton (R-Ark.).
A report on the condition of ROTC facilities at minority-serving institutions to include a description of the current condition of these facilities and an assessment of whether the condition of the facilities has an adverse impact on the recruitment and retention of participants in such units.
The Promoting Readiness in Education to Prevent Additional Remediation and Expense (PREPARE) Act
U.S. Sens. Doug Jones (D-Ala.), Amy Klobuchar (D-Minn.) and Maggie Hassan (D-N.H.) introduced legislation last week to help reduce the need for students to take remedial courses when pursuing post-secondary education and to improve degree completion rates. The Promoting Readiness in Education to Prevent Additional Remediation and Expense (PREPARE) Act would better align high school graduation requirements with entrance requirements for credit-bearing post-secondary coursework, and would provide resources to schools to strengthen their remedial programs and improve outcomes.
The nation's high school graduation rate is at an all-time high of 84% of students. Yet, many of these graduates are unprepared for college. More than one-third of all first-year college students take some type of remedial coursework in English or math, but this figure can be as high as 60 or 70% of students in some cases. While the goal of remedial education is to help students attain the skills they need to succeed in college, it can also be a deterrent to completion by adding to the cost and the time it takes to finish a degree. The PREPARE Act aims to address this issue by reducing rates of post-secondary remediation and increasing postsecondary completion rates.
"College is already costly for students and their families, and every remedial course that a student has to take increases the price of his or her education and delays the completion of a degree. Students shouldn't have to spend their precious tuition and financial aid dollars on coursework that doesn't count towards their degree," Senator Jones said, who is a member of the Senate Committee on Health, Education, Labor and Pensions.
"Every student should have the opportunity to pursue higher education, and we must equip them with the necessary skills to succeed," Senator Klobuchar said. "The PREPARE Act will help more students get through school by making sure they are prepared for the rigor of higher education while also offering courses to those who need additional support once enrolled. All students deserve access to the educational foundation required for academic achievement."
"Too many high school graduates enter higher education under-prepared and are forced to spend their financial aid dollars and time on remedial courses that don't count toward their degree," Senator Hassan said. "These students are held back and often do not end up completing their degree. These grant funds would help states improve alignment between K-12 and higher education and provide additional support so that more high school graduates enter higher education prepared and on track to complete college on time."
The PREPARE Act authorizes five-year, competitive grants to states to align high school and post-secondary education. States are required, among other things, to:
• align high school graduation requirements with entrance requirements for credit-bearing coursework in State institutions of higher education;
• develop statewide standards for placement in remedial coursework based on multiple indicators;
• develop statewide articulation agreements between high schools and public institutions of higher education; and
• develop statewide articulation agreements among public institutions of higher education in the State.
The bill is endorsed by the Achievers Foundation, Advance CTE, Alliance for Excellent Education, Bard College, Center for Excellence in Leadership of Learning, Colorado Community College System, Education Northwest, Education Reform Now Advocacy, Hispanic Association of Colleges and Universities, Knowledge Alliance, National Alliance for Concurrent Enrollment Partnerships, National Association for College Admission Counseling, National Association of Secondary School Principals, National College Access Network, National Urban League, Teach Plus, Third Way and the University of Wisconsin-Green Bay.