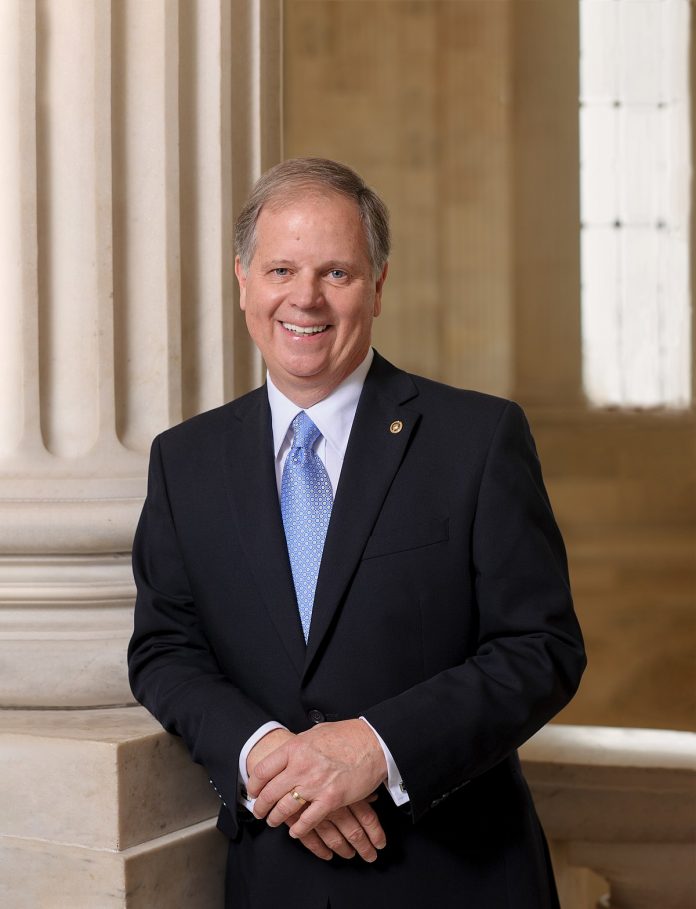 Special to the
Opelika Observer
Statement on the Final Passage of a Bipartisan Disaster Relief Package
Sen. Doug Jones (D-Ala.) released the following statement last week on the news that the House of Representatives passed the bipartisan disaster relief packaged that cleared the Senate last month:
"I am very happy that both chambers of Congress – after months of needless delay – have finally come together to pass a disaster relief bill that will help folks who have experienced natural disasters move forward and rebuild. Farmers and so many others across the country who have experienced natural disasters can breathe a sigh of relief today that their government has finally put political differences aside in order to get this relief where it is needed," Jones said. Jones has visited with disaster survivors in Lee County and impacted farmers in the Wiregrass. "There is a time to debate important issues like immigration, but providing disaster relief to those who desperately need it is not one of them. Politics should never get in the way of helping our neighbors who have experienced natural disasters and I am hopeful that Congress will not do so again."
Since late last year, Jones has worked to advocate for a strong disaster relief funding bill that would benefit Alabamians. He has reiterated his commitment to recovery efforts in meetings with impacted residents, farmers, and local officials. In February, he joined with several of his Republican colleagues to propose a bipartisan $13.6 billion disaster relief package, which included aid to Lee County as a result of the March 3 tornadoes and farmers in the Wiregrass whose crops were devastated by Hurricane Michael. That bill was included in the final legislation that passed both houses of Congress.
In April, Jones was the only member of the Senate to support both disaster relief bills that were brought to a vote. After both bills failed, he personally spoke with the President and asked him to strike a compromise that could earn bipartisan support.
Proposed Disaster Preparedness
Measures
Jones also introduced a pair of bills aimed at providing Alabamians with the resources they need to better prepare for future natural disasters. June 1 marked the first day of the 2020 hurricane season.
"Alabamians know all too well that extreme weather can strike at any time – especially now with hurricane season upon us," Jones said. "And while it is crucial that communities get the disaster relief they need after the fact, it is important that folks can better prepare for natural disasters and to help make our communities safer so we can reduce the impact and cost of inevitable severe weather. These bills will help make Alabamians safer, while also improving our aging roadways in rural communities that badly need infrastructure investment."
The bipartisan BE SAFE ACT of 2019, cosponsored by Sen. John Kennedy (R-La.) and Sen. Bill Cassidy (R-La.), would establish a new grant program through the U.S. Department of Transportation that would award up to $100 million for projects to improve emergency evacuation routes in small and rural communities. The grants could be used for two purposes: to construct state and local connector roads that would facilitate access to broader thoroughfares, and to improve or expand existing roads and bridges to foster safe and efficient evacuation during extreme weather events. These infrastructure investments would also help serve rural Alabama communities year round and help expand and improve aging roadways.
The Storm Shelter Act would create a one-time refundable tax credit of up to $2,500 for homeowners to build or purchase a storm shelter at their primary residence. It would help ensure that people would not have to travel dangerous distances to seek shelter in the event of sudden severe weather.
Terrorism and Money Laundering
Jones alongside his Senate Banking Committee colleagues Mark Warner (D-Va.), Tom Cotton (R-Ark.) and Mike Rounds (R-S.D.), unveiled draft bipartisan legislation on Monday to improve corporate transparency, strengthen national security and help law enforcement combat illicit financial activity being carried out by terrorists, drug and human traffickers and other criminals.
"As a former U.S. Attorney, I am all too familiar with criminals hiding behind shell corporations to enable their illegal behavior. At the same time, our anti-money laundering laws have not kept pace with the increasingly sophisticated means by which criminals and terrorist organizations use our financial system to move their money around the world. This bipartisan legislation addresses both challenges and gives law enforcement the tools they need to protect Americans and prosecute criminals," Senator Jones said.
The Improving Laundering Laws and Increasing Comprehensive Information Tracking of Criminal Activity in Shell Holdings (ILLICIT CASH) Act would, for the first time, require shell companies — often used as fronts for criminal activity — to disclose their true owners to the U.S. Department of Treasury. It would also update decades-old anti-money laundering policies and combat the financing of terrorism by giving Treasury and law enforcement the tools they need to fight criminal networks. This includes improving overall communication between law enforcement, financial institutions, regulators and facilitating the adoption of critical 21st century technologies.