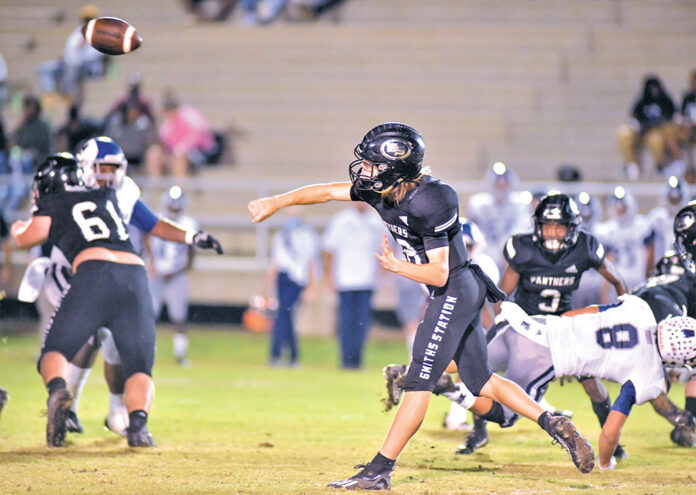 By Harrison Tarr
For the Observer
In the wake of a failed comeback against Jefferson Davis in week six, the Panthers of Smiths Station entered Friday with one goal in mind: willing themselves back into the win column.
Head coach Mike Glisson's squad found themselves sitting at 1-5 overall with slim odds to make a playoff push. After falling to Enterprise 49-35 at T.C. Britton Field, the Panthers' playoff hopes have all but diminished.
In a contest that did not lack in the offensive category, the Panthers came out swinging when sophomore punter and wide receiver Aubrey Wimberly returned the opening kickoff 85-yards for a Smiths Station touchdown, running just 15 seconds off the game clock.
"I thought it was really big," Glisson said. "But then here comes Enterprise rolling back and we made some mistakes."
Despite having the momentum on its side early on, Glisson's defense was unsuccessful in preventing its opponent from effectively moving the ball and allowed the Wildcats to find paydirt on their first drive of the game. Smiths Station was unable to manufacture any form of positive play from that point until nearly halftime, allowing Enterprise to record an additional four touchdowns on its four ensuing drives.
Junior quarterback Jackson Greer faced a compilation of challenges. The Panther run game had little identity, receivers struggled to create separation and the Wildcat front seemed to be in the backfield immediately after the ball was snapped.
It was not until the black and silver's defense forced the Wildcats into a fumble in their own territory that Glisson's squad was able to get anything going on offense. With just north of 15 seconds remaining in the first half of play, Greer connected with sophomore running back Iverson Jones on a 14-yard touchdown pass.
"We got some momentum right before half," Glisson said. "They had a bad snap and we were in good position and make a big throw and catch."
Trailing the Wildcats 35-13 when heading to the locker room at halftime, Glisson's squad returned to the field as a seemingly different team in the final 24 minutes of play. The Panther defense held their opponents off on back-to-back possessions, leaving Greer and company with the opportunity to chip away at the Enterprise lead.
"We went into half time and said 'hey guys, let's fix this and come back out in the second half," Glisson said. "We knew some things that they were having trouble covering so we said 'hey, let's run them until they cover them.'"
Just over eight minutes into the third period of play, the sophomore Panther quarterback connected with senior wideout Cianan Williams for a 60-yard touchdown strike only for the Wildcats to strike back in less than a minute of game time.
From there on, it was Greer's turn to take over. The junior tossed two more touchdowns and hurled himself across the goal line to account for 21 additional Panther points.
The Panthers' head coach accredits his team's resilience to its ability to block out criticism.
"(Greer) had a great night tonight," Glisson said. "I challenged the kids all week. I said 'when things are bad it's easy to listen to people and shut it down. What I challenge you to do is come out here every day and have a good time. Let's practice football and get better and on Friday night's let's play our guts out and have fun.'"
Although the silver and black was able to block out the critical noise, the high-powered offense and significant lead possessed by Enterprise proved too much to overcome. The Wildcats marched down the field to find the endzone one more time late in the game, leaving Smiths Station with just over two minutes to score 14 points.
Ultimately, the Greer-lead offense was unable to challenge their opponents in the final moments.
"I can't be mad at them," Glisson said. "They went out and played their guts out."
Glisson, Greer and the rest of the Panthers will have the opportunity to play host to Auburn — one of the premier programs in Alabama — on Friday, Oct. 8 at T.C. Britton Field. Toe will meet leather at 7 p.m. CST this Friday.