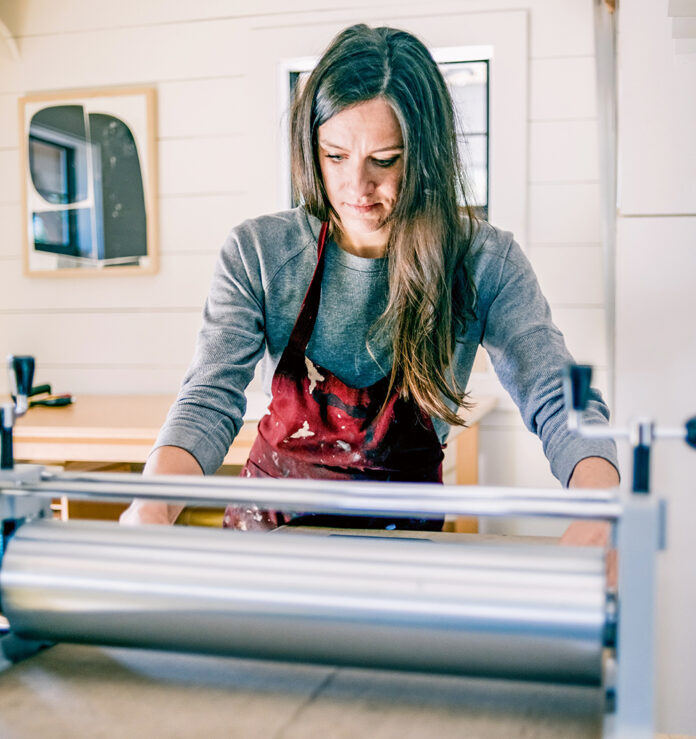 By Hannah Lester
hlester@opelikaobserver.com
Paige Dirksen, a local printmaker, is the owner of one of the pioneer businesses located inside The Well.
The Well is Opelika's newest venture — incorporating women-run businesses and products into one inclusive experience on Avenue A.
The space opened on March 20 and includes 15 to 20 newly-launched businesses inside the building, one of which is Dirksen's.
"I'm a print maker and artist," she said. "… I primarily work in printmaking but I like to explore a lot of different media. I like painting. Woodcuts are particularly meditative for me."
As it was for many, 2020 was a year of quarantine for the artist. But the extra time at home was what pushed Dirksen to begin marketing herself with a website, she said.
Dirksen sells her art on her website, www.paigedirksen.com, but now she is also located in The Well.
The owner of the building, The Well, reached out to Dirksen to see if she would be interested in becoming part of the collaborative space.
"For me, art has always been about community and kind of been the bridge I've personally needed in times of isolation," Dirksen said. "And obviously, none of us are strangers to that in the past year. And so I'm happy to have some community around me to keep me moving forward."
One unique aspect of The Well is that everything is for sale — the art on the wall, the rug beneath your feet, everything.
So, Dirksen's art will be for sale in the space, while also being displayed.
Many in Opelika will recognize Dirksen's work — she's the artist of the umbrella mural located on 8th Avenue.
Her main focus currently, however, is botanical print making.
"I became really interested in the flora of this area," she said. "Just because there's a lot of tradition around it and I think it's beautiful. But I like displaying them in a different way than a lot of people are used to seeing them."
"I'm so excited to see where this takes me," Dirksen said.
The Well is located at 824 Ave. A and is open:
Monday: 2 – 7 p.m.
Tuesdays – Thursday: 7 a.m. – 7 p.m.
Friday – Saturday: 10 a.m. – 10 p.m.
Sunday: 10 a.m. – 2 p.m.
This is the second in a series of articles on the different businesses that will be located inside The Well.