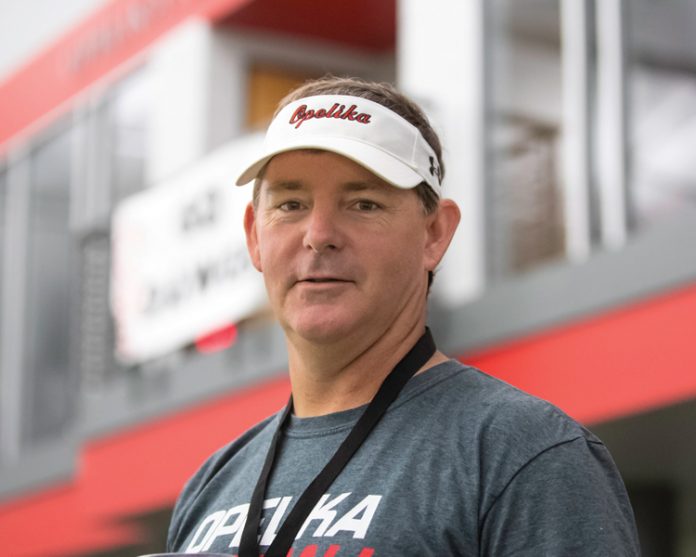 BY WIL CREWS
SPORTSCREWS@
OPELIKAOBSERVER.COM
OPELIKA —
According to a press release from the Alabama High School Athletic Association (AHSAA), Opelika High School varsity football coach Erik Speakman has been selected to coach in the 64th annual North-South All-Star Football Game.
Speakman will head the South squad, while Pickens County head coach Michael Williams will lead the North squad. The game is scheduled for Friday, Dec. 16 at Mobile's Hancock Whitney Stadium.
Speakman and Williams were announced last week as the coaches by Brandon Dean, director of Alabama High School Athletic Directors & Coaches Association (AHSADCA). The players and assistant coaches for the two, 37-member squads will be announced later this fall.
"Both coaches are highly regarded among their peers," Dean said. "Both bring high energy to the North-South Classic."
Speakman is currently in his fifth season as head coach at Opelika High School after spending seven years as defensive coordinator for the OHS program. The Bulldogs (5-1) moved up to Class 7A for the first time in school history this season and have continued the success Opelika has had in the Class 6A ranks. Speakman has compiled a 41-15 record through his time at OHS, and currently sits at second place in Region 2 heading into week six of the 2022 season, behind undefeated (5-0) Auburn High School. Opelika dominated Class 6A, Region 3 during Speakman's tenure, compiling a 26-1 region record from 2018-21. The only loss was a 30-28 setback to Wetumpka in 2018. Since that loss, Opelika had won 25 straight region games before losing to Prattville last Friday.
Speakman's teams have reached the state playoffs each year, compiling a 9-4 slate in Class 6A. His 2019 team reached the AHSAA Class 6A semifinals. Speakman also coached in the 2018 North-South Game as an assistant coach.
"This is a great honor being selected head coach of the all-star game," he said. "I think it says a lot about your players and assistant coaches, though. It is recognition for the entire program."