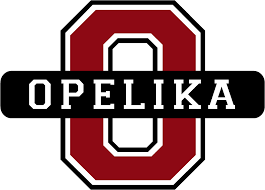 By D. Mark Mitchell
The AHSAA held the 2019 Track and Field State Meet last weekend in Gulf Shores. The Opelika boys and girls teams participated in the three-day meet.
The Bulldog boys placed third with 69 points, behind champion Homewood and runner-up Northridge.
-100 meters –
Brantan Barnett 5th and Jaylen Stinson 6th
110-meter hurdles –
Daniel Kindred 3rd and Justin Shorter 5th
300-meter hurdles- Jarell Stinson 8th
400-meter hurdles-Jarell Stinson 2nd and Jaylen Stinson 3rd
300-meter hurdles-Eric Watts 5th
4 x 100-meter Relay – team finished 2nd
High jump- Caleb Phillips 8th
Long Jump – Eric Watts 2nd and Omar Holloway 5th
Javelin – Jaylen Stinson 1st
Shot put – Blake Landers 10th
The Lady Bulldogs finished 12th in the state meet with 12 athletes qualifying for the meet. Trinity Love placed the highest of any Lady Bulldog with a fourth place in the shot put.
Haley Sanders was 8th in the 100 meters and 5th in the 200 meters
Breckin Gould was 9th in 3,200-meter run
Ansley Jackson finished 10th in the high jump
Jackson finished 7th and Sequoia Williams 9th in the triple jump
A'Nyiah Hughley was 5th Trinity Love 9th in the discus
Lauren White finished 10th in the javelin
Love was 4th and Hughley 6th in the shot put.
Opelika Coach Jimmy Johnson and his team performed well at the state meet. The Bulldogs continue to qualify and make noise in the state meets under he and his staff's leadership and training.
SOFTBALL
OHS softball Coach Tina Deese guided her team to another birth in the state playoffs. The Lady Bulldogs finished second in last week's area tournament in Alexander City.
Opelika will travel to Oxford on May 9 for a 10:30 a.m. game against Hillcrest Tuscaloosa. The winner and loser play a second game at 6 p.m. This is a double elimination tournament. The winner advances to the state tournament.
FOOTBALL
The Bulldog football team hit the field last Tuesday for the first day of spring training. During a segment last week on my radio show, "On the Mark," Coach Erik Speakman said more than 120 players were expected to participate in spring training. The quarterback position is one of many positions that's open because of graduation. Special teams will be limited during the spring. The Bulldogs return kickers Marshall Meyers and Baker Rowton.
The quarterback position is a battle between rising senior Brody Davis and rising junior Malik Finley. Opelika will conclude spring drills May 16 with a practice game against Valley 6:30 p.m. at Bulldog Stadium.
Softball is the last sport left in the playoffs. When spring football concludes, athletes will have a few weeks off prior to summer workouts.
D.Mark Mitchell is sports director for iHeart Media, Alabama Dixie Boys State director and vice president of the A-O Sports Council.