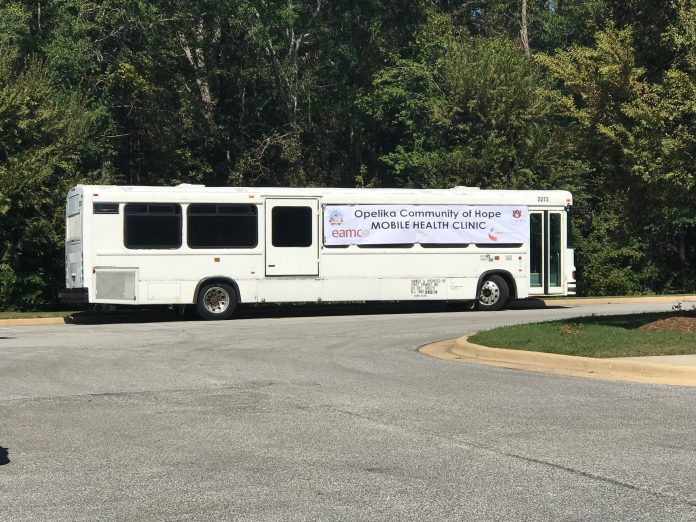 By Savannah Vicker
For the Opelika
Observer
The City of Opelika, Mobile Studios, East Alabama Medical Center and Auburn University are partnering to provide a mobile wellness clinic for Opelika's under-served citizens.
During a luncheon Friday at Opelika Power Services, officials announced that the clinic will be fully equipped with an interview/waiting room, exam room, lavatory area with a sink, bathroom/changing room and a secure records room.
According to officials, the main goal of the clinic is to provide access directly to healthcare straight to the neighborhood while providing preventative supportive services for citizens and parents.
Along the way, officials said they hope the clinic helps to build relationships among the community and improve the family unit by decreasing the number of children entering foster care. All services provided by the clinic will be free of charge to the patient.
A local transportation company, First Transit, has donated a bus that will be remodeled into the mobile clinic. According to estimates, the modifications of the mobile clinic are expected to cost $200,000.
Opelika Mayor Gary Fuller called on citizens to help sponsor or donate to help get the clinic on the road as soon as possible.
"We think it's very important that all of our citizens have an opportunity to participate and have an ownership of this clinic, whether they give $1 or $5 or $25,000. We want folks to participate and be a part of it," Fuller said. "The sooner we can raise money and get the clinic ready, get the bus prepared, then the sooner we will be out there serving people and helping folks."
Once the mobile clinic is operative, patient care services will be provided by EAMC medical staff. For more information or to donate, visit www.eamcfoundation.org or contact City Administrator Joey Motley at 334-705-5152.