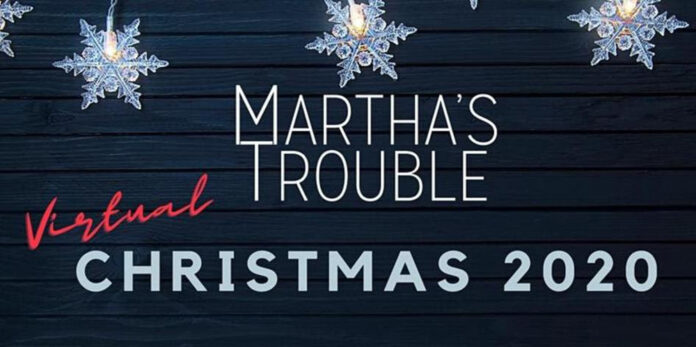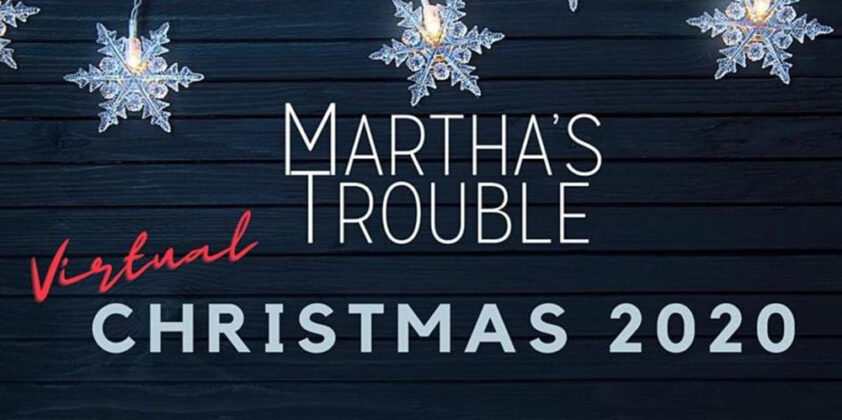 Contributed by
SkyMediaOnline
Alabama-based husband-and-wife folk/rock duo Martha's Trouble (aka Rob and Jen Slocumb) will be celebrating in December via their annual holiday concert over two nights; fans can join them in-person in a "COVID bubble" setting or online via livestream. Dubbed "A Martha's Trouble Christmas," the shows are scheduled for Dec. 12 and 13 at 7:30 p.m. central time at their studio, The Sound Wall, in Opelika, Alabama Tickets are available at www.eventbrite.com/e/a-marthas-trouble-christmas-dec-12-13-2020-tickets-129748867355
For those interested in attending in person, a "COVID bubble purchase" of 12 tickets for $300 is available each night; one person must buy all of the tickets for that night and invite only people from within their COVID bubble who they feel comfortable being in the same room with to fill the 12 seats, offering a very special in-person holiday concert experience for a small group of family or friends.
For in-person attendance, Martha's Trouble and The Sound Wall ask attendees to hand wash upon arrival and ask for attendee honesty and self-responsibility – anyone not feeling well or who has had recent exposure to someone with COVID should not attend. Masks are required to enter.
(Individual in-person tickets are not available.) For those who wish to enjoy the concert from the comfort of their own homes, Martha's Trouble is also offering livestream tickets for $20 for each show, and unique viewing instructions will be sent to all ticket purchasers. For both shows, Martha's Trouble will share stories and perform a selection of Christmas favorites with their own folk-centric flavor in this intimate setting.
These Christmas shows are so special to us," Rob and Jen said. "They are truly our favorite shows we do, and we look forward to it all year. We usually have our two kids, Wilson and Emery, join us for a couple of songs and so that's become part of the tradition."
Martha's Trouble, called "a hidden gem" by Billboard Magazine, is known for its signature sound of folk and Americana, which has been praised by some of the most influential and well-respected music critics of our time. Martha's Trouble has been listed and featured in the aforementioned Billboard Magazine and USA Today, AOL Music, SiriusXM Satellite Radio and Performing Songwriter. The band's songs have received awards and have been featured in the show "Army Wives" and made-for-TV movies on Lifetime and CBS. The duo's band name comes from a Bible story about Martha and Mary, one that they say is a reminder to stop and smell the roses and to keep an eye on the bigger picture and the important things in life.
In late 2015, Martha's Trouble made some additions to their holiday repertoire with two digital singles, "River" and "White Christmas," which followed on the success of two independent holiday albums, Christmas Lights (2002) and This Christmas (2008). Prior to that, they also released: Jen Coates' Seed Sessions (2014), A Little Heart Like You (2012), Anchor Tattoo (2011), EP (2008), Forget October (2006), Still (2003), Sleeping Dogs (2002), and The Road Ahead (2000).
In 2016, Martha's Trouble purchased a historical Victorian house, originally built in 1907, in downtown Opelika, Alabama, and they rehabbed the abode into a creative studio space over the course of a year, opening the doors to the public in March of 2017. Since that time, the studio has hosted recording sessions, a monthly supper club, special events, and acoustic concerts, and has been featured in Alabama Magazine. Located at 605 Avenue B in Opelika, The Sound Wall entices artists from near and far who are seeking a small-town recording experience in a premiere space, and it has become very special addition to the already existing and expanding arts community in town. In 2019, it launched the first annual Opelika Songwriters Festival, drawing singer-songwriters and fans together for a weekend of music at a number of venues in town.