By Stacey Patton Wallace
As I have said several times, I do love dining in downtown Opelika. The parking is plentiful and free. Also, the brick cobblestones, restaurants and other businesses are very attractive.
Opelika has a charming, lovely downtown. In fact, one of my husband's earliest and fondest childhood memories relates to the downtown area. When Mike was in kindergarten, he and some other children rode a train from his home in West Point, Georgia, to Opelika. It was his first experience with the "Railroad Town," and he loved it; now we both do.
Recently, Mike and I joined our friends Amy and David for supper at Niffer's at the Tracks at 917 S. Railroad Ave.
Kevin, our wonderful waiter, was amazing. When we placed our orders, he didn't write down ANYTHING. Later, he brought us everything we had requested. Amy said that Kevin had been their server several times, and he always remembered their orders. That amazed me; I would never be able to remember everything without writing the orders down. In addition, I tend to drop everything, so I would not be a waitress for long.
I really appreciate people who feed me, especially since businesses are often short-staffed these days. Therefore, Mike and I always support waiters and waitresses because they have tough jobs. And some hungry people can get unpleasant quickly.
Niffer's at the Tracks also got bonus points for serving Diet Dr. Pepper, my favorite beverage. For an appetizer, Mike and I chose the buffalo dip. It had shredded chicken, cream cheese and buffalo sauce; it was served with tortilla chips. It was warm, melty and really delicious. Not much was left when we finished. Again, we managed to refrain from licking the bowl because our parents taught us better.
For his entrée, Mike chose the French Dip, one of his favorites, with fries. The French Dip is made of thinly sliced roasted beef topped with Swiss cheese on a toasted sub roll. Au jus is served on the side. Mike really enjoyed it.
I chose the Southwest Wrap, which has freshly grilled chicken, guacamole, pico de gallo, lettuce, pepper jack cheese, tortilla strips and Niffer's homemade salsa ranch in a flour tortilla. Also, I ordered the homemade Mexicali dressing on the side. Delicious! Niffer's crunchy onion rings were a tasty side.
  Besides what Mike and I ordered, Niffer's serves a large selection of signature sandwiches and wraps; some of which include: Keely's Honey Turkey, the Albuquerque, the Ribeye Sandwich, the Buffalo Chicken Wrap and the Turkey Wrap. All Signature Sandwiches and Wraps are served with a choice of: homemade baked beans, homemade chips, homemade coleslaw, homemade broccoli salad (I believe you can see that "homemade" is a theme.), fries, Cajun fries, tater tots and Cajun tots.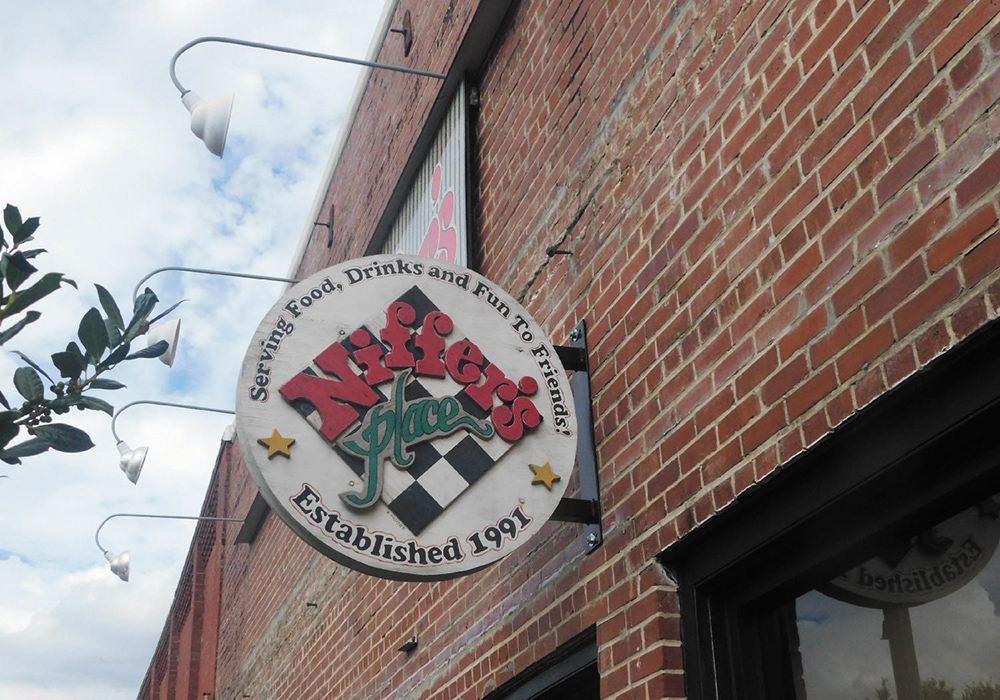 Amy chose the fried chicken salad, which included a choice of romaine and spring mix or shredded iceberg lettuce with tomatoes, cucumbers, mushrooms, cheddar jack cheese and is topped with fried chicken (Diners may also choose grilled.) on a bed of tortilla chips. Amy really enjoyed her salad. Other Super Salads at Niffer's at the Tracks include: Niffer's Cobb, Buffalo, Santa Fe, House and Chicken Fajita Salads.
David ordered the Junior Niffersaurus Burger with onion rings. The Niff Jr. came with cheddar, mozzarella, pepper jack and Swiss and was topped with a fried egg and bacon on a toasted bun. David said it was really good.
In Niff's Specialties, diners may choose from a large variety of specialty sides, two of which include the Sullivan, which is a homemade chili and white cheese dip. "A classic as Pat Sullivan was a classy guy" and the Bramblett, which is a warm and melty buffalo dip piled high "in honor of Rod and Paula Bramblett."
As an Auburn grad, I especially appreciate those styles.
After choosing a specialty, the next step is to choose your preferred protein: beef, chicken, lean turkey burger, vegetarian or vegan burgers. Last, diners choose a toasted bun or a lettuce bed. Believe me, there is something for every taste palate.
In addition, Niffer's offers chicken wings, boneless wings, soups, hamburger steaks, Greek quesadillas, chicken burritos or quesadillas, chicken fingers, fish tacos or chili cheese beef hot dogs. Niffer's has it all, including lunch specials on Monday through Friday from 11 a.m. to 2 p.m. and is definitely a do-over.
Niffer's at the Tracks is open on Sunday from 11 a.m. to 4 p.m.; on Monday-Wednesday from 11 a.m. to 8 p.m; on Thursday from 11 a.m. to 8:30 p.m.; on Friday and Saturday from 11 a.m. to 9 p.m.
Niffer's at the Tracks makes the grade with an A+ from this retired English teacher. Remember, "Pooh-sized" people NEVER lie about food. Enjoy!
Stacey Patton Wallace, who retired from teaching language arts for 30 years, is a professional diner. Her column, "Making the Grade," will appear each week in the Observer. Stacey may be reached at retiredlangartsteacher2020@gmail.com