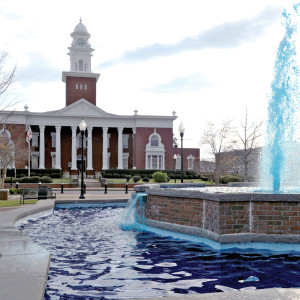 By Michelle Key
Publisher
More than 100,000 cubic yards of vegetation debris has been removed from the county right-of ways since the March 3 tornadoes according to County Engineer Justin Hardee. These statistics were part of an updated presented by Hardee to the county commissioners during their reqularly scheduled meeting Monday night. In addtition to the vegetation debris, Hardee also stated that more than 1,000 tons of construction and demolition debris have been removed.
Debris will continue to be removed as it is placed at the roadways over the next several weeks.
Kathy Carson, director of the Lee County Emergency Management Agency recognized Public Information Officer Rita Smith for her dedication and professionalism in her handling of the recent events.
"Her expertise was certainly put to the test after the EF-4 tornado tore through our county," Carson said.
In her update on relief efforts, Carson provided the commissioners with the following statistics:
226 buildings destroyed
136 with major damage
245 with minor damage
153 affected in some manner otherwise not classified
668 people registered with FEMA
$731, 339 approved for housing assistance
$142,834 approved for other needs assistance
12 approved for the maximum award for a total of $482,296
average eligibility rate is 19 percent
FEMA disaster survivor assitance teams have visited 4,532 homes and interacted with 2, 971 survivors
6,671 meals served by the Red Cross
nearly 28,000 snacks or meals served by the Red Cross
more than 6,900 small tools items like shovels, rakes, clean up kits etcs have been distributed
In other business the commission:
• approved the minutes of commission meeting on March 11
• voted to ratify and approve claims for reimbursement
• approved a resolution for the county's participation in the High Risk Rural Road program The county's application to install guardrail end anchors at seven bridge locations throughout the county was approved and funds were awarded at a 90/10 split between the Alabama Department of Transportation and the county
• approved a request from the highway department to adjust the previously approved debris monitoring contract from the current 15 percent cap of the debris removal services cost to 25 percent of the costs.
• approved the request to install a driveway pipe for the Beauregard Volunteer Fire Department on Lee Road 400
• approved a request to waive the building permit fees as presented by Joel Hubbard, Lee County Chief Building Official for those affected by the March 3 tornadoes
• approved two vendors for bids for the purchase of motor grader cutting edges/blades
• approved a retail beer/retail table wine license application for Express Food Mart D4
• voted to carry over the restaurant retail liquor license application for Backyard Bar N Grill until the next scheduled meeting in April.
County commission meetings are held the 2nd and last Monday nights of every month at 5 p.m.