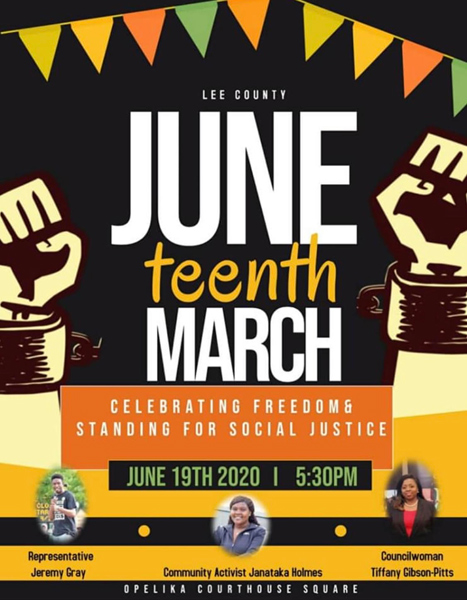 By Will Fairless
Associate Editor
Community activist Janataka Holmes, along with State Rep. Jeremy Gray and City Councilwoman Tiffany Gibson-Pitts, has organized a march in Courthouse Square this Friday, June 19, celebrating freedom and supporting social justice.
The march will be held on Juneteenth, a holiday that marks the anniversary of the order to free all slaves arriving in Texas, the last confederate state to receive orders under the Emancipation Proclamation. "I decided to go ahead and do the march on social justice," Holmes said, "and I thought, 'What better day to do it than Juneteenth?'" Henriette Snipes, chair of the Opelika Housing Authority, will speak about Juneteenth at the march.
Holmes wants to make sure that Friday's event isn't just a march for marching's sake, so she is focusing on voter registration as a more active way to create change. "We can march and talk all we want to, but I want it to be concrete," she said. There will be information about registration at the event, and people will be able to register on-site.
All who attend the event are asked to wear masks and practice social distancing, and Holmes will have extra masks available for those who don't bring their own. She would like to thank the Boys and Girls Club of Greater Lee County for their support of her and this event.