BY KENDYL HOLLINGSWORTH
KENDYLH@OPELIKAOBSERVER.COM
OPELIKA —
Jeff Tickal was sworn in as a circuit judge for Alabama's 37th Judicial Circuit in a small ceremony Jan. 17 at 10 a.m. in the Lee County Justice Center.
Tickal was elected to the position in 2022, succeeding Judge Jacob Walker. He will serve a six-year term.
As he put on his black robe, Tickal acknowledged the impact of his father-in-law Jim Gullage, who donned the robe as a Lee County circuit judge for 20 years beginning in 1977. Gullage and Tickal practiced law together in their own firm following Gullage's retirement.
"In getting prepared for this today, I was thinking about what I wanted to say about what it might be to be a good judge," Tickal said. "I've practiced in front of hundreds of judges, and they're all different; they all have different attributes. One thing that seems to have come out is wisdom, and I try to base that wisdom on people I've known in the past."
Tickal focused on the wisdom his father has imparted to him throughout his life, as well as a different kind of wisdom he noticed in his father-in-law.
"My father taught me to be tenacious; he taught me to be competitive; he taught me my values — my family values," he said. "When I think of wisdom, wisdom has to be based on knowledge, so I started with that knowledge that was given to me by my father and my family, and then as I got older, that knowledge becomes wisdom. I don't know that I have that kind of wisdom, but the wisdom I'm going to try to achieve … is the wisdom of Jim Gullage. I refer to it as 'slow wisdom.' He was not quick to speak, and he was not quick to anger."
Tickal said he appreciated how Gullage's answers to his questions were always well thought out.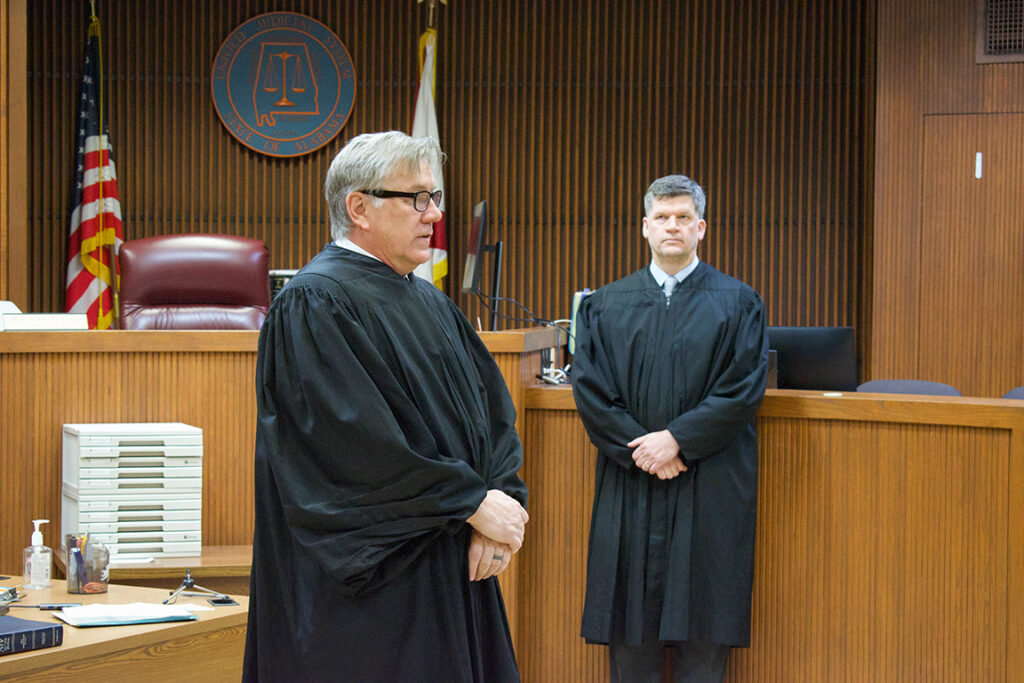 "That's just the way he was, and he was that way until the day he died, and it's that slow wisdom I'm hoping to achieve," Tickal added.
Tickal also acknowledged the influence of several other judges he has known over the years.
"You learn from each one of those folks, and I hope to bring those [attributes] to bear as a judge, and over the next six years, I hope I do a good job and do the things you want me to do, and rule fairly."
An Auburn University alumnus and 1996 graduate of Samford University's Cumberland School of Law, Tickal has practiced law in the area for more than two decades. He has also taught pre-law students at Auburn University as an adjunct professor.