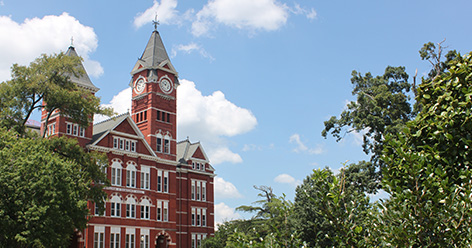 CONTRIBUTED BY AUBURN UNIVERSITY
AUBURN —
Auburn University is one of the best places to work in the state of Alabama, according to the 2022 America's Best-in-State Employers list released today by Forbes magazine.
The list — now in its fourth year — was compiled through a partnership of Forbes and market research company Statista, pinpointing organizations liked best by employees in each state. Findings were compiled from an anonymous survey of 70,000 American employees nationwide, representing 25 industry sectors. Forbes' list of Best-in-State Employers considered every aspect of an employee's experience, such as working conditions, salary, potential for growth and diversity. The determination by Forbes also considered direct recommendations from Auburn employees, as well as indirect recommendations from workers in the higher education sector.
"Auburn prides itself on meeting the needs of not only its students, but also its employees," said Karla McCormick, Auburn's associate vice president of Human Resources. "This recognition by Forbes validates the hard work and dedicated service of our purpose-driven employees and speaks to what so many come to learn about Auburn — that in addition to being a great place for a top-notch education and stellar student experience, it also offers an unmatched and rewarding working environment."
Auburn's cumulative workforce totals more than 12,350, including student employees and more than 1,400 full-time faculty. Auburn hires more than 1,100 employees every year, and the average length of employment at Auburn among current employees is greater than 10 years. Auburn University administers a variety of benefits to eligible employees, including health, dental and vision insurances; flexible spending account programs for medical and dependent care; life, disability and cancer insurances; mandatory and voluntary retirement plans; generous leave policies; employee and dependent educational benefits; and employee discounts.
"This honor illustrates that we've created an environment where people can thrive in their professions while enjoying what they do and where they choose to work," said Auburn President Christopher B. Roberts.
The Best-in-State Employers listing comes on the heels of a June ranking in which Auburn was named the No. 1 university on Forbes magazine's 2022 list of America's Best Employers for New Grads. Auburn ranked No. 15 out of 300 employers on that national list, rating ahead of worldwide companies, such as Google, Microsoft, American Express and Lockheed Martin, to name a few.
For more information on how to join the Auburn Family, visit the university's Human Resources website.