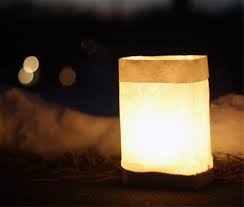 Special to the
Opelika Observer
Collinwood residents will continue Opelika's oldest neighborhood Christmas tradition for one night only on Dec. 13 from 5 to 9 p.m. For more than 50 years, the streets of Collinwood have been transformed into a magical Christmas journey commemorating the path of Jesus Christ's birth.
More than 1,500 candle filled bags will line the way through various scenes of the Christmas story. There will be living scenes with people and animals (including shepherds, wise men and angels) conclude with the Nativity.
The Luminaries, a tradition started in the neighborhood around 1967, follows an older tradition observed in Mexico. Several of the residents who started the tradition still live in the neighborhood, but it is a tradition embraced by the whole neighborhood as their Christmas gift to the community. The Collinwood tour is also supported by Opelika Mayor Gary Fuller and the Opelika City Council, Public Works Department of Opelika (ESG), Opelika Power Services, Opelika Police Department and Boy Scout Troop 858. First United Methodist Church Youth group provides the characters for the live scenes along the way.
The Collinwood one-way tour will begin at the corner of 10th street and Oak Bowery Road (1001 N. 10th St.) and will end at McLure Avenue. Collinwood residents invite all Lee County residents to come and enjoy the luminaries. The tour is free and all are invited to drive through as often as they like. Join them as they "light the path" on the "journey to the manger."
For more information, visit the Collinwood Luminaries' Facebook page.