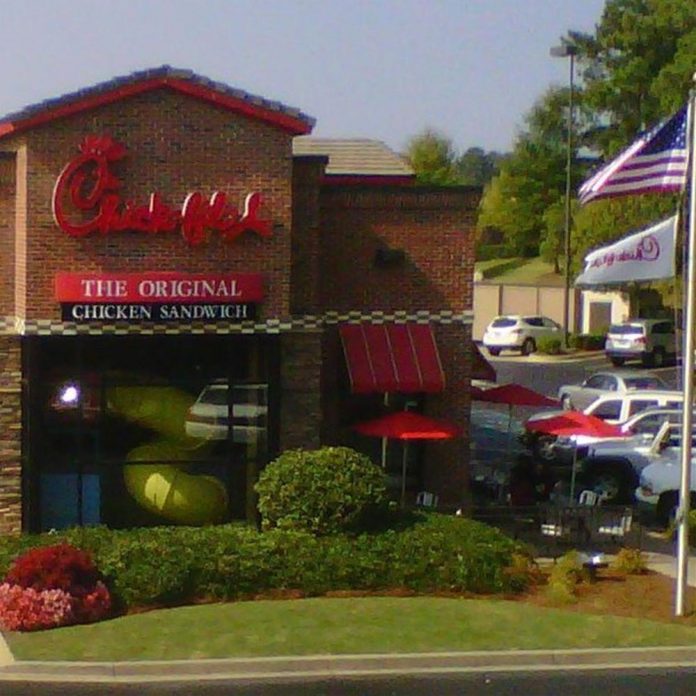 By Kelly Daniel
For the
Opelika Observer
The Opelika Chamber of Commerce's quarterly Business Over Breakfast event on March 28 emphasized civic engagement and quality of life as important factors in economic success.
Dr. Joe Sumners, who has advised and taught leaders in economic development for nearly 30 years and serves as executive director of the Government and Economic Development Institute at Auburn University, delivered an inspiring and informative presentation on how investing in local communities is important to both enhancing quality of life and enabling economic success.
At the end of the breakfast, the Chamber recognized Chick-fil-A of TigerTown, which is well known for community involvement and charitable giving, as Small Business of the Quarter.
Andrew Barnes, the owner and operator of Chick-fil-A of TigerTown, reacted with gratitude toward the community, the Chamber, and the hardworking Chik Fil A employees.
"We are so honored to be recognized as the Small Business of the Quarter by the Opelika Chamber of Commerce," Barnes said.
As to their success and ranking as the second-highest Chick-fil-A in Alabama for sales volume, Barnes said, "We owe our thanks to the Opelika/Auburn community. We love our guests and take pride and joy in serving them."
Prosperity Through Engagement and
Infrastructure
In his talk, Sumners explained that while people often think of economic development as primarily attracting new businesses to a community, effective local governments and active civic organizations create the conditions necessary to attract workers and businesses.
"At the foundation of an economy, you've got your physical, your human, and your civic infrastructure. Those provide a foundation on which you build your economy," Sumners said.
Without that foundation, the argument goes, a community doesn't have what businesses are looking for when they search for a place to expand.
While physical infrastructure refers to utilities, roads, and other tangible resources, human infrastructure is created and enhanced when a community educates and empowers its citizens to reach career success.
"The biggest issue in economic development is attracting and growing your workforce, providing good schools, and a good workforce system to create skilled workers," Sumners said.
Sumners has found that a trained workforce is one of the most in demand factors for businesses, who often make decisions on where to expand based on the ability to recruit skilled workers.
Supporting existing local businesses is another crucial factor in economic success for Sumners because he has found that most of the job growth in a community comes from existing businesses owned by local people.
Civic infrastructure is the community leadership that Sumners views as crucial for community development because that leadership provides strategic planning to guide the community toward economic growth and increased quality of life.
Leadership was one of the top three things that Sumners and other rural economic experts found is needed for strong Alabama communities, in a round table conference that took place at Auburn University in 2006, and in a follow-up to that conference held in 2017.
Strong communities provide the foundations for "quality of place," which Sumners defines as the quality of life that citizens experience within a particular place or community.
Optimized quality of place provides a healthy, well-educated workforce who support the economy as consumers and as employees, while encouraging the growth of community leaders who can coordinate efforts to support existing local business while bringing in new industry.
The factors of effective physical, human and civic infrastructure are outlined in the many educational programs offered by the Government and Economic Development Institute at Auburn University.
Examples of
Excellence
As two fast growing communities that are ranked third in the nation in job growth for small cities and first for economic growth potential, according to a 2018 report in Business Facilities Magazine, Opelika and Auburn are uniquely positioned to bring in new talent and business.
Sumners lauded Opelika's economic developer as well as its human, physical, and civic infrastructure.
Mackenzie Kayler, who serves as manager of programs and events at the Opelika Chamber of Commerce, reflected on the success of the Opelika area and how strong leadership made it possible.
"Some examples include our great education system in Opelika, our access to quality healthcare at EAMC, and the growth of our downtown area and events that make Opelika a fun place to live," Kayler said.
Just as Opelika and Auburn exhibit strong civic engagement as communities, the Chamber views Chick-fil-A of TigerTown as providing this kind of leadership among businesses by consistently contributing toward efforts to enhance the wellbeing of local communities.
"The recognition committee unanimously voted for Chick-fil-A at Tiger Town in recognition of their consistent willingness to assist with community projects as well as their generosity in donating time and resources to the Chamber and other community outlets," Kayler said.
A Chamber of
Commerce
Dedicated to Growth and Learning
The Opelika Chamber of Commerce considered the breakfast to be a great success, as it was well attended and featured a renowned keynote speaker.
The tables at the breakfast were full almost to capacity, with more than 80 people in attendance at the event.
Educational events are considered crucial to the Chamber's mission of providing an atmosphere that invites prosperity for organizations and community leaders.
"Providing educational opportunities through speakers for our chamber members is important because it gives each business an opportunity to learn something new to where they can apply it to their business, become a more knowledgeable Opelika citizen, or apply what they learned to every day conversation or networking." Kayler said.
The overarching theme of the breakfast seems to be that when local people have access to the resources that they need for effective strategic planning, they can make better decisions as individuals and for the civic organizations, government agencies, and businesses that make up a community.