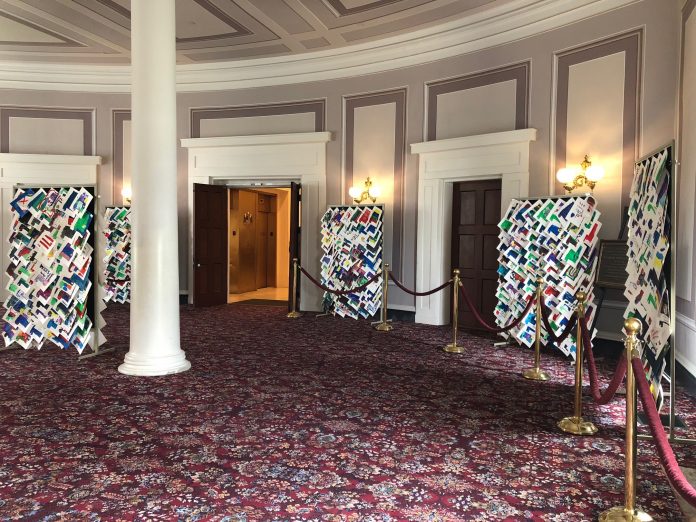 Special to the
Opelika Observer
Only eight days removed from the devastating tornadoes that affected Lee County on March 3, educators at West Smiths Station Elementary were concerned about the mental state of their students on their return to school.
Those concerns led them to contact local artist Sarah West of the Sarah West Gallery of Fine Art in Smiths Station and ask her to maintain a daily presence at the schools the following week to help students cope with the tragedy. West, along with help from her family and friends, spent the weekend before gathering the necessary supplies for the week.
The next week was spent interacting with students and faculty alike, offering West a chance to "personally speak with every student and faculty member at West Smiths Station Elementary School while placing a paint brush in their hand and sharing with them the healing gift of art."
At the end of the week, nearly 900 paintings had been completed. Soon, the artwork was turned into an exhibition called "#SmithsStationStrong" and was displayed at City Hall.
With the assistance of District 38 Rep. Debbie Wood, West was able to secure a spot for the exhibit inside the historic Supreme Court building at the Alabama State Capitol in Montgomery, where it will remain on display through the end of May.
Teachers from West Smiths Station expressed their gratitude and appreciation for West's team's efforts to heal during a challenging time.
"We are so thankful for The Sarah West Gallery bringing art activities to our children at WSSES."
"I think it was the most special and exciting thing that the kids experienced when they returned to school."
"The art activities changed everything that week … my whole class changed, positively"
For more information, like and follow the gallery's Facebook page or visit www.thesarahwest.com. The gallery is located at 2750 Lee Road 430.