By GREG MARKLEY
Opinion —
At age 19, young Tuscaloosa resident Wes Allen "walked-on" at the fabled University of Alabama stadium. It takes stamina and grit to succeed as a walk-on, but Allen endured under coaches Gene Stallings and Mike DuBose. He was a member of the Crimson Tide football team, not as a superstar, but as a dependable wide receiver. Allen entered games at key moments and did his job well.
After graduation and earning a law degree, Allen was appointed as probate judge for Polk County and in 2016 he won a full term. He oversaw more than a dozen elections in Troy and other locations. A state representative since 2019, Allen shepherded three elections bills to passage this year. He said he will be a good fit as secretary of state because of his voting and elections work.
"I am proud to have sponsored and passed this important elections integrity bill," he told a group in Dothan recently. "We will never again see people like Mark Zuckerberg attempting to buy our elections process with "donations" and "grants" to our elections officials. This is strong legislation I am very proud of."
House Bill 194 bans private individuals or organizations from purchasing election machines, ballots or supplies and prohibits them from paying election administration officials or their staffs. It was generated after billionaire Mark Zuckerberg, of Facebook fame, voiced support for such a scheme.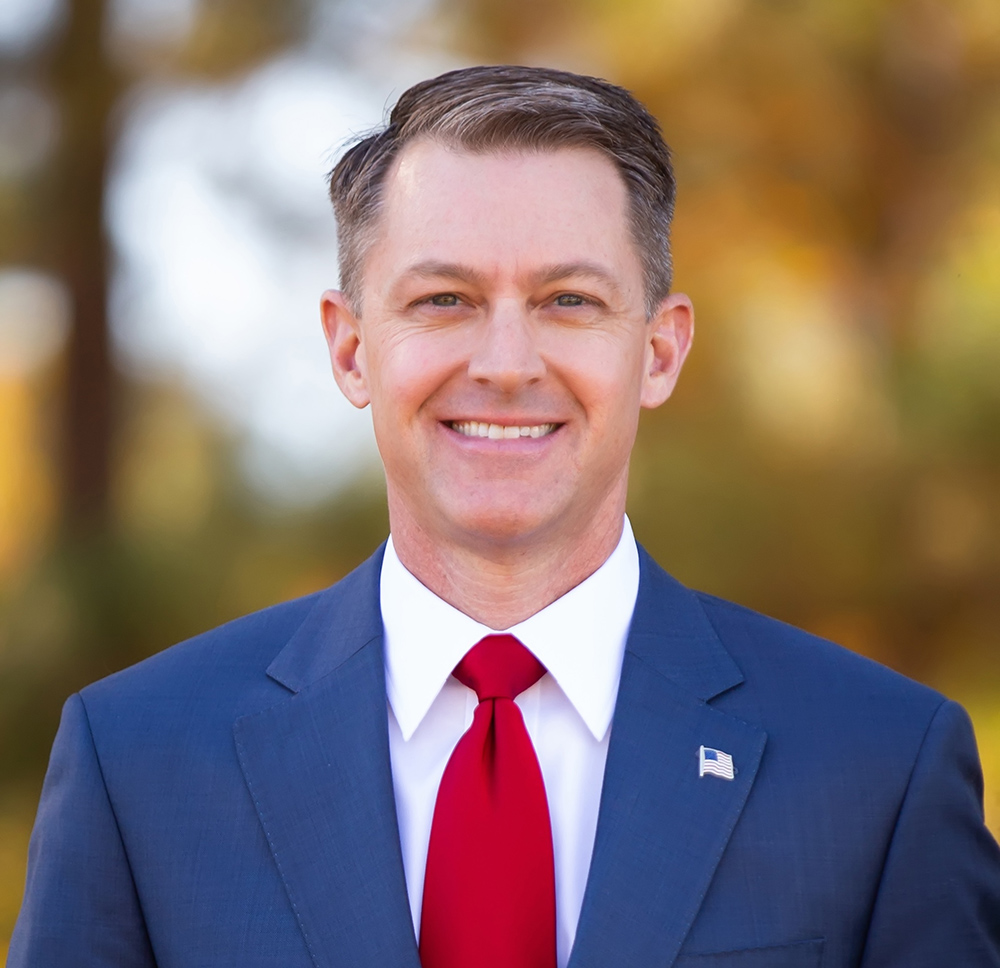 In the House, Allen represents District 89, made up of Pike and Dale Counties. He lives in Troy with his wife Cae and two children. Another new law about voting is one that deals with curbside voting, where voters turn-up outside a polling center and cast a ballot.
"I believe in election day, not election month," Allen noted.
Allen, now age 46, was one of the youngest people to become a probate judge in Alabama. He was only 33 years old. He served as president of the Alabama Probate Judges Association, getting elected in a bipartisan manner. He authored a bill in the House to "prohibit the use of puberty-blocking medications, hormones and surgeries as transgender therapies for minors". It was signed into law a few days ago by Gov. Kay Ivey.
"This is meant to protect the children from making changes that they may regret later," Allen said. "This has nothing to do with elections and voting, because of course we will allow transgenders to register and vote."
He is a Christian conservative, but said that if he becomes secretary of state he wants every eligible voter to vote, "including LGBTQIA+ people."
A few words here about design of campaign literature: Allen's has the top section in white and red. It works here because he just mentions the key items "Conservative Republican," his name, and the job being pursued. But I have seen other candidates over the past 30 years that have used a faded color or red. What Allen has now, front and back, is well-done and not grating on nerves.
Something I noticed in campaign literature of Tom Whatley, who is seeking his fourth term as a state senator, is worth a mention. He has a larger picture of himself and a constituent or colleague but also has six small photos of himself from an Army deployment. As a veteran myself, I applaud his service and self-pride.
Yet, there is no indication of what his primary job is — as a self-employed attorney in Auburn. He also was a top aide to a chief justice of the Alabama Supreme Court, and that would be something new residents don't know. He was a Democrat as was the chief justice, so perhaps he wants it to be forgotten.
"Just seeing his work ethic and how hard he works has been something that was passed on to me," Allen remarked about his father, State Sen. Gerald Allen of Tuscaloosa. "No one outworks him. And he shows me that you have to be a good listener. It's an honor to be the first father and son to serve simultaneously in the state legislature in the state's history."
It has been 27 years since Allen "walked-on" a training field and claimed a job as a wide receiver under Gene Stallings. Allen gained a lot of confidence and determination that he has taken to achievements as a probate judge and as state representative. There is a good chance that he will "walk-on" the stage next January at the Capitol, as the incoming secretary of state.
Greg Markley first moved to Lee County in 1996. He has Masters' in education and history. He taught politics as an adjunct in Georgia and Alabama. An award-winning writer in the Army and civilian life, he has contributed to the Observer for 12 years. gm.markley@charter.net