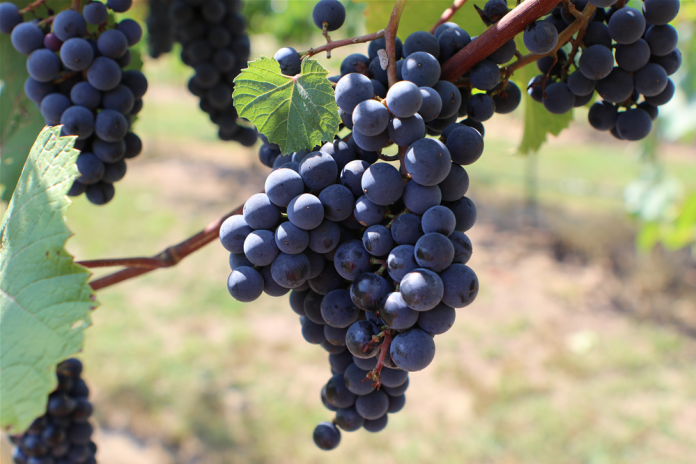 Special to the
Opelika Observer
Tickets are now available for the third annual Auburn-Opelika Wine Trail slated for Oct. 25. Guests can experience and sample products from three wineries in East Alabama with a special farm-to-table lunch provided by Bow & Arrow. The Flower Bed, a local flower truck to Auburn, will also be present for this year's event.
Guests will begin the day bright and early at the Lee County Fairgrounds at 8 a.m., where spacious Tiger Transit buses will be waiting to transport wine enthusiasts for the entire day.
The first stop on the trail is Five Points Farms, a five-acre vineyard located just north of Auburn in the small town of Five Points. Enjoy a tour of this scenic farm where American, French Hybrid and muscadine grapes are grown. Tastings will also be available.
Next on the trail is Hodges Vineyards & Winery, located in Camp Hill. Hodges offers a vast selection of muscadine, grape and fruit wines to sample and purchase. All wines are bottled on-site; the more unique fruits, such as apples, blueberries and blackberries, are imported from farms local to Alabama.
New for this year's event is a farm-to-table lunch provided by Bow & Arrow while at Hodges Vineyards & Winery. Participants will also have the opportunity to purchase flower arrangements from The Flower Bed.
The last stop on the trail is Whippoorwill Vineyards, a family-owned and operated winery nestled in the historic town of Notasulga. Savor the final stop of the day as you're guided through the elegant countryside. Whippoorwill also offers fresh honey and other products harvested on-site.
Tickets to the Auburn-Opelika Wine Trail are $55 each plus tax and include transportation and lunch. Guests will arrive back to the fairgrounds at approximately 4 p.m. and are asked to bring comfortable walking shoes and extra money for purchasing bottles of wine and flower arrangements.
The Wine Trail is sponsored by Lee County Extension System, The Flower Bed and Auburn-Opelika Tourism Bureau.
For more information, contact Tara Barr at 334-749-3353 or barrtar@aces.edu. Tickets can be purchased via www.aces.edu/event/auburn-opelika-wine-tour-2019/2019-10-25.