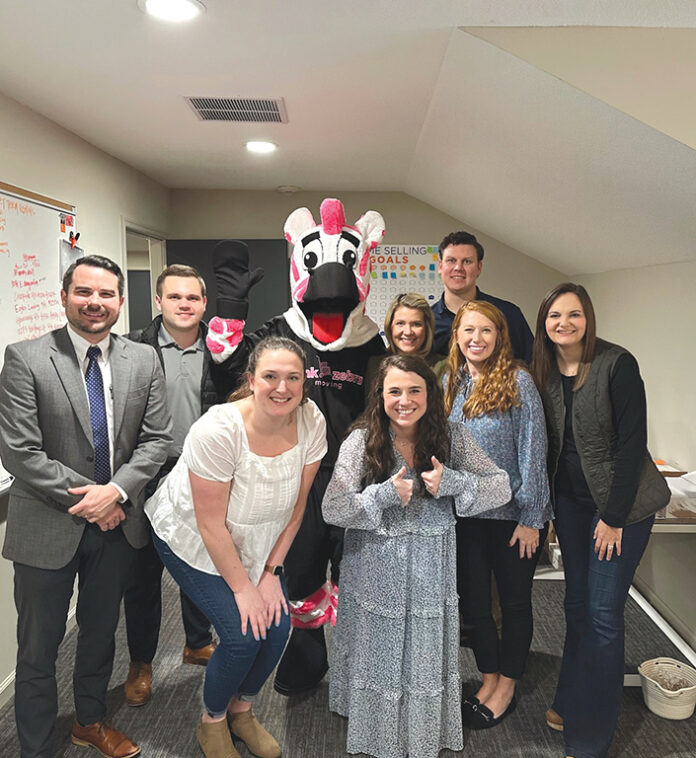 BY KENDYL HOLLINGSWORTH
KENDYLH@
OPELIKAOBSERVER.COM
AUBURN —
There's a new moving company in town — with a vibrant twist.
Pink Zebra Moving Company has been operating in Auburn for less than a month, but the Birmingham-based franchise is already turning heads with its pink-striped moving trucks. According to Ron Holt, founder of the franchise, Pink Zebra aims to make moving less of a hassle for its clients and more of a fun, memorable experience.
"It's just fun making people smile," Holt said.
"No one thinks moving is fun, so we've challenged ourselves to make it a fun experience for our customers."
Holt, who previously owned the long-running cleaning service Two Maids & a Mop, said he was inspired to research moving companies after his mother-in-law had a bad experience with a company she hired to help her move a few things into storage just a few miles away.
"That experience made me just sort of put on my entrepreneurial hat and say, 'Well, is this just a one-off? Did we just have a bad experience?'" Holt recalled. "So I didn't use a ton of science here. I just went to Yelp and Yelped a bunch of moving companies. … My mother-in-law's experience was happening all over the place."
Holt decided to combine his perspective as a consumer with his experience as a business owner to start his own moving company — one that would provide the kind of service he wished his mother-in-law had received.
Following success in and around Birmingham, Holt decided to start franchising to bring Pink Zebra to other communities. Auburn is one of the first.
Husband-and-wife team William and Keely Culpepper are the local franchisees. William said he was drawn to Pink Zebra after hearing its story and seeing how passionate Holt was about the business.
"I've had the entrepreneurial bug for a long time, and I've looked at other franchise opportunities along the way … but when I saw the story of Pink Zebra, for some reason it captured my attention," William said. "… I believed in it, and I thought, this is it."
Holt said it's Pink Zebra's goal to build a meaningful relationship with clients. Beyond the extra care movers take when loading and unloading the client's belongings, the team hopes to make them laugh and have a little fun along the way. The Pink Zebra team may even have a couple of surprises up its sleeve to make the experience extra special.
"[We want] to make people say 'Holy cow, I can't believe they did that' because we want to do more than just move," Holt said.
William said he was eager to be part of something that stands out from the rest, and with the Auburn-Opelika metropolitan area growing so quickly, William recognized the constant need for moving services in the area. So far, the experience has also been fun for him and the rest of Auburn's Pink Zebra team, he said.
"It's just the ideal market to be in," William added.
There are currently six Pink Zebra locations, with two close by in Montgomery and Columbus, Georgia. And while franchising has just begun for Pink Zebra, William and Holt said there are several other franchises in the works across the Southeast.
"We're just fired up," William said.
Auburn's Pink Zebra Moving office is located at 1625 E. University Drive, Suite 106, close to Dirt Cheap. Lake Martin is also included in Auburn's service area. Call 334-833-1338 or visit www.pinkzebramoving.com for more information.