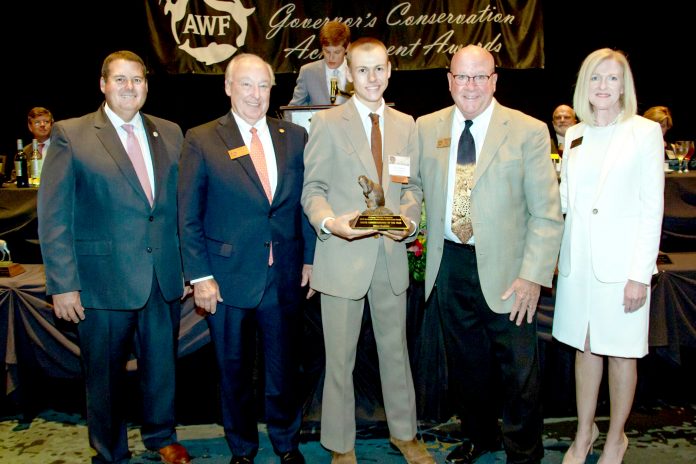 Special to the
Opelika Observer
The Alabama Wildlife Federation recently named Alabama 4-H member Ethan Rankins as Youth Conservationist of the Year. The organization presented the award Aug. 9 at the 2019 Governor's Conservation Achievement Awards banquet in Prattville.
For more than 45 years, the Alabama Wildlife Federation has presented this award to individuals who have been influential to Alabama wildlife and natural resource conservation.
"I was honored to be selected for this distinction," Rankins said. "As a young farmer and outdoorsman, I appreciate the abundant creation God has blessed us with."
Rankins' hard work and dedication to promoting wildlife and natural resource conservation has not gone unnoticed. This year, Rankins excelled in several Alabama 4-H outdoor education programs.
He, along with Lee County 4-H Wildlife team members, won the state 4-H Wildlife Habitat Education Program (WHEP) contest. WHEP is a hands-on natural resources program that teaches wildlife and fisheries management. Rankins placed first in the competition in the Senior Overall Individual division. In addition, Rankins and his team advanced to the National WHEP Contest, where they placed fifth.
"It has been an honor to watch Ethan grow up in Alabama 4-H," said Molly Gregg, assistant director of Alabama 4-H. "He excels in all he does and is a respected and thoughtful leader."
Rankins also serves as a State 4-H Ambassador developing his skills in leadership, public presentation, citizenship, community service, public relations and team building.
For more information, visit www.alabama4h.com.