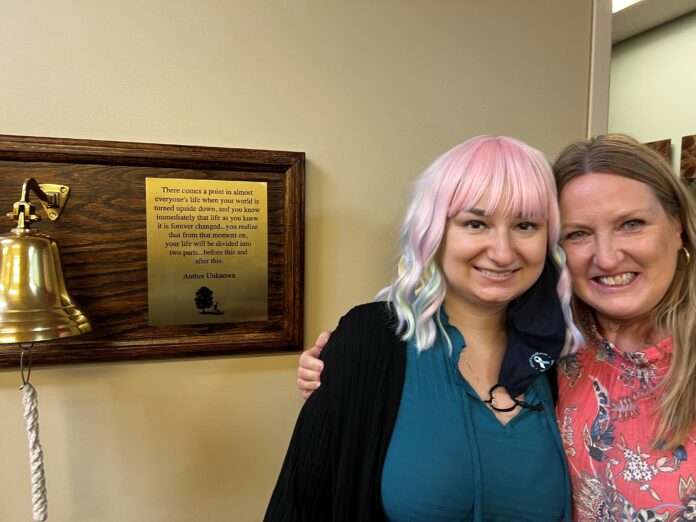 January is Cervical Cancer/Cervical Health Awareness Month. For more information, visit www.nccc-online.org/cervical-health-awareness-month/.
BY KENDYL HOLLINGSWORTH
KENDYLH@OPELIKAOBSERVER.COM
OPELIKA —
She hasn't yet reached her 30th birthday, but Opelika resident Julianna Colley has already survived cervical cancer — twice. And now she's on a mission to raise awareness so other women do not have to endure what she did.
"Prior to getting my diagnosis, I had a lot of issues," Colley recalled. "I didn't feel well, I had a lot of the bloating going on, back pain, abnormal bleeding, pain — lots of pain — after intercourse. Basically, all of the warning signs of cervical cancer — I was experiencing those."
THE SEARCH FOR ANSWERS
Colley said her symptoms began in 2020, during the COVID-19 pandemic, which posed a few challenges.
"I had a lot of trouble trying to find a doctor in this area — one, that was accepting patients; two, that could see me; or three, somebody that was actually taking me serious in the area," she said. "I had gone to several doctors and told them about my symptoms, and the only answers I was getting around here was, 'Well, you just need to take birth control' or 'Maybe it's your thyroid.'
"I was basically being written off — or that's how I felt, being a young, married woman in a college town."
Since her mother had battled cervical cancer 15 years prior, Colley said she was aware of the warning signs and persisted in her quest for answers, determined not to take "no" for an answer.
"If you don't feel like you're being listened to or understood or heard, keep going," she said. "Keep looking for somebody else. You just can't take 'no' for an answer when it comes to your health."
By the end of the year, Colley said she found a doctor in Atlanta who agreed to see her. At that point, it had been about three years since her last pap smear, despite her requests to undergo the procedure annually.
"Even though I had asked for a pap every year, the doctors around here kept telling me that wasn't necessary; three years was the guideline," Colley recalled. "OK. So my doctor in Atlanta — we did the pap smear, and that came back abnormal, and that's what started this whole journey."
DIAGNOSIS AND TREATMENT
In January 2021, which also happened to be Cervical Cancer Awareness Month, Colley was diagnosed with Stage IIIC1 cervical cancer.
Women are most often diagnosed with cervical cancer between the ages of 35 and 44, according to the American Cancer Society, but diagnoses can still occur outside that age range. Colley was 27.
"In the meantime of getting that cancer diagnosis, I oddly felt a sense of relief because I finally had answers," she said. "I finally had answers and justification of what I was going through. Definitely not the answer I wanted to hear, but at least I knew what was going on, and I could begin to treat it and fight it."
Following the diagnosis, Colley said she had a couple of surgeries, ultimately having to undergo a radical hysterectomy with no fertility-saving options because the cancer had spread to her lymph nodes and was taking over an artery.
"I didn't really have a choice," she said.
Next came four rounds of chemotherapy and 29 radiation treatments. Then, some good news: Colley was declared in remission.
But, 364 days after her last treatment, Colley found out the cancer had returned.
ROUND TWO
"The oncology team locally were doing three-months and six-months scans, but I woke up one day in April 2022, and my leg was killing me," Colley said. "I could hardly move it, I couldn't walk up the stairs, it was extremely swollen; something was wrong — again."
A string of tests at the emergency room revealed that the cancer had metastasized: 13 new tumors had popped up in her torso.
"That was incredibly scary," she said. "That was a gut punch because in my mind, you know, I was done. I was done with this. I wasn't going to do this again. I did it, I fought my fight … I thought I was good. But that was not the case."
With her cervical cancer back, Colley said she wanted to make sure she received the best care possible. Further research led her to the Cancer Treatment Centers of America (CTCA) in Atlanta.
She had to endure a few more rounds of chemotherapy, but Colley said she felt that her CTCA team listened to her needs — not just physical, but also "mind, body and soul."
"I think that's very important because you can't heal the body if you don't heal everything else with it," she added.
Now, Colley said she is happy to report that she is once again in remission. However, her journey with cancer is far from over.
ADVOCACY AND AWARENESS
"Because I've gone through all this, and because I wasn't listened to in the beginning, my cancer wasn't found in an early stage," Colley explained. "I didn't have the [pap smears] every year; I didn't get the HPV vaccine, and I had to go through all of this. Cancer is not over for me. It's never going to be over for me. I'll be on maintenance chemos for the next two years, every 21 days getting chemotherapy."
Colley stressed that early diagnosis and treatment is key to an easier road to recovery — or prevention altogether — and that starts with being an advocate for your own health.
"It was extremely frustrating," she said of her struggle to get answers. "I felt like I was screaming into the void. I didn't feel like anybody was listening to me, and I was just being overlooked when I knew something was wrong.
"… I guess because of my age, it really weighs on me as well because I feel like cervical cancer is just killing young women, and it's totally unnecessary. If we just familiarize ourselves with these symptoms, do our yearly pap smears and get the vaccine, this could be eradicated within a couple of generations."
Today, Colley said she spends much of her time trying to raise awareness and get others involved in the cause. After realizing the community didn't have any organized efforts, she contacted the city and worked with Mayor Gary Fuller's office to draft a formal proclamation recognizing January as Cervical Cancer Awareness Month. Fuller issued the proclamation at the Jan. 17 Opelika City Council meeting.
"I know a lot of women, or a lot of people in general — especially in the South — they don't like to talk about chronological cancers," Colley said. "But you can't ignore it. It's got to be talked about, otherwise … young women are just going to keep dying. We've got to talk about it and bring awareness so that we can stop this."
For more information about cervical cancer, visit www.cancer.org/cancer/cervical-cancer/about.html/.