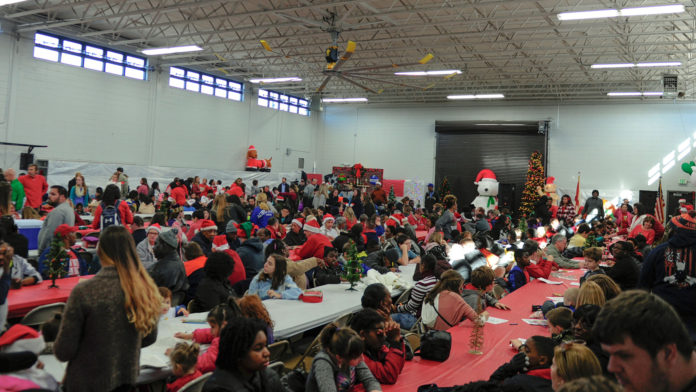 By Morgan Bryce
Editor
Nearly 24 years ago, Harold Watts made the more than two-hour trek from Opelika to Gadsden to attend the city's annual Special Needs Christmas Party that has been in existence since 1952.
Funded by Local 12 of the United Steelworkers Union, their event is staged each year by the Etowah County Board of Education, and brings in hundreds of special education students from the area.
Recognizing the need for a similar event in Lee County, Watts decided to use his platform as member of the United Rubber Workers tied to the Uniroyal/Goodrich Plant and helped organize Lee County's first "Special Needs Christmas Party" in 1997.
"What was important back then when we first started and is still important today is to give back to the community and hopefully make it a better place. That's the gist of how and why Harold decided to help start this," said longtime volunteer and fellow retiree Paschal Prickett, who worked at the plant for more than 46 years.
The party through the years
The inaugural party was held in Smiths Station before being moved to Opelika, where it has remained since. Venues have varied, but Opelika's Alabama National Guard Armory and SportsPlex have served as the most recent venues for the event.
Prickett has been involved with the party each year since its inception, but took an expanded role in helping organize the event 2009 after the plant shut down.
Facing the possibility of lacking the funding to stage the event that year, Prickett said longtime personal friend and former Alabama football star Steadman Shealy of the Shealy, Crum & Pike Law Firm in Dothan intervened and helped provide crucial aid through a lean five-year stretch until 2014, when more local donors and partners joined the cause.
While some businesses, individuals and organizations donate monetarily, others donate their services, with examples Cameragraphics offering free portraits with Santa and Mrs. Clause and Bi-City Produce and Givorns Foods donating fruit to give out to event attendees.
Following are other major donors past and present that Prickett and fellow volunteer Beth Welcher acknowledged:
American Income Life (George Murray)
American Legion Post 18
Chick-fil-a Tiger Town
Coca-Cola United of West Point
Dale Jackson
Dr. Chris Padgett
Dr. Gregory Sepanski
Dr. Raymond Bolt
Dr. Robert and Barbara Patton
Dr. Todd Sheils
East Alabama Medical Center
Envision Opelika Foundation (accepts donations on behalf of Prickett and Welcher for the party)
Fairway Auto Brokers LLC
Gerry Potter and Glynn Smith (Glynn Smith Chevrolet)
Hudson Family Foundation
James Sellars
Jeffcoat-Trant
Funeral Home (Bill and Coley Trant)
Jerry Twigs
Lambert Transfer & Storage
L.C Ligon
Mary Burt
Opelika's Walmart Supercenter
Party City
Pepsi (Buffalo Rock Distributors)
Robert Williams (Bancorp South)
Ronnie Lipham of Four Seasons Credit Union
Ruth Erb
Sun Self Storage
VFW Post 5404
Walmart Distribution Center
Wilbur and Karol Prickett
Party attendees, volunteers and dignitaries
On average, 360 special education students, 125 teachers and 100 cheerleaders attend the party each year. Students from Lee and Russell counties, as well as Valley Haven School in Chambers County.
Cheerleaders from those schools along with the Clauses, Deejay Jerry Welcher and Opelika High School's Ovations group, are regulars at the party, helping students get into the festive spirit through music, dancing and other Christmas-themed activities. However, special guests in the past have included the Chick-fil-a cows, Opelika Fire and Police department mascots "Sparky" and "McGruff" as well as Auburn University's beloved mascot, Aubie.
"These kids represent a mostly forgotten segment of the population. A lot of these kids would never get the chance to see Aubie or Batman, who's portrayed by Andrew Barnes (owner/operator of Chick-fil-a Tiger Town)," Prickett said.
While the group is aging, volunteers consist of a large chunk of union members. Some constants of the party include Travis Pugh as Santa Clause, who has been involved with the party for more than 21 years. His wife Nancy, along with Jane Holloway and the late Anne Newton, have portrayed Mrs. Clause through the years.
Prickett said another critical pillar of support for the party has always come from the Opelika Mayor's Office.
Mayor Gary Fuller, along with Administrative Assistant Barbara Arrington and ESG/Public Works Director Mike Hilyer, help with the location and logistics for the party each year, with Hilyer and his family also contributing by dressing up as "The Incredibles" from the beloved set of Pixar films.
"This (is a) big event (that) touches a lot of special children. I always enjoy attending and seeing the pure joy on those beautiful faces … this one event makes my Christmas," Fuller said.
Many local dignitaries, including Opelika City Council members and individuals like Rep. Debbie Wood from House of Representatives District 38 and Adjutant Gen. Sheryl Gordon of the Alabama National Guard, attend each year. Local law enforcement officials also participate in the party, greeting and talking with students to cultivate lasting, meaningful relationships. "The Christmas season is about joy and you won't find it anywhere more than in the hearts of these children. Attending the party has become one of my favorite holiday traditions; I am inspired and uplifted by them every year and I always hope my presence can, in some small way, inspire them in return," Gordon said in an emailed statement.
"I have always had a place in my heart for special needs children and I love getting to see them have fun and dance and enjoy life," said Russell County Sheriff Heath Taylor.
"Seeing the faces of these kids light up while they're having a great time really touches you deep down in your heart," added Chambers County Sheriff Sid Lockhart.
Future of the party
As time wears on, Prickett and Welcher are both unsure of how long they will be able to continue organizing the party.
Through their connection with Williams, who is a member of the Happy Hour Rotary Club, Prickett said he, Welcher and fellow union workers are prepared to pass it down to that organization when they can no longer take on the challenge.
"Even when we've stopped doing this … at the heart of what this event about is giving back to the community and putting a smile on the faces of children," Welcher said.