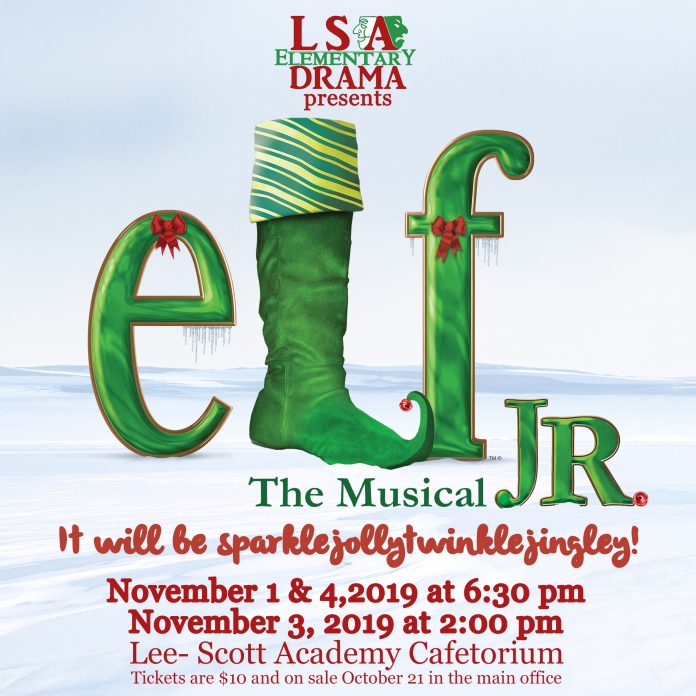 By Morgan Bryce
Editor
Christmas is coming early to Lee-Scott Academy, as their performing arts group will stage three shows of "Elf the Musical, Jr." in the school's cafetorium Nov. 1, 3 and 4.
According to the academy's Upper School Art and Drama teacher Tricia Oliver, this is her 19th production in 13 years at Lee-Scott. The show's runtime is 75 minutes with no intermission and its cast is comprised of 45 students in the third through seventh grades.
Adapted from the beloved Christmas film of the same name starring Will Ferrell, the story's protagonist is Buddy, a young orphan who accidentally finds himself aboard Santa's sleigh one Christmas night. He grows up at the North Pole, unaware of the fact that he is human and is raised as an elf.
As an adult, he desires to reunite with his birth father, later traveling to New York City where he not only learns about the true meaning of family but also the spirit of Christmas.
"We chose Elf the Musical, Jr because it just looked like such a fun show and the timing would be perfect," Oliver said. "The whole theme of the show is about spreading joy and everyone knows that Buddy the Elf is always happy and smiling. We hope that our audiences leave with a joyful heart and ready to spread their own Christmas cheer while singing the tunes from the show."
Showtimes are 6:30 p.m. on Nov. 1 and 4 and 2 p.m. on Nov. 3.
Tickets can be purchased online via www.lee-scott.org or at the door on the day of the show, costing $15 for reserved seating, $10 online and $12 at the door.
For more information, call 334-821-2430. The school is located at 1601 Academy Drive.