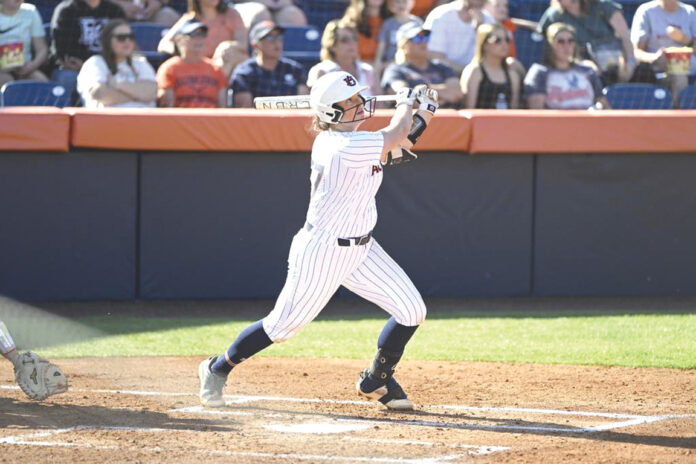 BY DANIEL LOCKE
FOR THE OBSERVER
AUBURN —
The Auburn Tigers softball team has been nothing short of impressive to start the 2023 season. Sophomore first baseman Bri Ellis, a native of Houston, Texas, is one of the main reasons why. After batting .302 last year in her freshman season, Ellis — also referred to as "Bri Bombs" — is currently batting .400 with eight home runs in 2023.
Ellis' origin story on The Plains is an interesting one. The Texas native wanted to be a Texas A&M Aggie for most of her life and was even committed to playing in College Station for about two years.
"I committed to A&M when I was a freshman," Ellis said. "I de-committed from there when I was a junior in high school. And then about a week later, I came up here to Auburn on a visit and I just loved everything about it. I liked the fact that we are building something here instead of just going straight into a current dynasty. It's really fun to, like, surprise everyone with being good and better than they thought we would be."
Mickey Dean has been the head coach of the Auburn softball program since 2018. The Tigers have never had a losing season under his leadership and have appeared in the NCAA Tournament four times. Ellis reflected positively on her experience playing for Dean so far.
"He's a little bit of both old school and kind of willing to experiment with new coaching techniques," Ellis said. "He's a really tough coach, but if you want to play at any big school and you want to get to where we want to get ultimately, you're going to have to play for a tough coach, and to be successful, your coach needs to be on you."
The Tigers have already seen some success in 2023, which has the morale of the program running high.
"The vibes are great right now," Ellis said in an interview on "The College Loop" podcast. "Obviously we've got some stuff to work on, but I think we're all heading in the right direction. We're all excited to be playing."
Ellis holds the Auburn program record for most home runs hit by a freshman with 20, an accomplishment that means a lot to her.
"It was a really special moment for me," Ellis said. "Obviously breaking a record is going to be a special moment for anyone, but it had been a long time between my 18th and 19th home run. I went from hitting home runs like every other game to about two or three weeks before I hit 19."
Every great athlete needs an even better nickname. Luckily for Ellis, she did not have to search hard to find the perfect one for her.
"My dad started tweeting and responding to everything I was tagged in with #bribombs," Ellis said. "When it started, I was like, 'Oh my gosh, this is so dumb,' and here we are. It stuck, and now everyone calls me that."
The sky is the limit for Auburn Tigers softball in 2023, and Ellis will be a crucial part of the team's success.