'Mary, Did You Know?' women's event is Nov. 12
CONTRIBUTED BY PROVIDENCE BAPTIST CHURCH
OPELIKA— Providence Baptist Church will host Open Heavens Ministry's "Mary, Did You Know?" on Nov. 12 at 6 p.m.
This is a women's event featuring great food, fellowship, holiday music and the story of God's profound love for us through the life of Mary.
What did Mary know? Find out what made Mary ideal for the most coveted call of women.
The event is open to women ages 14 and up. Tickets are $15, with $5 from each ticket supporting our prison outreach. Space is limited, and pre-registration is required by Thursday, Nov. 9. Limited childcare is available with early registration.
Anne Nicholson is the speaker for the event, and Emily Searle will serve as the soloist.
Providence Baptist Church is located at 2900 Lee Road 166 in Opelika.
ABOUT OPEN HEAVENS MINISTRY
Open Heavens Ministry is a nonprofit organization established to grow others in faith and practice through the study of God's word. With the emphasis on discipleship and education, women seeking biblical truth will have access to free materials. Through donations, grants, and funds from its "Get One – Give One" campaign, the ministry prints and distributes biblical curriculum (workbooks and study guides) to women's prisons, residential recovery programs, nursing homes and rural churches in communities where economic hardship is demonstrated.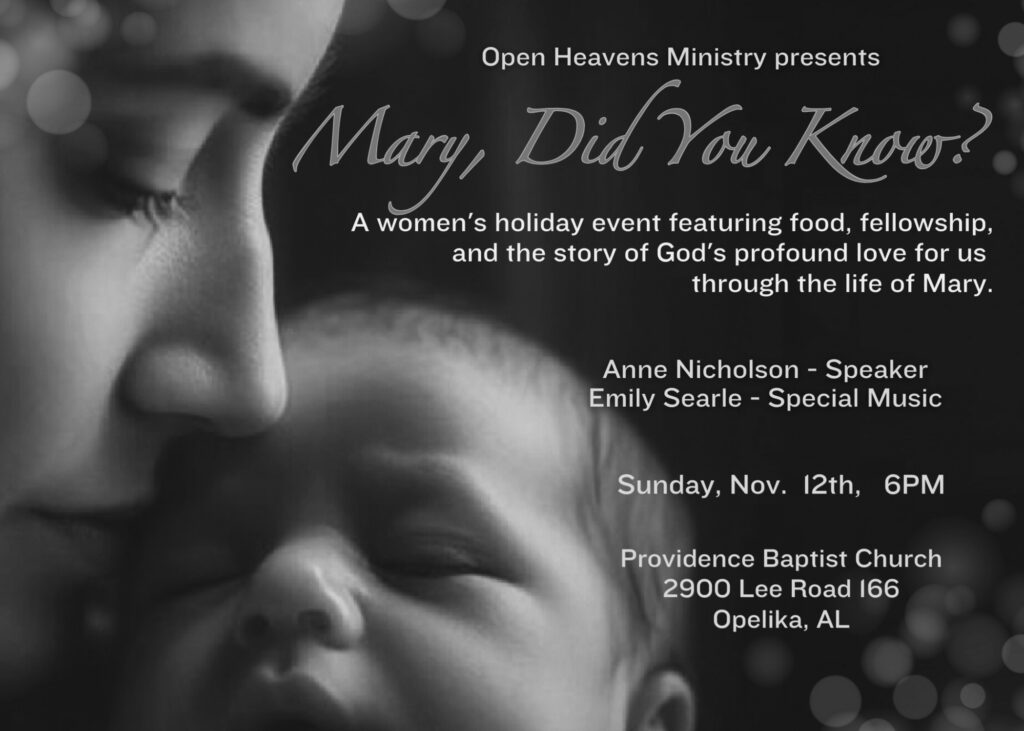 ---
Auburn Arts Association presents annual exhibition
AUBURN — This November, the Auburn Arts Association is celebrating the talent and passion of its members during the annual Membership Exhibition.
This year's exhibition features 27 artists and their works, which cover a wide range of mediums and styles.
The exhibition will be on display through Nov. 13 at the Auburn Arts Association House, located at 138 N. Ross St.
Gallery hours are Monday through Friday from 10 a.m. to 2 p.m. Learn more about the Auburn Arts Association at auburnarts.org.
---
Opelika Art Haus to host opening reception on Friday
Windhorse Gallery to display works by local artists, kick off series of workshops
BY ANITA STIEFEL
ANITAS@
OPELIKAOBSERVER.COM
OPELIKA — The community is invited to join nine Alabama artists for an evening of art, food and music at a reception on Friday, Nov. 10, from 5 p.m. to 9 p.m. at the Windhorse Gallery and Workshops at Opelika Art Haus.
The works will be on display through Nov. 14 at 500 N. Railroad Ave. in downtown Opelika.
Guests can shop curated local art each day from 11 a.m. to 6 p.m., as well as sign up for hands-on workshops. Workshop topics are listed at the website barbarabirdsong.com/collections/windhorse-studio.
Artists include Barbara Birdsong Designs (handmade jewelry), Charlie Lucas of Tin Man Studio in Selma (welded sculptures), Counter Balance (custom kinetic mobiles), Nadene Mairesse of Idyllwilde (clothing, accessories and home provisions of natural fiber, repurposed textiles and botanical dyes), Mary Ann Casey Art (contemporary acrylic paintings and sculpture), Nourish Blooms (flowers that feed family), Pottery Palustris (ceramic stoneware embellished with pine needle weaving), and Laura and Brian Cooley of Rabbit Fish Ceramics (small-batch ceramics and artworks).
ABOUT WINDHORSE GALLERY
Windhorse Gallery is a new initiative that facilitates local art events, from pop-up events to gallery shows, each with the purpose of elevating the art community and bringing more creativity to central Alabama. For more information go to www.windhorsestudio.com.
ABOUT THE ART HAUS
The Opelika Art Haus, part of the Henry J. Stern Family Foundation, is dedicated in memory of Henry and Rosyln Stern, the parents of Art Haus founders Ginger and J. Stern. It was constructed in 2019 to bring more art and art-related events to the area.
---
Winter Coat Drive underway
'Bundle Up Boutique' opens in December
CONTRIBUTED TO THE OBSERVER
OPELIKA— The United Way of Lee County, in conjunction with the Lee County Sheriff's Office and Lee County Helping Families Initiative, is holding a coat drive and distribution for citizens of Lee County.
The purpose is to collect new and like-new jackets and coats to be distributed to anyone who may not have a coat ahead of the winter season. The collected coats will be cleaned and prepared for the three day "Bundle Up Boutique," where citizens can come and shop for themselves and their families.
There will be six drop off locations through Lee County where interested individuals can leave their coat donations: Auburn Bank (Gay Street location), East Alabama Health (inside the chapel), Lee County Justice Center, Lee County Sheriff's Office, Opelika Police Department and the United Way of Lee County. These locations will accept donations through Nov. 14 during normal business hours.
The "Bundle Up Boutique" is free for residents of Lee County and will not require any form of identification or proof of residency to shop. There will be three chances to shop the boutique: on Tuesday, Dec. 5, from 8 a.m. to 10 a.m. at the United Way of Lee County; on Wednesday, Dec. 6, from 1 p.m. to 4 p.m. at the United Way of Lee County; and on Thursday, Dec. 7 from 5 p.m. to 7 p.m. at the Lee County Justice Center.
"Even though it's disheartening to think that there are individuals in our community in need of something often seen as so simple, you never know in what way someone might be struggling," said Gabby Thabes, community initiatives specialist for the United Way of Lee County. "Distributing these coats at no cost and with no questions asked allows us to reach those who need them without fear of stigma or judgment."
ABOUT THE UNITED WAY OF LEE COUNTY
The United Way of Lee County is a nonprofit organization in Opelika, whose mission is to increase the organized capacity of people to care for one another by generating and applying the necessary resources to meet the needs of the community. It look to improve and strengthen the community by focusing on and funding organizations and programs working in four key impact areas which United Way believes are the building blocks for a good life: education, health, crisis and families and communities.
---