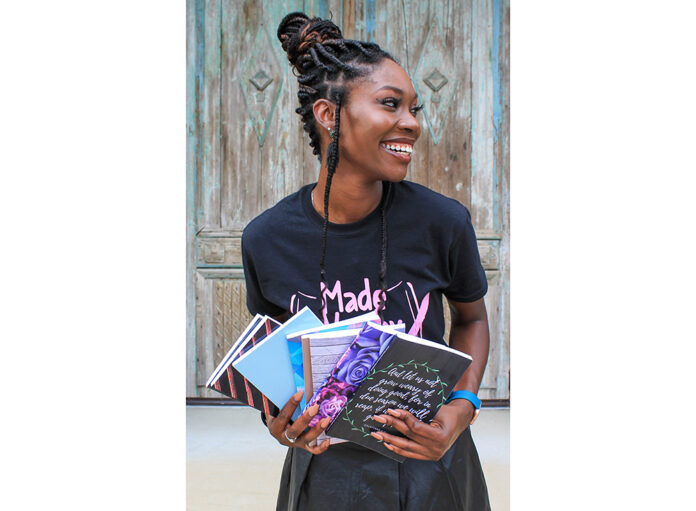 By Will Fairless
Associate Editor
Khadijah Torbert, an Opelika native now living in Tuscaloosa, started a business this year that she hopes will affect more than just her wallet.
Made Worthy Journal Notebooks LLC was started by Torbert in June 2020, four years after she was divinely inspired to create such a line of journals.
"The idea to have my own journal notebook came to me in a dream," Torbert said. "I truly believe God was pushing me into creating this journal line in 2015-2016 after a terrible breakup."
She kept on journaling in other brands' notebooks until she got serious about starting her own business in 2019. The next year, Torbert thought it was the perfect time to introduce the world to her line of affirming notebooks.
"With everything that has gone on from a global pandemic to racial injustice to other things that just happen in life, I felt the time was now, this year, to create the journal in order for people to release in a safe manner," she said.
Torbert's "Made Worthy" journals, which are meant to be healthy outlets for pouring out one's emotions, are different in that they each have words of encouragement on their fronts. One cover reads, "It is well within my soul;" another displays on its front, "You are worthy."
"I feel that everyone could use reminders of who they are or just words of encouragement to see and read daily," Torbert said. "The more you see something and repeat it, you believe it."
There are nine different journals, eight of which simply have lined paper inside. The ninth is pre-prompted and has an outline for its user to follow. That ninth showcases Torbert's favorite bible verse, Galatians 6:9 ("Let us not become weary in doing good, for at the proper time we will reap a harvest if we do not give up.").
Torbert said that the first few months of sales have been tremendous.
"The outpouring of love and support thus far from friends, family and those I have never met is mind-blowing," she said. "It's an honor to make an impact in the lives of so many."
Made Worthy notebooks can be purchased at shor.by/MadeWorthyJournalNotebooks?fbclid=IwAR3yhZqhWLHe6tM48kaGJ4gF5Pq2Zgj9EGNptfPINiOKEkEL_Mu2VEowUF8.
More information about the notebooks can be found at the company's Facebook page, Made Worthy Journaling (@MadeWorthyJournalNotebook).