CONTRIBUTED TO
THE OBSERVER
OPELIKA —
Winn-Dixie officially revealed a newly remodeled store to the Opelika community on Wednesday, May 4 with a ribbon cutting ceremony at 8 a.m., at 1441 Fox Run Parkway in the Betts Crossing shopping plaza. As part of the grand opening festivities, and to officially reintroduce the community to the new and improved store, the neighborhood grocer presented a $1,500 donation to Opelika High School and its "Spirit of the South" Band to support the school's vital programs in the community it serves.
Over the past year, Winn-Dixie gathered feedback directly from local customers and associates to transform the Opelika store into a shopping destination that is both convenient and beautiful for the local community.
To celebrate the new and improved store, Winn-Dixie hosted a community celebration with live entertainment and giveaways on Saturday, May 7 from 10 a.m. to 6 p.m. There was a special performance by the Opelika "Spirit of the South" Band. The store offered carnations to the first 100 moms in honor of Mother's Day.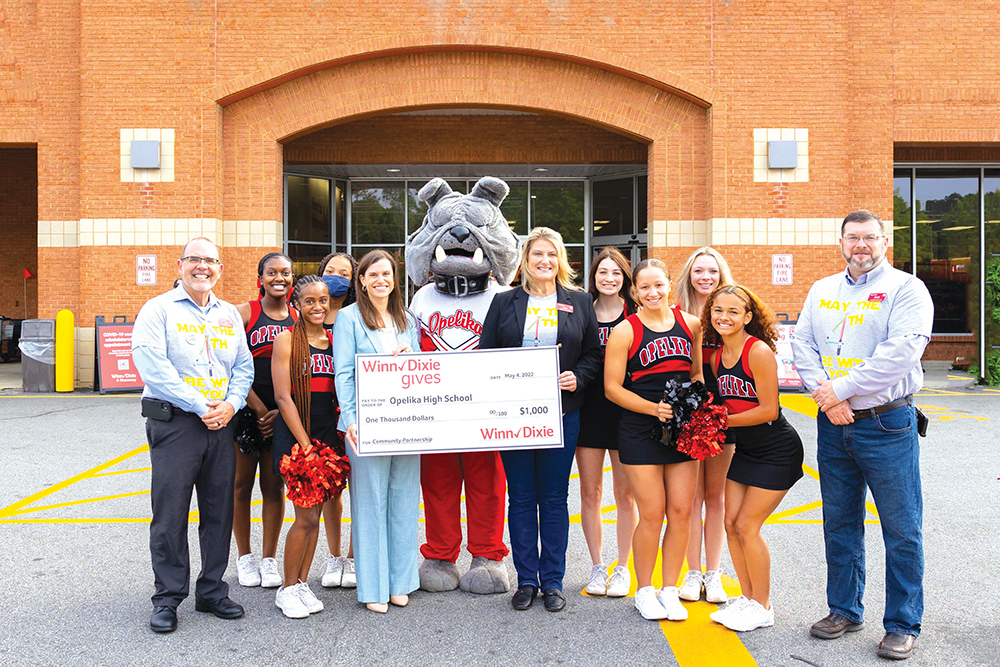 With fresh concepts and features, the new and improved Opelika Winn-Dixie store now includes:
• New façade signage and a fresh, contemporary color palate and modern store signage inside.
• Newly updated produce department featuring an expanded selection of fresh fruits and vegetables, including organic varieties.
• New deli with expanded offerings, including a wide assortment of easy lunch and dinner options including a hot bar with rotisserie chicken, wing bar with several flavor varieties, as well as prepared sandwiches and salads.
• Updated full-service seafood department offering shoppers a variety of fresh seafood on ice, additional frozen seafood assortments, as well as the "Seafood Made Easy" option where customers can choose the type of seafood, vegetables and seasoning to be packaged together for easy preparation at home.
• Refreshed meat department offering a wide selection of fresh meats including Certified Angus Beef selections.
• Expanded bakery department with new selections, displays with fresh bread and donuts daily.
• Expanded natural and organic selections with new products across the store.
• Updated health and beauty section with expanded offerings.
• New Dollar Shop section with hundreds of items to provide customers with the convenient items they look for at the most incredible prices.
• Updated in-store pharmacy with expert pharmacists available to answer any questions regarding health and prescriptions and a new consultation room for comfortable, private immunizations, including the COVID-19 vaccine.
• Improved wine and beer section.
• Updated floral department to help customers find the perfect bouquet for any occasion.
• Expanded grocery selection with additional products and assortments.
• A continued commitment to fresh quality and outstanding service.
The new and improved Opelika store is open seven days a week from 7 a.m. to 10 p.m.