By GREG MARKLEY
OPINION —
In 1976, I helped elect a political neophyte, a pharmacist, become Rhode Island treasurer. His opponent was in office 30 years, which he attributed to attending "wakes and weddings" for decades. He seldom if ever used TV ads. He would learn about a new era — that of TV use even in "down-ballot" races. Rhode Island had perhaps 650,000 eligible voters, in 1976; not even a wedding crasher could reach that many people without TV ads.
The pharmacist was well-liked and personable, but on TV he had a raspy voice and droll delivery. So an announcer did many voiceovers. Our man won the Democratic nomination fairly easily and the general election even easier. He served for 11 years. A very nice man, Anthony Solomon, died in February, age 89.
As the 2022 primaries are ongoing, I discuss aspects of running for office you might want to heed should you get the bug. A friend of mine ran and lost for state senator in 1978; he simply misjudged the work involved in getting a lot of support against an incumbent. He half-jokingly said, "I have 13 brothers and sisters, if they each get two people more to back me, I'm in."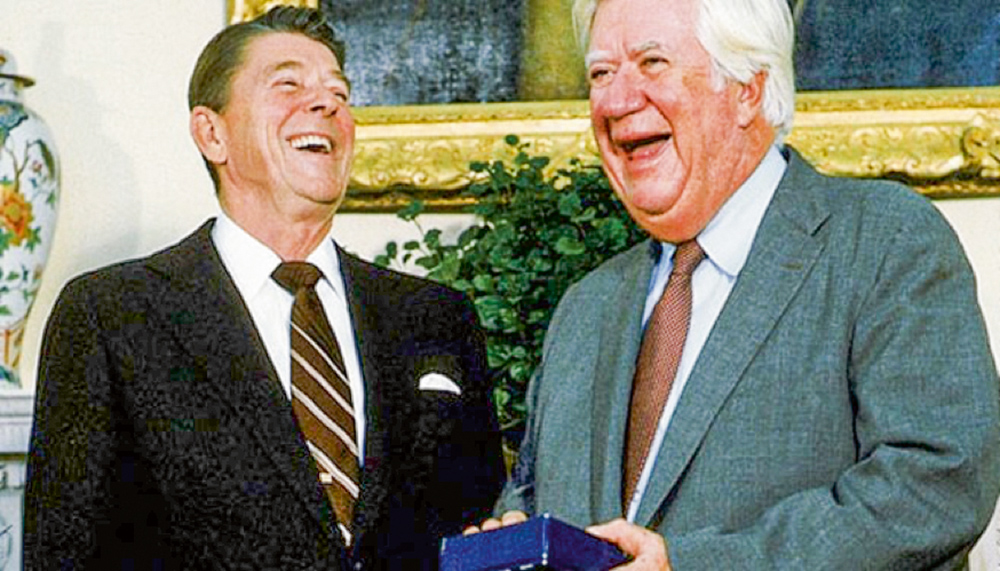 What wishful thinking. In the recent U.S. Senate and governor's races, candidates were at first wont to focus on opponents and state issues. Katie Britt and Mike Durant lavished praise on former President Trump. Yet he endorsed neither of them. Governor hopefuls were tardy highlighting issues of COVID-19 and the "never-ending" gas tax.
I admire small businessmen and women who can juggle their "baby"; that is, their store or agency, while holding office. Others hurt their chances of gaining office by not delegating 40 to 50% of their business's overall management. In terms of city council and county commission the workload varies, but they don't have to travel to Montgomery as much as state legislators.
In his 1987 bestseller, "Man of the House," former Speaker of the House Tip O'Neill used an anecdote to explain a mainstay of a successful political career. After glad-handing and kissing babies all over his Boston district, O'Neill went to see an aunt who lived nearby. He asked if she had voted for him; she said "No." He asked why not and she replied, "Because you never asked me." O'Neill's most famous quote emerged from that: "All Politics Is Local."
Shane Daley in onlinecandidate.com suggested that beginning politicians would find running for local office meaningful.
"Elected officials have a great deal of power and influence over the daily lives of people they serve," he wrote. "Local government has the ability to raise taxes, put forth new laws and improve their constituents' quality of living. So starting a political campaign is a concise and tangible way to make a difference."
Daley also pointed out that campaign costs must be weighed before you register. Some people are whizzes at getting people to donate. Others hate that aspect of running. But not having enough money to approximate your opponent's funds, or to get your message widely disseminated or to hire a good campaign manager, can cripple your chances fast.
"If you don't like calling on friends, family and supporters for financial assistance, you better get used to it," offered Daley. "Consider talking with others who have previously run for a similar position to get an estimate of how much your race might cost."
Caution: do not forget to have a presence of social media platforms (Twitter, Facebook, Instagram, etc.).
Even if you plan years out, there is another wrinkle that may stop you from running — redistricting. In 1976, it was about a week before the general election and I was a college student hobnobbing with Republicans in Newport, Rhode Island. I saw this 38-year-old who looked a lot like Barry Goldwater, the Republican nominee of 1964 who was squashed in the LBJ juggernaut.
Sure enough, it was U.S. Rep. Barry Goldwater Jr. of California. He was riding high, halfway into his 1969 to 1983 congressional career. Redistricted again, he still won four more terms. But in 1982 his district merged with that of another Republican, so he ran instead for the party's nomination for the U.S. Senate, and lost.
His father, after his catastrophic 1964 defeat, was praised by conservatives and libertarians in the GOP. In 1964, Goldwater Sr. might have done better if he took one of my recommendations of today. He should have changed his name to Solomon Solomon. The majesty of that might have gained him many more votes.
Greg Markley first moved to Lee County in 1996. He has Masters' in education and history. He taught politics as an adjunct in Georgia and Alabama. An award-winning writer in the Army and civilian life, he has contributed to the Observer for 13 years. gm.markley@charter.net