Nestled on Sanders Creek where family farmed generations earlier, the home of Anne and Sheldon Whittelsey is decked with festive décor to welcome family for Christmas. Special ornaments adorning the tree, stockings hanging from the mantel, a decorative Santa and angels on the sideboard provide a celebratory setting. On the lawn, large letters of "Joy" describe how the family feels at Christmas this year with a five-month-old granddaughter and another grand-baby on the way in the spring.
Anne and Sheldon have three grown sons. Whit and his wife Nan, with baby Clella, live in Opelika; William and his wife Katie, who are expecting in the spring, also reside in Opelika; and John is in Fairhope.
While Sheldon grew up in Opelika, Anne is from Coral Gables, Florida, and is one of six girls in her family. Her favorite Christmas memories growing up include driving around with her family to view holiday lights and the candlelight service at her church on Christmas Eve. Anne and her sisters would walk out of the church holding their candles as the traffic was going by on the street.
Her mother was a wonderful cook. Anne and her sisters would spend time in the kitchen watching her cook and helping sometimes.
"She was a great baker and made everything look easy," Anne recalled. "She wasn't a fancy cook, and everything was basic."
After Anne and Sheldon married, they lived in Atlanta, Georgia, where their sons were born. At Christmas, they would visit her parents, who had retired and moved from Florida to Rome, Georgia. All of Anne's five sisters and their families would be there.
"At Christmas, I always think the more the merrier," she said.
During the Christmas season, the family would also come to Opelika to spend a few days with Sheldon's parents, Sue and the late Whit Whittelsey. While Whit's grandfather farmed the land, his father was an attorney, opening a law office in 1918 in Opelika after returning home from serving in World War I. Sue and Whit met at the University of Alabama. Whit became an attorney and opened his law firm in downtown Opelika in 1958.
While Sheldon, a real estate developer, and Anne lived in Atlanta, he worked with his father to develop family land into Sanders Creek. It was named in honor of Whit's sister Beverly Collins' son, who died in an airplane crash in 1982. He flew with the Alabama National Guard.
When Anne and Sheldon moved to Opelika in 2004, they built their home overlooking the lake that was created in the Sanders Creek development. Their lovely home has been the setting for many Christmas traditions for the family.
"Gift giving is not my love language," Anne said. "I love the traditions."
One tradition is being with Anne's family, the Kimbrells, in Atlanta on Dec. 23 with around 50 gathering to celebrate Christmas. Every year features a different theme.
"On Christmas Eve evening, it is our tradition to attend the candlelight service at First United Methodist Church," Anne said. "We will come back home for dinner with roast beef tenderloin, potato casserole and green bean bundles."
On Christmas Day, Anne prepares traditional brunch dishes that will include a breakfast casserole, cheese grits, fruit and cinnamon rolls. Sheldon's mother, Sue Whittelsey, also attends along with any of their children who are in town.
A longtime tradition for Christmas night has been dining at Waffle House and then attending a movie.
"By that time, we are all tired of cooking," Anne said.
Nan and Whit, with baby Clella, will be with Anne and Sheldon on Christmas Eve and with her family at the lake on Christmas Day. They moved to Opelika from Atlanta six months ago, and Clella was born July 3. Whit works at Marsh, formerly J. Smith Lanier, while Nan will begin working as a nurse in the emergency room at East Alabama Health in January.
Nan grew up in Birmingham as one of six kids. Her mom was a good cook and prepared hearty dishes such as lasagna to feed the large family. Nan helped her mom bake cookies, as well as make chocolate fondue.
"Christmas was always a joyous time getting everyone together," she said. "Sometimes we would spend Christmas at the beach or we were surprised with a trip to Disney World. One year our family went to London for Christmas."
Nan enjoys baking like her mother. Since she is busy with the baby, she uses a slow cooker often for easy meals. One of their favorite dishes is beef tips and rice.
Whit and Nan are both excited to celebrate the first Christmas with Clella and to be with both families.
William and Katie will also spend time at Christmas with both of their families. They met in Atlanta and were married during COVID in front of William's grandmother Sue Whittelsey's home, where they now live.
When Katie was growing up in LaGrange, Georgia, her parents hosted Christmas Eve brunch for about a hundred guests. Katie would help her mom with entertaining.
"I was my mom's sidekick," she said. "My mom loved to entertain and still does."
At night on Christmas Eve, they attended the candlelight service at their church. When they returned home, her mother cooked a formal dinner, and her stepfather made whipped eggnog. While their mother was cooking, Katie and her siblings opened one gift, which was always matching Christmas pajamas.
"On Christmas morning, every gift under the tree was wrapped and food was served all day long," Katie said.
She is sharing several of her mother's favorite recipes for entertaining. Katie said she enjoys entertaining like her mother, and so does her brother, who hosts a large Christmas Eve party every year.
While pursuing his MBA, William and Katie lived in London, England. They decided they wanted to make Opelika their home and moved here a few months ago. Katie said she has a heart for nonprofits, and her background is impressive, including starting a school in West Africa eight years ago.
Katie is the new president of the Community Foundation of East Alabama.
"I am so excited to be part of the foundation," she said. "I wanted to join because I know a stronger Lee County in East Alabama means it is going to be stronger for all of us, our grandchildren and future grandchildren. I am thrilled to be here and grow with others.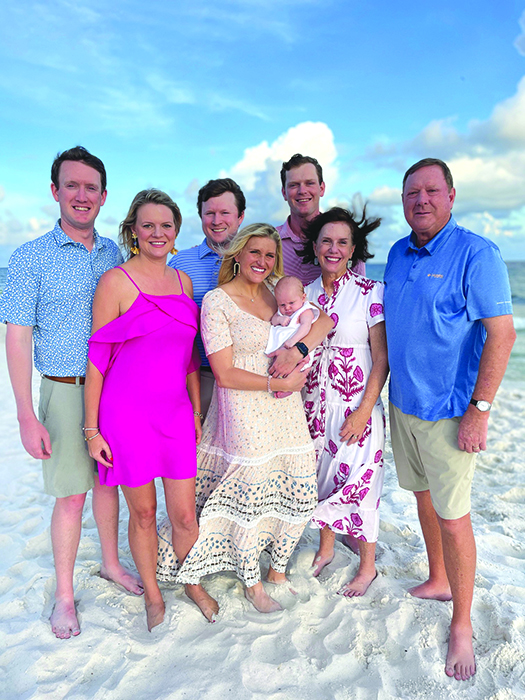 "It is exciting to embrace new family traditions, too," she added. "I am excited for the family to have Clella this Christmas and our baby next Christmas. The holidays bring so much joy."
Anne said she also has a love for nonprofits and does a great deal of volunteering in the community.
This Christmas is especially meaningful for Anne and Sheldon with two of their sons and their families now living in Opelika. Their son John will also visit during Christmas.
Anne, who has a gift for hospitality like her mother, is looking forward to preparing her traditional dishes for the family.
"I love that both my girls also have a gift of hospitality and they express it in different ways," she said. "Nan has it in a subdued, low-key way that welcomes everyone and makes them feel warm and welcome. Katie's love language is that she likes to entertain, pull out her nice dishes and makes everyone feel comfortable.
"Besides the birth of our Lord and Savior, Christmas to me means it is all about family, the traditions and love. I am so excited about our little granddaughter and to see all the new traditions. Christmas means family, and it is hope. Every time I look at the precious babies with so much trouble in the world, I thank God for giving us hope. I think Christ coming into the world is the greatest gift ever. Christmas makes me thankful and happy, and I love all things about the season."
Hot Cranberry/Pineapple Punch
Katie Whittelsey
6 cups pineapple juice, unsweetened
6 cups cranberry cocktail
3 cups water
2/3 cup brown sugar
1/8 tsp. salt
3 tsp. whole cloves
2-3 cinnamon sticks
Combine liquids, sugar and salt in large saucepan. Put cloves and cinnamon sticks in metal tea ball (or cheesecloth bag). Heat and simmer for 20 minutes. Remove tea ball. Serve hot. Makes 20 six-oz. cups.
Alternate Method:
Combine cold ingredients in party percolator, putting cloves and cinnamon sticks in percolator basket. Run through normal percolator cycle. Can be prepared ahead of time and reheated. Can be frozen and reheated.
Christmas Eve Dip
Katie Whittelsey
2 (10.5-oz.) jars red pepper jelly
1½ cups chopped pecans
¾ cup thinly sliced green onions
3 cups (12 oz.) shredded sharp cheddar cheese (I always shred my own.)
Garnish: green onion slices
Thin wheat crackers
Stir together first 4 ingredients in a large mixing bowl.
Cover and chill. Make the day ahead for best results.
Garnish with sliced green onions. Serve with thin wheat crackers. This will keep in the refrigerator for about a week!
Appetizer Cheese Straws
Katie Whittelsey
Easy to freeze and then heat when unexpected company drops in!
½ lb. cheddar cheese, grated
6 strips bacon, cooked and crumbled
1 small onion, diced
2 tsp. Worcestershire sauce
1 cup mayonnaise
½ cup almonds, slivered
1 loaf Pepperidge Farm thin-sliced white bread
Combine cheese, bacon, onion, Worcestershire sauce and mayonnaise. Mix well. Spread on bread and top with almonds. Place under broiler until cheese is bubbly and almonds are slightly brown. Cut in halves or quarters.
This freezes well. Place on a cookie sheet and freeze after you spread the cheese mixture on top. Store in a zip-lock plastic bag after they freeze on the cookie sheet. Remove from freezer and heat when company drops in. Serves 10 to 12.
Date Nut Balls
Anne Whittelsey
Two 8-oz. pkg. dates
2 cups brown sugar
1½ cups butter
2 cups chopped pecans
5 cups Rice Krispies
Powdered sugar
Boil dates, butter and sugar for 6 minutes. Remove and add nuts and Rice Krispies. Pour on wax paper and cool. Roll into small (3/4 inch) balls and roll in powdered sugar. Makes 6 dozen.
Chi O Breakfast Casserole
Anne Whittelsey
2 lbs. bulk sausage (1 hot, 1 mild)
2 ½ cups bread cubes
2 cups grated sharp cheddar cheese
4 eggs, beaten
¾ tsp. dry mustard
1 can mushroom soup
1 ½ cups milk
In a medium skillet, cook sausage and drain. In an oblong baking dish, layer bread cubes, sausage and cheese. In a medium bowl, combine eggs, mustard, soup and milk. Pour over casserole and refrigerate 8-12 hours.
Bake at 350 degrees for 35 to 40 minutes. Serves 12.
Jalapeno Cheese Grits
Anne Whittelsey
2 Tbsp. butter
2 jalapeno peppers, minced
2 cups water
2 cups milk
1/2 tsp. salt
1 cup old-fashioned grits
1 1/2 cups shredded cheddar cheese
Black pepper
Melt butter over medium-high heat in a medium saucepan. Add jalapeno and cook for 2 minutes to soften.
Add water, milk and salt and bring to a boil.
Turn heat to low and gradually whisk in the grits.
Cover and cook for 15 to 20 minutes, stirring occasionally.
Stir in cheddar cheese and black pepper to taste.
Add extra salt, if desired.
Sausage and Hash Brown Casserole
Nan Whittelsey
This savory southern casserole contains all the fixings for a classic breakfast of eggs, sausage and hash browns in a single dish, which makes it great for feeding a crowd on Christmas morning.
Vegetable oil spray
1 lb. loose breakfast sausage
1 Tbsp. extra virgin olive oil, or as needed
1 small white onion, cut into ½-inch dice
1 32 oz. container frozen diced hash
brown potatoes
8 large eggs
1 cup heavy cream
½ cup milk
1 tsp. garlic powder
¾ tsp. sweet paprika
Pinch of ground sage
1 tsp. kosher salt
¼ tsp. ground white pepper
2 cups (about 8 oz.) grated sharp cheddar cheese
¼ cup minced chives, optional
Preheat the oven to 375 degrees. Spray a 9×13-inch baking dish with vegetable oil.
Line a plate with paper towels. In a large skillet, cook sausage over medium heat until browned, about 5 minutes, breaking it up with the side of a spoon. Use a slotted spoon to transfer sausage to paper towels. If there is very little oil left behind in pan, add some olive oil.
Sauté onion until translucent, about 5 minutes. Stir in hash brown potatoes and cook until the potatoes are tender, stirring occasionally, about 8 minutes. Stir in reserved sausage. Remove pan from heat.
In a large bowl, whisk together eggs, cream, milk, garlic powder, paprika, sage, salt and white pepper. Whisk in cheddar. Stir in sausage/hash browns mixture.
Pour mixture into prepared baking dish.
Bake until the top is browned, and the center is set, about 45 minutes. Cover the baking dish with foil if the top begins to brown before center is set.
Remove from oven and sprinkle chives on top before serving.
The casserole is best served the same day it is baked. Store leftovers in a covered container in the refrigerator for up to 2 days.
Makes 12 servings.
Spinach Topped Tomatoes
Katie Whittelsey
These are a great side dish for entertaining because you can do most of the work ahead of time.
Two 10-oz. pkg. frozen, chopped spinach, thawed and drained
1 Tbsp. minced garlic cloves, sautéed
2 onions, chopped and sautéed
4 eggs
¼ cup mayonnaise
¾ cup butter or margarine, melted
½ cup grated Parmesan cheese
¼ tsp. thyme
¼ tsp. cayenne pepper
20 very thick slices of tomatoes
Combine all ingredients except tomato slices, mixing well. Spoon about ¼ cup of mixture at a time onto a cookie sheet lined with waxed paper. Freeze toppings and transfer to sealed, plastic Ziploc bag for storage.
When ready to serve, place spinach topping on tomato slice. Bake in
a preheated 350-degree oven for 20 to 25 minutes. Serves 10.
Spinach And Artichoke Casserole
Katie Whittelsey
Four 10-oz. pkg. chopped, frozen spinach
11 oz. cream cheese, softened
5 Tbsp. melted butter
Juice of one lemon
Salt, pepper and seasoned salt, to taste
Several dashes of nutmeg
2 1 lb. cans artichoke hearts, drained
Cook spinach only until completely thawed. Drain thoroughly. Blend softened cheese and melted butter until smooth. Add lemon juice and combine with spinach.
Stir in seasonings. Place artichoke hearts pointed side up in large baking dish. Spoon spinach over artichoke hearts. Cover with aluminium foil. Punch a few holes in foil and bake in 350-degree oven for 30 minutes. May be prepared ahead. Serves 8 to 10.
Christmas French Toast Casserole
Katie Whittelsey
If you want to make this extra special start with a thinly sliced layer of Granny Smith apples as the bottom layer!
Cut up 1 loaf French bread, ¾ inch thick slices. Set aside.
Melt together:
1 cup brown sugar, packed
½ cup butter
2 Tbsp. Karo corn syrup
½ tsp. cinnamon
½ to 1 cup coarsely chopped pecans (optional)
Sprinkle over bread:
½ tsp. cinnamon
¼-1/3 cup brown sugar
Blend together:
5 eggs, beaten
1½ cups milk
2 tsp. sugar
1 tsp. vanilla
½ tsp. cinnamon
Optional: Granny Smith apples as your first layer!
Place melted mixture in a greased 7 ½ inch x 11 ¾ inch baking dish. Arrange bread slices tightly together over mixture and sprinkle the ½ tsp. of cinnamon and ¼ cup brown sugar over top of the bread, then pour liquid evenly over bread. Cover and refrigerate overnight. Uncover and bake at 350 degrees for 15 to 25 minutes or until puffed and light brown.
Banana Nut Bread
Nan Whittelsey
1/2 cup margarine or butter, room temperature
1 cup sugar
2 eggs
4 bananas, mashed
2 cups all-purpose flour
1 tsp. soda
1 pinch salt
1 cup chopped nuts
Combine margarine and sugar; mix until well blended. Add eggs and mix. Add remaining ingredients and mix well. Pour into a greased loaf pan. Bake at 325 degrees for 1 hour.
Crock-pot Beef Tips and Rice
Nan Whittelsey
1 lb. lean beef tips
Flour
Oil
1 can golden mushroom soup
1 envelope Lipton golden onion soup mix
Cooked rice
Roll beef tips in flour and lightly brown in oil. Put the beef tips in crock-pot. Mix both soup mixes with the beef tips. Add a 1/4 to a half of can of water.
Cook on low for 4 hours. Serve over rice.
Grilled Lamb Chops with Mint Oil
Katie Whittelsey
We love lamb chops at Christmas time, and the mint oil adds a special touch!
Lamb chops
Fresh garlic
Salt
1 cup fresh mint leaves, chopped
½ tsp. crushed red pepper flakes
2/3 cup extra virgin olive oil
Prepare lamb chops for Green Egg (or any grill) by rubbing them all over with fresh garlic. Combine remaining ingredients to make the mint oil.
Grill lamb to desired temperature (we prefer medium rare, which takes about 3 to 4 minutes per side). Brush chops with mint oil and sprinkle with fresh mint. Serve remaining mint oil in a small bowl with a silver spoon for an extra special touch on the table.
Plains Special Cheese Ring
Katie Whittelsey
We put rosemary around the edges in the shape of a wreath! This recipe was made popular by Rosalynn Carter.
1 lb. grated sharp cheese
1 cup finely chopped nuts
Black pepper
Dash cayenne
1 cup mayonnaise
1 small onion, finely grated
Strawberry preserves, optional
Combine all ingredients, except preserves, season to taste with pepper. Mix well and place in a 5- or 6-cup lightly greased ring mold. To serve, unmold cheese spread and, if desired, fill center with strawberry preserves, or serve plain with crackers.
Chicken Spaghetti
Sue Whittelsey's favorite dish
1 hen
1 stick butter
1 clove garlic
1 large can tomatoes
3 tsp. flour
2 medium onions
1 large can pimento
1/4 cup finely chopped celery
1/4 tsp. red pepper
Salt and pepper to taste
24 oz. spaghetti
Half cover hen with water; add one onion. Simmer until tender. Remove hen from stock and take meat off bones.
Melt butter in skillet, add flour and brown; add tomatoes, milk, onions, pimentos, celery, salt and pepper to taste. Add 1 cup stock. Cook slowly, 30 to 40 minutes. Then add chicken and set aside. Cook spaghetti and drain; add to chicken. Add broth to moisten. Bake at 350 degrees until bubbling. This can be made the day before and may be reheated. A little cream of mushroom soup can be added in place of stock, if desired.
Cherry Salad
Sue Whittelsey
1 can pitted, sour pie cherries, canned in water
5 Tbsp. sugar, divided
1 pkg. cherry gelatin
1 cup chopped pecans
1 orange rind, grated
1 lemon rind, grated
1 small can crushed pineapple
Drain juice from cherries and add 2 Tbsp. sugar to juice. Heat juice and add gelatin. Add 3 Tbsp. sugar to drained cherries. Add pineapple, nuts and grated rinds. Add to gelatin mixture and pour into a mold. Place in refrigerator. Serves 8.