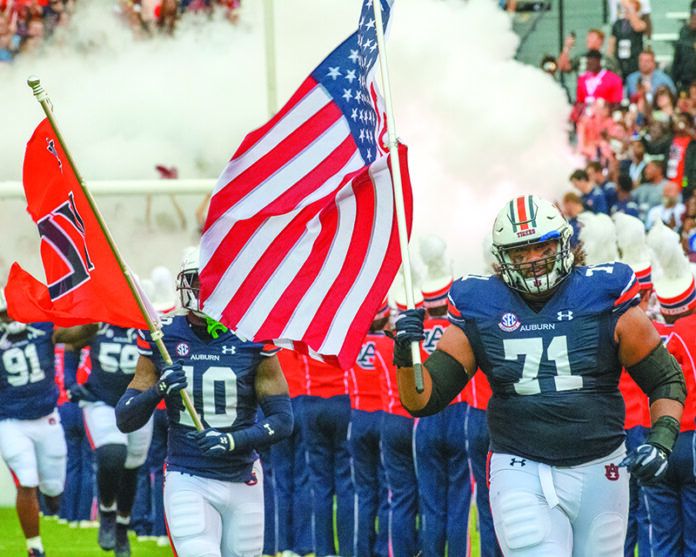 BY WIL CREWS
SPORTSCREWS@
OPELIKAOBSERVER.COM
AUBURN —
Auburn limped to a 24-16 win over San Jose State on Saturday. The Tigers overcame subpar quarterback play and a negative turnover differential to move to 2-0 on the season. Undefeated Penn State walks into Jordan-Hare Stadium this weekend and poses a staunch test for an Auburn team that has shown two faces through its first two performances. What we will see against the Nittany Lions Saturday can be inferred from what transpired on the gridiron last weekend.
Here is what we learned from the Tigers' week two win over San Jose State, and what to look for if the Tigers are to emerge victorious in week three.
What We Learned
1. Auburn has a good red-zone offense
So far this season, Auburn's offense hasn't been in scoring range all that often. When the Tigers have taken the ball into the red-zone, however, they are the best in the nation at converting those chances into touchdowns. The Tigers are one of 36 teams in the nation to still post a 100% scoring mark from within the red-zone this season. Furthermore, the Tigers are one of six teams remaining in the nation to have a 100% touchdown rate when reaching the red-zone, scoring on all eight attempts. Tank Bigsby and Jarquez Hunter can be largely credited for this success, as the duo has registered seven touchdowns through two weeks. The added dimension of T.J. Finley and Robby Ashford's dual-QB system also bodes well for Auburn's continued red-zone offense success.
2. Secondary has good depth
After losing secondary starters Roger McCreary and Smoke Monday to the draft last season, the Tigers had a sizeable production hole to fill coming into this year. Well, along with the expected Nehemiah Pritchett and Zion Puckett, new additions Keionte Scott (JUCO transfer) and D.J. James (Iowa State transfer) have provided quality depth in the back-end of the Auburn defense. Against San Jose State, Scott finished fifth on the team in total tackles with four, and recorded one of Auburn's three tackles-for-loss on the night. James stood out in coverage against the Spartans, making a key pass-break-up. James and Scott should continue to see more snaps for an Auburn defense that is still trying to force its first turnover of the season.
3. This team still struggles with adversity
Call it when you see it. Auburn has struggled with adversity during Harsin's tenure. Whether it's Georgia State or Mississippi State last season, or San Jose State last weekend, Auburn has not responded well to opponents who punch above their weight level. Could it be the Tigers were looking ahead to this week's matchup against Penn State? Possibly. But it could be a recurring issue that signals issues with the team's overall mentality. Whatever the reason, Auburn cannot afford to get flustered early when the Nittany Lions come into Jordan-Hare Stadium Saturday.
4. T.J. Finley is Auburn's best option at QB
The quarterback battle on the Plains continued into Saturday's matchup as Finley and Ashford were listed as co-starters prior to the game. The results were far from glamorous. Finley started the game poorly, going 1-for-5 passing with one interception, but followed that up by completing 12 of his final 15 passes for 162 yards. Ashford was put into the game after Auburn went three-and-out on its first possession, but promptly threw an interception on what would be his final pass attempt of the night. It was a subpar performance from Auburn's quarterbacks overall, but the absence of extra snaps for Ashford — despite Finley throwing two interceptions for the second straight game — was a clear sign from Harsin that this coaching staff trusts Finley the most going forward.
WHAT TO LOOK FOR:
1. How run game/offensive line holds up against stiffer competition
After two weeks, the Auburn offense sits at No. 9 in the SEC in total offense. The Tigers are No. 12 in passing offense, and No. 4 in rushing. Those numbers are boosted by playing inferior opponents. Auburn's offensive line is still developing — and it's already a unit with a low ceiling. So, the first real test of the offensive line's quality comes into town this week with Penn State. Harsin and his staff will have a clear idea of just what this offensive unit is capable of once it competes against the historically stingy Nittany Lion defense from the Big 10.
2. Forcing turnovers
Auburn has yet to force a turnover despite playing two "cupcake" matchups to begin its season. The lower quality of opponent has allowed the Tigers to lose the turnover differential yet still win their games. That trend won't continue against Penn State — or most of the SEC. Look for Auburn to take care of the ball — and to take it away — with its game plan Saturday.
3. Fast start
Against Mercer in week one, Auburn scored on its opening two drives. Contrarily, Auburn's first four drives Saturday went: punt, interception, punt, interception. The Auburn defense did well to turn its offense's turnovers into just three points for the opposition, however. And the confidence of both quarterbacks has been resilient in the first two weeks, with both Finley and Ashford improving as the games have gone along. But, the time for slow starts ended last week as the thick of Auburn's schedule begins Saturday. Look for a quality, scripted start for Auburn against Penn State.
4. A clean game
The penalty bug can get just about any team. For instance, Alabama's 15 penalties for 100 yards nearly shot itself in the foot enough to lose to unranked Texas. If the Tigers would have avoided just some of their nine penalties for 85 yards, Saturday's contest may not have looked as close. Many games are lost in the margins. So, if Auburn hopes to give itself a leg up in Saturday's contest versus Penn State, it would do well to keep the penalties to a minimum. Look for a clean game from Auburn this week.
PHOTOS BY ROBERT NOLES / THE OBSERVER