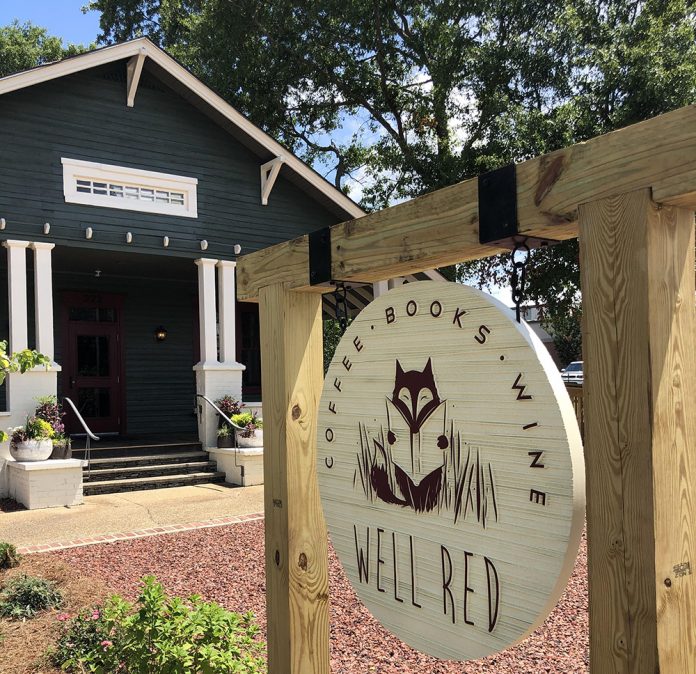 By Will Fairless
Associate Editor
Well Red, a combination book store/coffee shop/wine bar, has opened in Auburn on 223 Opelika Road. The homey, multifaceted business is owned by Crystal and Richard Tomasello, who got the idea for Well Red from a similar spot in Nashville. After spending all day in a book-, wine- and coffee-focused business there, Crystal recalls, "We said, ʻAuburn has nothing like this whatsoever.'"
Well Red also serves food, including cinnamon rolls and brioche in the morning and tiramisu and chocolate cake in the afternoon. All of the food is made in-house, and the menu is seasonal.
The book selection will also change with time, this change as a result of feedback
from patrons given in person or on Well Red's website, wellredau.com.
Crystal hopes their business will be a stop on the way to work for coffee drinkers, a frequented study spot for college students, and a post-dinner date night destination for couples. "I had a group of girls yesterday study, then it transitioned to wine time, so they had a glass of wine," she said.
Well Red's hours are:
• Monday to Thursday: 7 a.m. – 8 p.m.
• Friday and Saturday: 7 a.m. – 10 p.m.
• Sunday: 10 a.m. – 2 p.m.