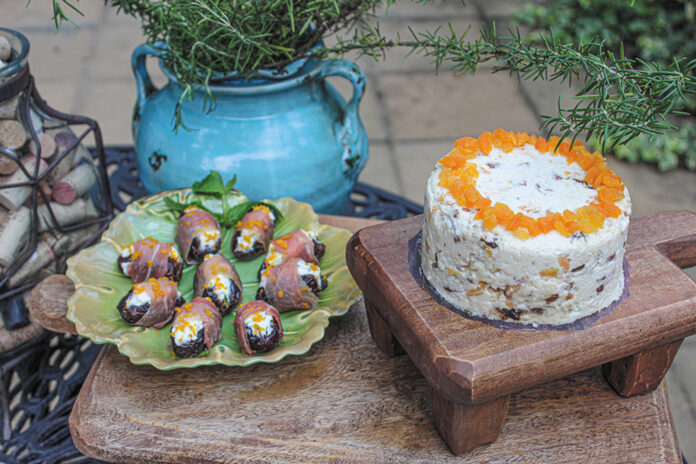 By Ann Cipperly
As fall arrives, cooler temperatures in the evening are pleasurable for enjoying an easy supper on the porch or patio. Relax with a cheesy appetizer while a casserole bakes in the oven. With prices increasing for chicken, beef and pork, a casserole is a tasty way to stretch meats for more than one meal. Serve a salad and rolls to complete the menu.
We have several bird feeders throughout our backyard and enjoy sitting out in the afternoon watching the birds and listening to their sweet songs. It is peaceful and restful, which is something we all strive to find these days.
While relaxing outdoors, serve an appetizer and refreshing beverage while a casserole bakes. Stuffed dates with prosciutto appetizer or nut and fruit cheese spread can be prepared earlier in the day and stored in the refrigerator until ready to serve.
The nut and fruit cheese spread is one of Ursula Higgins's recipes from years ago. I am often surprised when looking through files of recipes to find another one from Ursula, who owned The Greenhouse restaurant in Opelika and a catering business that provided lunches at the Jules Collins Smith Museum in Auburn.
Over the years, Ursula was always willing to provide a recipe when I needed something special. While the cheese spread is good served with crackers for an appetizer, it is also yummy served at teas and showers with ginger snaps.
The stuffed dates are also versatile and can be prepared with different nuts and cheeses. While the prosciutto adds another layer of flavor, the dates are also good served without it.
While we are bracing for the price increases for meats, it seemed like a good time to go through files to find casserole recipes. Pasta and rice are economical fillers and are more nutritious when using whole grain pastas and brown rice.
Boneless, skinless chicken breasts and thighs are more expensive than a whole chicken. Purchase a whole chicken and boil it with onion and celery for making your own stock. Use the chicken and stock for making casseroles. You will also save by making your own broth.
If you have a small family and don't want a large casserole, simply divide the mixture between two small pans and freeze one for later. It is always great to have a casserole or two in the freezer for busy days. Coming home from a hectic day on a cold, rainy night, it is wonderful to grab a casserole from the freezer to bake for dinner.
Casseroles are comfort food too. The hearty dishes are warm and filling. Some are a meal in one pan, while others are better with a salad. Muffins and rolls are also nice to serve on the side.
The following recipes offer a wide selection with chicken, beef or shrimp. They are favorite recipes from several good local cooks, so you know they are "tried and true."
Tiffany Martin makes a delicious chicken and mushroom tetrazzini for her husband, Allen, and their four children. Tiffany enjoys cooking and has started a cottage business called Tipper's Treats at their home in the Northside Historic District in Opelika. Her specialty is custom cinnapops, which are cinnamon rolls on a stick. She also offers cookies and other baked items. You can see Tipper's Treats on Facebook or can contact Tiffany at tipperstreats.orders@gmail.com for a list of goodies.
As I am writing this, I am sitting outdoors watching birds at the feeders as I sip a cup of hot green tea with lemongrass. After a slight breeze, a cluster of yellow leaves fell from the tree by the patio. Fall is a favorite time of year with football, pumpkins and fun events. For now, it is relaxing to linger over a meal on the patio and dream of upcoming activities with family and friends.
Nut and Fruit Cheese Spread Appetizer
Ursula Higgins
1 cup boiling water
½ cup chopped dried apricots
Let stand 30 minutes; drain. Set aside.
1 lb. grated Monterey jack cheese
8 oz. cream cheese, softened
½ tsp. salt
1/3 cup milk
Combine in mixer and beat until smooth.
1/3 cup golden raisins
1/4 cup chopped pitted dates
3/4 cup chopped walnuts
Apricots, chopped for garnish, optional
Add raisins, walnuts and apricots to cheese mixture. Line a 1-quart mold with plastic wrap; spoon in cheese mixture. Press firmly to evenly distribute mixture. Cover and chill. Turn out of mold; remove film. Garnish, if desired. Serve with crackers.
Stuffed Dates with Prosciutto Appetizer
½ cup pistachios, toasted (can use other nuts)
2 Tbsp. orange juice
1 cup mascarpone or cream cheese, softened
Medjool dates, pitted
A few slices prosciutto style ham
Orange zest for garnish, optional
Combine pistachios, orange juice and mascarpone. Stuff a scoop of mixture into dates. Wrap a piece of ham around each date.
Chicken and Mushroom Tetrazzini
Tiffany Martin
3 to 3 ½ lb. broiler-fryer
1 tsp. salt
1 tsp. pepper
8 oz. pkg. dried spaghetti
1 cup sliced fresh mushrooms
1 large green pepper, chopped
1 small onion, chopped
1/4 cup butter, melted
1/4 cup all-purpose flour
½ tsp. salt
½ tsp. garlic powder
½ tsp. poultry seasoning
½ tsp. pepper
1 cup half and half
2 cups (8 oz.) shredded sharp cheddar cheese, divided
10 3/4 oz. can cream of mushroom soup, undiluted
3/4 cup grated Parmesan cheese, divided
1/4 tsp. vanilla
4 oz. jar sliced pimento, drained
1 tsp. paprika
3/4 cup sliced almonds, toasted
Place broiler-fryer in a Dutch oven; add water to cover. Add salt and pepper, and bring to a boil. Cover, reduce heat, and simmer 1 hour or until chicken is tender. Remove chicken from broth, reserving broth. Let chicken cool to touch. Remove bones and shred chicken.
Add enough water to reserved broth to measure 3 quarts. Bring to a boil. Cook spaghetti in broth according to package directions. Drain.
Sauté sliced mushrooms, green pepper and onion in butter in Dutch oven over medium heat until tender. Add flour and next 4 ingredients; stir until smooth. Cook 1 minute, stirring constantly.
Gradually stir in half and half, and cook until mixture is thickened, stirring gently. Add 3/4 cup cheddar cheese, stirring until cheese melts. Add shredded chicken, mushroom soup, ½ cup Parmesan cheese, vanilla and pimiento; stir well.
Combine chicken mixture with spaghetti, tossing until combined. Spread mixture in a greased 13-x-9-inch baking dish.
Bake, uncovered, at 350 degrees for 20 to 25 minutes or until thoroughly heated.
Combine remaining 1/4 cup Parmesan cheese and 1 tsp. paprika; stir well. Sprinkle remaining 1 3/4 cups cheddar cheese diagonally across top of casserole. Repeat process with almonds and Parmesan-paprika mixture. Bake 5 more minutes or until cheddar cheese melts.
Mama's Chicken Spaghetti Casserole
Fran Plott
2 cups cooked chicken (I use a rotisserie chicken)
3 cups dry spaghetti, broken into 2-inch pieces
2 cans cream of mushroom soup
2 cups grated sharp cheddar cheese
1/4 cup finely diced green pepper
1/4 cup finely diced onion
1 jar (4 oz.) diced pimentos, drained
2 cups reserved chicken broth from cooking chicken or 2 cups canned
1 tsp. Lawry's Seasoned Salt
1/8 tsp. to 1/4 tsp. cayenne pepper
Salt and pepper, to taste
1 cup additional grated sharp cheddar cheese
Cook 1 cut up fryer and pick out the meat to make 2 cups or use a rotisserie chicken.
Cook spaghetti in chicken broth until al dente. Since I use a rotisserie chicken, I use additional canned broth (or water) to cook the spaghetti. Do not overcook.
When spaghetti is cooked, combine with remaining ingredients, except additional 1 cup sharp cheddar, which will be used for the topping.
Place mixture in casserole pan and top with remaining sharp cheddar.
Bake at 350 degrees for 45 minutes until bubbly. (If cheese on top starts to get too cooked, cover with foil.)
Instead of baking when prepared, can cover and freeze up to six months or cover and refrigerate up to two days.
Oven Baked Jambalaya Casserole
Jennifer Faircloth
1 lb. Cajun or other smoked sausage cut into bite-size pieces or 1 lb. uncooked shrimp
1 can beef broth soup
1 can French onion soup
8 oz. can tomato sauce
1 stick butter, cut into small pieces (can use 3/4 stick)
½ cup green onion, finely chopped
½ cup bell pepper, finely chopped
½ cup celery, finely chopped
1/4 cup dried parsley
2 cups Uncle Ben's converted rice or brown rice
1 ½ tsp. minced garlic
1 tsp. Tony Charchere's or any Creole seasonings
Combine all ingredients in a Dutch oven or casserole dish. Cover and bake at 350 degrees for 1 hour and 15 minutes. Do not stir during baking time.
Simple Chicken Casserole
Lindsee Baubles
I love this recipe because everyone will eat it. I can make it and freeze it! This recipe is so simple and convenient.
I double the recipe to make two casseroles with everything except the topping. I cook one, and place the other one in the freezer.
When baking the frozen casserole cook on 350 degrees for 1 hour (stir while cooking)
Serve with long grain wild rice, green peas and rolls.
3 cooked, chopped chicken breasts (2 to 3 cups) or a rotisserie chicken without the skin
½ cup Italian breadcrumbs
Salt and pepper to taste
1 can cream of chicken soup
1/4 cup sour cream
1/4 cup shredded cheese (cheddar or Italian blend)
Splash of milk
Mix chicken casserole ingredients and pour into a greased casserole dish. Sprinkle a little cheese on top if cooking immediately.
Bake at 325 until warm and bubbly.
Topping:
½ Tbsp. butter, melted
1 ½ crushed sleeve of Ritz crackers
Mix butter and crackers.
Add cracker mixture topping and bake on 350 for 8 to 10 minutes.
Mexican Cornbread Casserole with Ground Beef
Jennifer Roach
My Dad's sister's recipe
2 lbs. ground beef
8 oz. pkg. mild cheddar cheese
2 jalapeño peppers (can use slices in jar)
1 onion, diced
1 cup corn meal
1 cup buttermilk
1 can sweet cream corn
1 tsp. soda
½ tsp. salt
2 eggs, beaten
1/3 cup cooking oil
In cast iron skillet, brown ground beef and drain off all grease. Add onions, cheddar cheese and sliced jalapeño peppers. Cook until cheese is melted.
In separate bowl mix corn meal, buttermilk, cream corn, soda, salt and cooking oil. Mix well. Pour half of bread mixture into 13-x-9-inch pan. Pour all meat mixture into pan. Add remaining bread mixture on top.
Bake in oven at 350 degrees for 45 minutes or until brown. Cut in squares. Serve with salad and favorite Mexican side dishes.
King Ranch Casserole
Traci Meyers
This family favorite recipe is from the great home state of Texas.
1 chicken fryer, stewed
½ pkg. corn tortillas, or more, if desired
1 onion, chopped
1 can cream of chicken soup
½ can Rotel tomatoes
1 cup chicken stock
1 cup grated cheddar cheese
Cut tortillas into 2-inch pieces. Place tortillas in a buttered pan. Add chicken that has been chopped, and then add onion, soup, stock and tomatoes. Sprinkle cheese on top.
Bake uncovered about 1 hour at 350 degrees.
Creme Noodle Casserole
Cathy Dozier
Serve with a beef roast or roasted chicken.
8 oz. wide noodles
1 cup large curd cottage cheese (chive or plain)
1 cup sour cream
1 10-½ oz. can condensed cream of chicken soup
2 Tbsp. dry sherry
1 Tbsp. parsley flakes
2 tsp. dry shredded green onions (or use 2 Tbsp. fresh)
2 tsp. Worcestershire sauce
Seasoned salt, garlic salt, and pepper to taste
1/4 cup grated Parmesan cheese
Paprika
Preheat oven to 350 degrees. Cook noodles in boiling water until just tender; drain. Mix all remaining ingredients except Parmesan cheese and paprika. Cover dish loosely with foil. Bake for 25 minutes. Remove from oven and let sit 5 minutes before serving. Serves 8.
Taco Casserole
Hattie Lett
1 lb. ground beef or venison
1 clove garlic, minced
1 onion, chopped
Salt and pepper to taste
16 oz. can refried fat free refried beans
4 oz. can sliced black olives, drained
4 oz. can diced green chilies, not drained
16 oz. jar taco sauce
2 cups shredded sharp cheddar cheese
Brown meat with chopped onion, garlic, salt and pepper. Coat 9-x-13-inch baking dish with nonstick spray. Layer refried beans and then cooked meat in dish. Next, layer green chilies, half of sliced olives, taco sauce and cheese. Garnish with remaining olives. Bake at 375 degrees for 40 to 45 minutes.
Chicken, Broccoli and Rice Casserole
Annette Lovett
1 pkg. frozen broccoli florets or fresh equivalent of 10 oz. box
1 to 1 ½ cups chopped celery
1 cup chopped onion
1/4 cup butter
1 small jar (8 oz.) Cheese Whiz (can use shredded cheddar cheese)
2 heaping cups cooked white rice (more if you want)
1 can cream of chicken soup (or cream of celery soup)
½ soup can milk
1 jar (4.5 oz.) sliced mushrooms, drained
1 jar (4 oz.) pimientos, drained
About 1/4 to 1/3 cup sliced almonds or slivered, toasted, optional
2-3 cups cooked chicken, diced
Ritz crackers
Cook broccoli just until tender, being sure not to overcook. Drain well; set aside.
Sauté chopped celery and onion in the butter.
Mix celery/onion mixture with the Cheese Whiz, soup and milk and cooked rice. (The cheese mixes more easily if it has not been in the refrigerator and if celery/onion mixture and rice are still warm.)
Stir in mushrooms, pimientos and almonds. Stir in cooked chicken. Gently fold in cooked broccoli.
Pour mixture in greased casserole dish (or dishes — this makes a lot).
Crush Ritz crackers and scatter on top. Bake at 350 degrees for about 45 minutes.
Old Country Club Seafood Casserole
1 cup shrimp
1 cup crabmeat
1 cup oysters, optional
2 Tbsp. butter
1 cup chopped celery
1 cup English peas
1 ½ cups cooked brown rice
1 ½ cups mayonnaise
1 Tbsp. Worcestershire sauce
½ tsp. salt
Lemon juice to taste
Brown bread crumbs for top
Sauté celery in butter. Mix all ingredients together, except breadcrumbs. Pour into a greased casserole. Bake for 30 minutes at 325 degrees.
Potato And Beef Casserole
A hearty dish that is popular with children.
2 lb. ground beef
½ cup diced celery
1 large onion, chopped
2 cloves garlic, minced
1 can cream of mushroom soup
1 can cream of celery soup
1-½ to 2 cups shredded cheddar cheese
2 Tbsp. Worcestershire sauce
Frozen Crispy Crowns or Tater Tots
Mix soups and Worcestershire sauce together; set aside. Brown beef; drain. Sauté onion and celery. Mix all ingredients together except potatoes. Pour into a casserole dish. Cover with potatoes. Bake at 350 degrees for 1 hour.