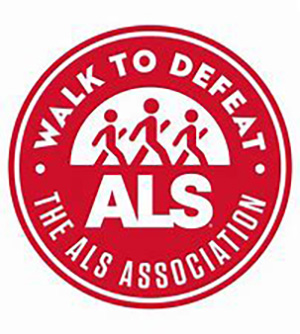 Courtesy of the ALS
Association Alabama Chapter
The world may look a little different right now, but one thing has not changed: our commitment to ending ALS and supporting patients and families across Alabama. The well-being of the ALS community is the chapter's top priority.
Amyotrophic lateral sclerosis (ALS), is a progressive neurodegenerative disease that affects nerve cells in the brain and the spinal cord. The disease robs people of the ability to walk, to talk, to even blink an eye. It traps them inside a body they no longer can control and ultimately prevents them from breathing as it takes their life.
There is no known cause of the disease, although military veterans are approximately twice as likely to develop ALS as the general population. Every 90 minutes someone is diagnosed with ALS, and every 90 minutes someone loses their battle to this fatal disease. Living with ALS can cost up to $250,000 annually, depleting families of all savings.
The ALS Association Alabama Chapter is closely following guidance from the Centers for Disease Control (CDC) as well as state, county, and local health agency mandates as news develops of the novel coronavirus.
For the safety of the people with ALS we serve, their families and our staff and supporters, our three Alabama 2020 Walks to Defeat ALS will not occur as in prior years at a venue or park. Instead, we're bringing the walk to you. Please walk with us on Oct. 24 at 9 a.m. down your street, in your neighborhood park, through your living room as you zoom with family and friends, anywhere you want.
Just be sure to observe social distancing measures and be safe. Although the course will look different, the purpose remains the same: to Walk in honor, to Walk in memory and to Walk to Defeat ALS all while raising much needed funds to support people living with ALS right here in our community while we aggressively search for treatments and a cure.
What will Oct. 24 look like?
9:45 a.m.: Hop onto The Walk to Defeat ALS – Alabama Chapter Facebook Page to participate in a live-stream opening ceremony and the Walk countdown.
10 am: Enjoy our Walk to Defeat ALS Program and Ceremony, then start walking along your designated path or start your team caravan. Capture your walk via social media and be sure to use the Hashtag #ALSWalkYourWay.
11 a.m.: Begin your post-walk celebrations. Following local safety guidelines, of course. Tune into The Walk to Defeat ALS – Alabama Chapter Facebook page throughout the morning for live staff Walks and updates.
Here is a guide for creating your own Walk at home:
Step 1: Recruit your team. Invite your friends, family, co-workers and neighbors. Post on Facebook neighborhood pages, the Nextdoor App, social media, etc. to gain support and spread awareness.
Step 2: Decide your Walk location. Whether you walk within your neighborhood streets, at a neighborhood park or participating in a team caravan, be sure to pick a location that follows local safety guidelines.
Step 3: Plan and create your walk decor. The chapter will provide you with your Walk In Celebration signs, sidewalk chalk, unlock keys and lanyards and Official Walk to Defeat ALS t-shirts if you have raised over $90. We encourage you to create your own walk posters, t shirts, decorate your yard, etc. Send in photos and post your decorations on social media for a chance to win an award. Use #ALSWalkYourWay.
Step 4: Fundraise. Although the event will look different, the need for funds is the same. The money raised from this year's walk will make a lasting impact on individuals battling ALS in the chapter year-round. We have provided sample messaging for you to use in this packet. Ways to fundraise include: Starting a Facebook fundraiser, sending your fundraiser to your supporters and share your story. Collect donations with the My Supporters form and mail to the ALS Association office.
Step 5: Make your Walk your own, have fun and spread awareness. Utilize these steps to spread awareness and raise funds in your community. This year, you have the ability to make the walk your own; we can't wait to see all of the creative ways used to share your story.
People living with ALS (pALS), their caregivers (cALS) and their friends and family are invited to join Team ALS Alabama, a statewide team lead by ALS Association Alabama Chapter staff. Team ALS Alabama unites those directly affected by ALS in Alabama and allows team members to have additional staff support for fundraising and participation without having to plan their own mini walk.
The nationwide events have experienced constant participant growth since 2000 and have raised more than $215 million toward the goal of creating a world without ALS. Last year, more than 900 walkers statewide raised more than $260,000 for the Chapter's Walk to Defeat ALS program.
To learn more about the 2020 Statewide Walk to Defeat ALS, call the chapter at 205-443-7882, or visit www.walktodefeatals.org.