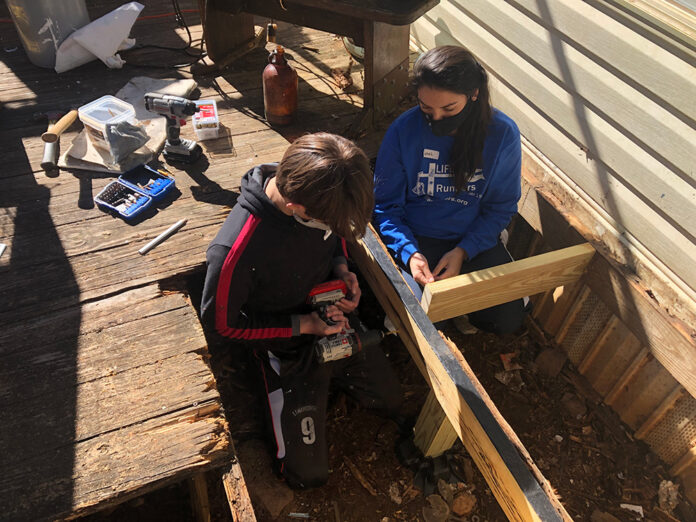 Contributed By Alabama Rural Ministry
Alabama Rural Ministry recognizes the Dr. Martin Luther King, Jr. holiday as a "day on, not day off" opportunity for service. ARM and the Macon County Ministers' Council partnered together and spent two days of the weekend cleaning up and rebuilding neighborhoods and homes in the local communities of Tuskegee and across Lee County.
The MLK Weekend of Service opened with a Zoom conversation open to the public on Friday, Jan. 15. The event, "A Virtual Conversation: Surviving and Thriving While Becoming the Beloved Community During COVID-19," gave panelists a platform to discuss their struggles and the challenges regarding COVID-19.
The panelists for the event included Dr. Jaqueline Brooks (Superintendent of Macon County Schools), Dr. David Hodge (Tuskegee University Center for Bio-Ethics), Rev. Sheila Austin-Dansou (Pastor & Counselor) and Joe Davis (Auburn UMC Outreach Director). A recording of the event is available online at www.arm-al.org/belovedcommunity.
Volunteers came together for community service on Saturday, Jan. 16 and Monday, Jan. 18. Sixty-one volunteers provided substantial assistance at seven different sites, including the Macon County Food Bank, the ARM's Tuskegee Mission Hub and warehouse and a tornado-damaged home in Beauregard, despite the challenges of working in the COVID-19 environment.
Volunteers also worked at the homes of families whose financial situations leave them unable to easily make basic repairs.
"We are volunteering to make homes safe, warm and dry," said Fred Callahan, an ARM board member and workday volunteer.
Volunteers included teams from the Auburn Wesley Foundation, a youth group from Bethel United Methodist Church in Ozark, AL, Auburn Christian Fellowship, St. Michael's Catholic Youth Organization, Auburn United Methodist Church's Living Stones Sunday School Class and alumni members of Auburn University's Kappa Alpha Psi fraternity. These volunteers installed new roofing, painted, replaced rotten decking, installed new flooring, cleaned and landscaped homes, organized food for distribution at the food bank and organized warehouse space to accommodate mission projects in the future.
About ARM
ARM hosts the MLK Weekend of Service annually to fulfill its vision of transforming rural communities with sustainable homes, strong families and strategic community partnerships for the glory of God. ARM values its partnerships with the Macon County churches and organizations. Tuskegee was the center of the voting rights movement, and partnering in service to others is an awesome way for us to continue healing the wounds of racial brokenness.
Alabama Rural Ministry is committed to discovering, developing and deploying spiritual leaders who, as disciples of Jesus Christ, minister with rural and under-resourced communities to create sustainable homes, strengthen families and build strategic community partnerships for the glory of God. More information about ARM and its programs is found at www.arm-al.org.