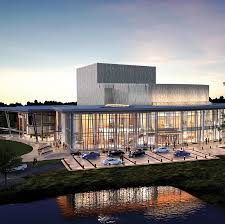 Special to the
Opelika Observer
The Jay and Susie Gogue Performing Arts Center at Auburn University is currently seeking volunteer ushers to help support its patron services team at performances and special events starting with the 2019–20 inaugural season.
Beginning with its Grand Opening Festival, Aug. 22–25, the Gogue Center will require community volunteers to assist at all performances and special events continuing through the 2019–2020 season. Usher duties will include distributing programs, scanning tickets, escorting patrons to their seats and other general front-of-house functions.
"Over the course of our first season, the Gogue Center will present more than thirty live events and host many more.
We estimate needing 12 to 14 ushers for each of them," said patron services manager for the Gogue Center Izzy Brown. "We are looking for volunteers who have a strong interest in the performing arts and share in our commitment to providing a positive patron experience for our guests."
The Gogue Center looks to establish a volunteer base of at approximately 100 ushers who can be called upon throughout the season. Students and community members with the desire and availability to volunteer on a regular basis are encouraged to contact the Gogue Center for more information.
"Volunteer ushers are an immensely important part of our operation," said Brown. "This is an amazing opportunity to experience the performing arts from the inside—as part of the Gogue Center team."
In June, the Gogue Center will begin hosting informational training sessions to instruct volunteers on the details of usher duties. Topics will include an overview of the center's ticket scanning system, safety policies and procedures, and venue layout. Sessions will be held at the Jule Collins Smith Museum of Fine Art; dates and times are to be determined and will be announced soon.
Those interested in volunteering as ushers should contact Brown directly by telephone at 334-844-8499 or via email at eabrown@auburn.edu. Emails should include all relevant contact information.