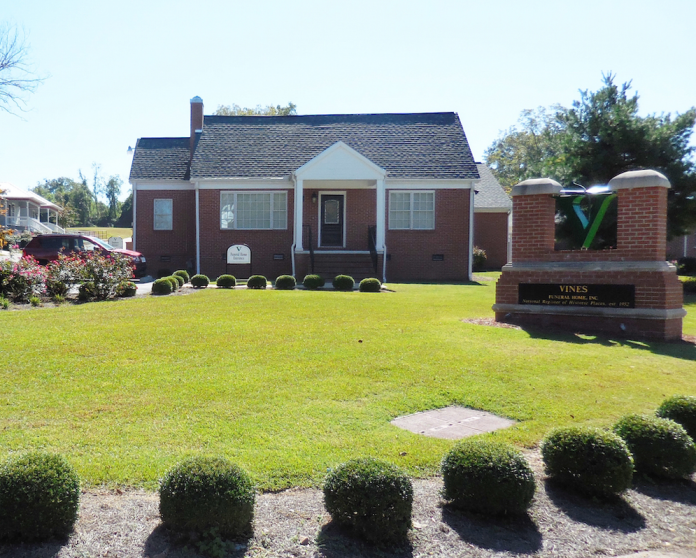 Special to the
Opelika Observer
Vines Funeral Home of LaFayette invites the community to celebrate the unveiling of their National Register of Historic Places marker on Sept. 26 at 10 a.m. The event will take place at 211 B St. SW in LaFayette.
The National Register of Historic Places is the official list of historic buildings, districts, sites, structures and objects worthy of preservation in the United States and is maintained by the National Park Service. Places listed in the registry must be significant to American history, architecture, art, archeology, engineering or culture and must go through a process that involves the State Historic Preservation Society (The Alabama Historical Commission for sites in Alabama) and the National Park Service.
The community is invited to attend this free event celebrating the historical importance of Vines Funeral Home, which was founded by Julius Vines in 1952.
This celebration will feature speakers, music, the unveiling of the marker and food by Bailey's BBQ & Catering. A live stream will be available at www.vinesfuneralhome.com/stream and a live link will be on their Facebook page 'vinesfuneralhome' for those unable to attend the celebration.
Julius Summers Vines was born March 19, 1922. Helping wounded civilians and American soldiers by serving as an ambulance driver during World War II, he landed on Omaha Beach during the D-Day invasion, was on the front lines at the Battle of the Bulge and served with General George Patton's Third Army. He received the American Defense Service Medal, the European-African-Middle Eastern Service Medal with three bronze stars, the Good Conduct Medal AR 600-68 and the World War II Victory Medal.
After the war, he attended and graduated from Gupton Jones College of Mortuary Science in Nashville, Tennessee and founded Vines Funeral Home, including ambulance service, with his wife, LeMerle Vines, in 1952. In the days of segregation, undertaking was one of the few professions open to African Americans, allowing morticians to join doctors and lawyers at the top of the socioeconomic ladder.
Julius exemplified the entrepreneurial spirit of black funeral home directors of the period, playing a leadership role in the community; holding the respect of blacks and whites alike and making a significant difference in the lives of many people in Chambers, Lee, Randolph and Tallapoosa counties in Alabama and in the surrounding communities of Alabama and Georgia until his death in 2012.